The duo of the men's suit and shoes
I must admit that I am not absolutely sure if it's a duet or a quarter - shoes should match the suit, socks, the belt or suspenders' leather trimmings, watch band and in case the gentleman wears a bag - with it, too. Leather details must be made of similar in structure and color leather. Sophisticated ladies say that before looking in man's eyes, they judge him by his shoes.
To choose shoes in unobtrusive harmony with the rest of your look - and mainly with the suit - might be very easy or very difficult depending on criteria - are they formal or aesthetic.
Formal means according to the acceptable social rules. For example, to combine a formal men's suit with matching Oxford shoes; a tailcoat or a tuxedo - with patent leather shoes or dress slippers with ribbons, initials or silver buckles. Lately, Gucci-Loafers are also eligible - fashion that came from London and immediately received international echo; a morning coat with black Oxfords; a Cabinet pajamas or Dressing gown with Church's Hercules.
Informal brown shoes are only suitable for a sporty outfit - a tweed suit, jeans, a blazer, velvet trousers and a sweater. Wearing such shoes for evening events is often seen, but very bad decision... Faux pas... Applying of formal rules requires some schooling as well as good intuition.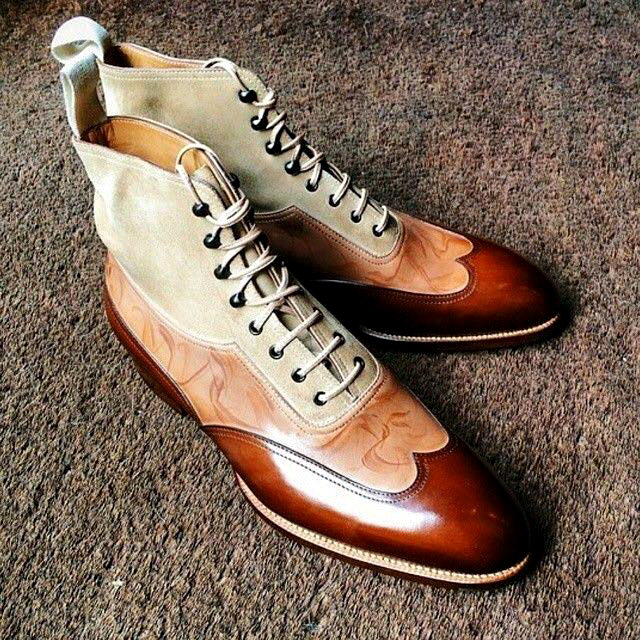 A man who chose his attire and shoes on aesthetic criteria, skips this problem, but is exposed to the frivolous danger of how he will be perceived, if he is not a slave of the rules. In continental Europe, aesthetic criteria rule, maybe because after the last war, rules of the elite looks pretty compromised.

Whether shoes are black or brown, in Italy and Germany depend on fashion and personal taste, while in the UK, rules are orchestrated from the highest aristocracy and after 6 p.m are worn only black shoes with laces or black lacquer dress slippers.

On the Continent, gray flannel trousers and a blazer are perfectly matched with dark brown calfskin shoes. Shoes should match not only the color of the suit, but also to its structure and fabric.

Flannel, Bedford velvet and Jeans fits with dark brown calfskin shoes.

Tweed, Cheviot or Covert fits with light brown suede Oxfords. Stripes, checks and camel wool fits with high-class Oxfords, according to the suit's color and structure.

Windowpane check, Nailhead Check and Prince-of-Wales-Check fits with fine loafers or dress slippers.

Velvet tuxedos are worn with dress slippers in the same velvet. It is very chic to have applications from your suit's fabric over your shoes.


Hits: 4123 | Leave a comment