Yacht outfit or Fashion marine
by Dandy
,
02 September, 2016
The strict rules of sportsmanship requires the style of dressing to protect from wind, cold, sea water, and why not - from bad looks from fashion critics. On land, similar attire is adapt for competitions and rivalries. That's how some fashion brands become popular in areas, they haven't been designed for, in which, however, repositioned, they demonstrate certain advantages.
For example, that's the case with the Henri Lloyd jacket, which was created especially for yachting, but became favorite for bicyclers, too. Here we see the same processes of assimilation and adaptation, distinctive for the Barbour jacket as well.
In 1963, Henri Lloyd produced - without big pretenses or a lot of noise - special clothing for sailors. The brand became very popular in Italy for leisure time activities in the 1980s and this revealed unimagined huge market in front of Lloyd. Today Henri Lloyd offers Marine Technology and Advanced Marine Technology line plus spare time collection HL. The brand offers all kind of clothing, including windproof jackets in maritime style.
For not so professional sport sailing, in the relatively calm Mediterranean sea, during the Summer season is typical a little more different style - a look for leisure time, inspired by the sea, which is not designed for dramatic climate changes, but fundamentally oriented towards the clothing of simple fishermen. You can find the look at places like Côte d'Azur (French Riviera) and the classic combination is in blue and white. A blue blazer in combination with white trousers is a perfect fashion marine choice. British pullover Guernsey, red cotton pants Filo di scozia by SAIL EXP, espadrilles, Sperry top-siders and sailor shirts are also among seamen's favorites.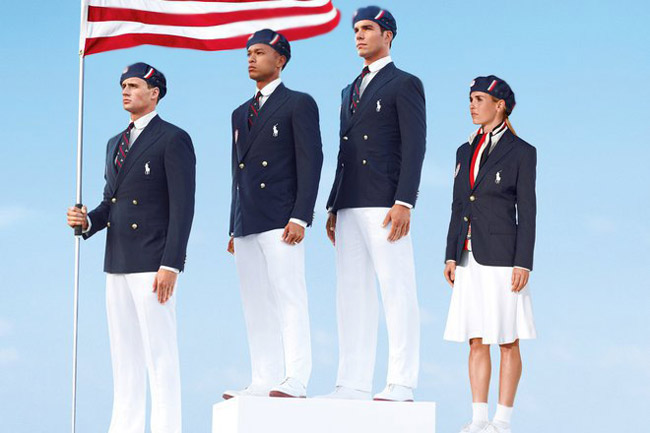 U.S. Olympic Team 2016 Opening Ceremony uniforms by Ralph Lauren

Available are also the so-called event-collections, developed for defined regattas - for example, Spanish brand Copa del Rey or German Marinepool offer all kind of clothing and accessories in maritime style.

But the double-breasted blazer with gold buttons and an insignia on the chest pocket is the calling card of every respected yacht club and yachtsman.

Yacht club de Cannes, for example, celebrated its 150th anniversary in 2010. Its members are proud with their club's history and traditions one of which is the invariable club jacket.

Yacht club de Monaco - a 'junior' club - only 50-years-old - also has a dress code - navy blazers for Winter, white blazers for Summer.

It is known that the prototype of the club jacket is an English naval parade tunic. But the club robe for yachtsmen is just the top of the iceberg. At Valentino we'll see it over perfectly shaped Apollos, drinking champagne around a silver champagne bucket...


Hits: 5108 | Leave a comment