Spring-Summer 2017 fabric trends by Loro Piana
For Spring-Summer 2017 Loro Piana offers fashion fabrics, combining remarkable lightness
with high performance and timeless style.
Cashmere, silk, wool, linen and next-generation materials blended in innovative and sophisticated ways.
Side-Bi-Side: Cashmere, cashmere-silk blends and finest-quality wools, also available in a stretch version. Representing the strong Loro Piana textile tradition, Side-Bi-Side double cloths are unique fabrics created from two layers of material woven together with a thin, invisible binding. There materials stand out through inventiveness, enlivening the smallest details and most sophisticated colorways in women's garments.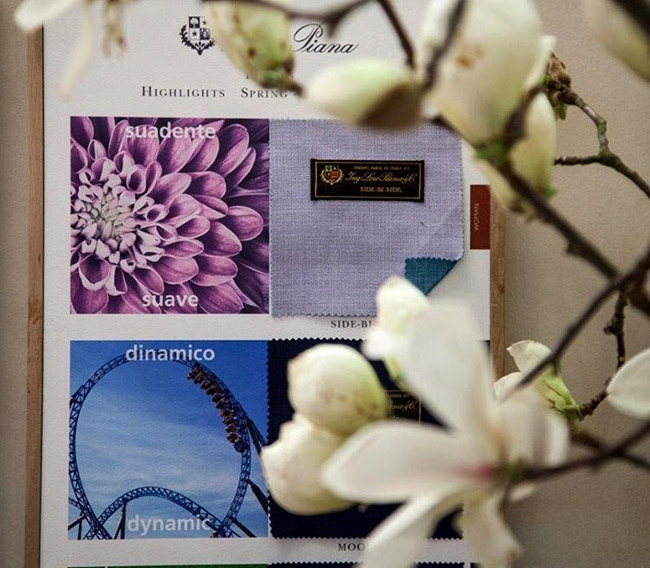 Lightest: By blending select 15-micron Super 170s merino with the world's finest silk thread, the brand created Lightest, a material of outstanding softness and fluidity. It is an extraordinary menswear fabric ideally suited not just for unlined suits and blazers, but outerwear as well, providing outstanding comfort even in the warmest seasons.

Mooving: A perfect blend of different natural and stretch fibers. With the softness of wool, the shine of silk and the slubby consistency of linen which can be appreciated at first touch, perfect for creating men's and women's jackets. In addition to blues and natural tones, the colors include Summer hues ranging from magenta to aquamarine and turquoise for a fresh and light look.
Lightframe®: Premium quality Super 150s merino wool blended with innovative performance technical fibers. This successful range now includes two brand new versions for lighter-weight men's and women's outerwear. The first is an ultra-lightweight fabric using next-generation nanofibres to create an ultra-soft and fluid effect that feels natural to the touch. The second is more compact fabric with a smooth and shiny surface created by adding linen and silk.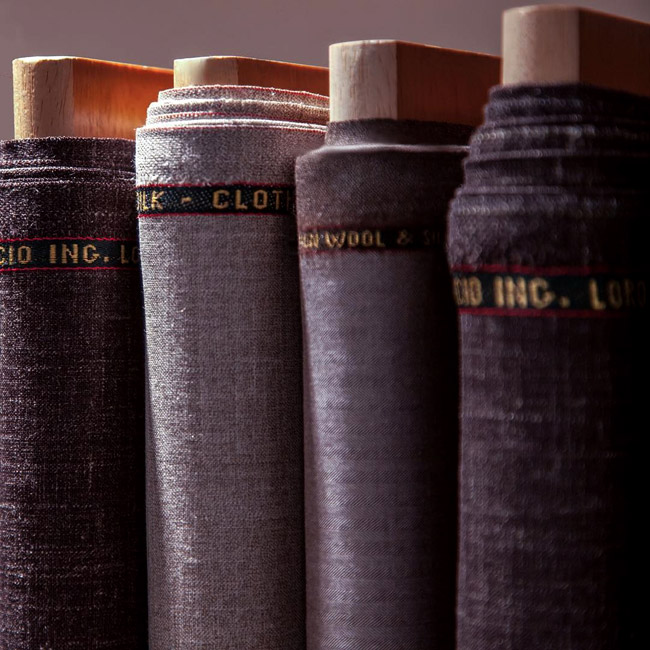 Fairway: The unique qualities of wool, silk and technical fibers are brought together in a winning fabric that is comfortable, breathable and stretchy. With its refined ultra-fine-crepe effect and dry handfeel, Fairway is especially suited for sports trousers or casual jackets for both men and women.
Sunset: A blend of finest-quality cashmere and silk, Sunset is now available in a much-anticipated single jersey knit. Its refined melange effect is the result of a judicious blend of differently dyed fibres. Ideal for unlined men's and women's blazers, it offers unparalleled softness and freedom of movement.
Photos: Loro Piana fabrics
Loro Piana Suit
Many tailors use Loro Piana Fabrics to create bespoke suits or made-to-measure suits. We will compile a list and add it to this article.


Hits: 26077 | Leave a comment