Suspenders - one cute anachronism in men's wardrobe
I will never forget my first suspenders, which I bought on a indecently high price 24 years ago from Heidelberg - the brand was British, 'Regent', they were made of beautiful red silk with cashmere figures and black leather trimmings and they could be attached to trousers with clips or buttons
Suspenders (or Braces in British English) - this cute anachronism - are popular especially in England and the USA, while for the lovers of classic continental style they look too much. Americans consider suspenders practical and comfortable with a hint of nostalgic feeling. For Englishmen - braces are part of the tradition. In both cases, they give the sense of excessive elegance.
Italian opinion about suspenders is different - they would never wear them with a Brioni suit, for example. To show your shirt and braces in front of the audience - like Larry King does - is not appropriate, or at least not decent, in Italy. But with Larry this is not style - it's a media trick.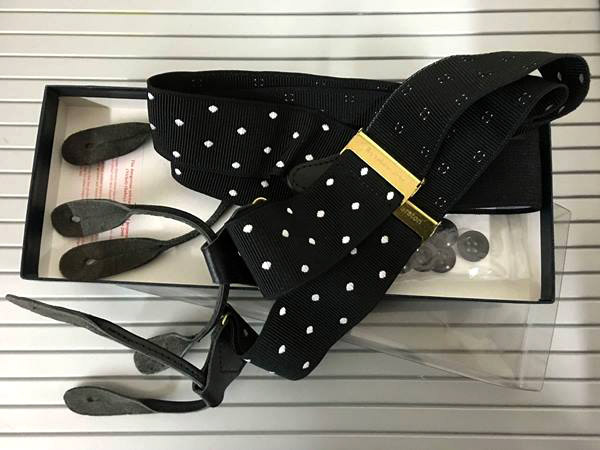 In Europe, braces are accessories worn by dandies-anglophiles, fans of British style. I talk about real English braces, who are buttoned to the trousers, not about those striped elastic bands, who can make you look like a mockery. Braces have the advantage of holding trousers surely, unlike the belt. Moreover, vertically positioned, they lengthen the body. They leave space between the shirt and the trousers, which is great in Summer and gives more freedom to move. Suspenders look good under a light suit jacket. You should NEVER wear suspenders and a belt in the same time.
Italian trousers' cut is not adjusted for wearing braces, while English are sometimes even sold with buttons sewn onto the waistband.
Of course, it's most chic to wear English braces. The classic material for them is Box Cloth - a heavy felt-like woolen fabric. Albert Thurston braces are the ultimate anglophile issue with their leather trimmings and metal parts made of hand polished brass. The company was founded in 1820 and is considered the oldest manufacturer of men's braces.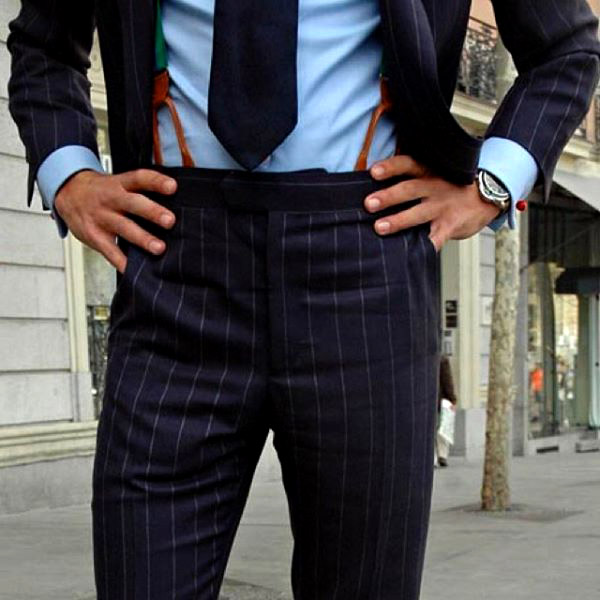 Leather trimmings should match the color of your shoes, watchbands and eventually your bag or case. In addition to British aristocracy, celebrities like Frank Sinatra and Michael Douglas are also braces' fans. Which can't be said about the Prince of Wales, neither about his uncle, the Duke of Windsor, who categorically rejected braces in their wardrobes. Well, everyone has his own peculiarity...


Hits: 6334 | Leave a comment