Where to order a custom-made men's suit online?
Modern way of life is very busy in every aspect and yes, men spend more time and money on their wardrobe nowadays, but many of them prefer to do their shopping fast and easy and why not from their home or office. But in the same time, gentlemen want to look and feel unique.
So, offering custom-made clothing online is the natural decision, which combines both personalization and time saving. There are many tailors and companies that you can rely on for creating high quality and perfectly fitting men's suits and shirts.

Name: 7 Regent Lane
Website: www.7regentlane.com
Country: USA
Products: Suits, Dress shirts, Tuxedos, Blazers/Sport coats, Dress pants, Accessories
Measurements: Yourself - measuring tape/iPhone or Android app, tailor
Fabric samples: Swatch kit and measuring tape, free of charge
Shipping and time: Shipping is fully included in the price, 3-4 weeks
Alterations: All orders are backed by the 7RL Flawless Fit Guarantee - the team will work with you until you are completely satisfied with your order.
Phone: 267-712-9304
Email: support@7regentlane.com

Name: Alfa Designer (Commission Based Provider)
Website: www.alfadesigner.com, www.linda-kelly.alfadesigner.com
Country: USA
Products: Shirts, Suits, Jackets, Pants, Vests, Jeans, Ties, Blouses for Men and Women
Measurements: Yourself
Fabric samples: No
Shipping and time: n.a., 3 - 5 weeks
Alterations: No
Phone: No phone support, online only
Email: support@alfadesigner.com, LsKelly53@gmail.com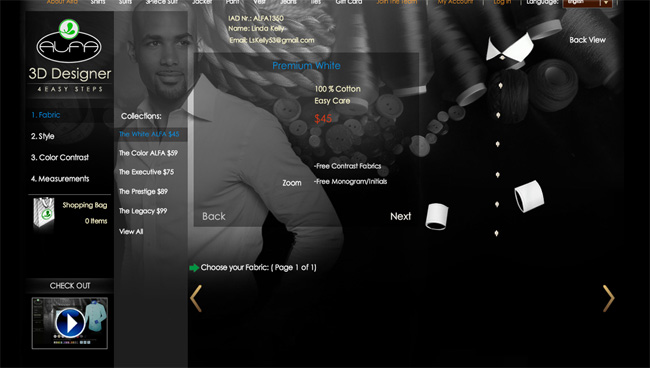 Name: Alton Lane
Website: //www.altonlane.com
Country: USA
Products: Suits, Shirts, Blazers, Trousers, Overcoats, Tuxedos, Ties
Measurements: Yourself or you can book an appointment online (New York, Washington, Boston only)
Fabric samples: No
Shipping and time: 15$ for a suit, 7$ for a shirt, 4-6 weeks
Alterations: Adjustments at a local tailor covered 120% up to 100$ in the form of credit to customer's account
Phone: 888.800.8616
Email: measurements@altonlane.com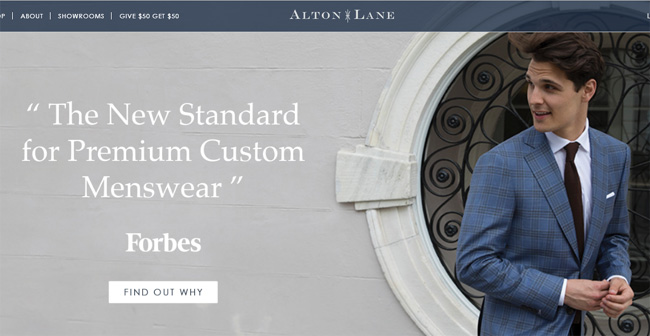 Name: Blank Label
Website: www.blanklabel.com
Country: USA
Products: Shirts only
Measurements: Yourself, your tailor or send in a shirt
Fabrics samples: No
Shipping and time: Free or for 8$ express shipping, 2-4 weeks
Alterations: Free remake if the shirt doesn't fit. Returns go to charity
Phone: +1 (781) 236-3559
Email: sayhi@blanklable.com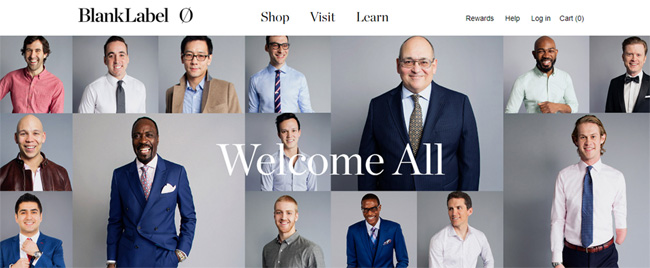 Name: Black Lapel
Website: www.blacklapel.com
Country: USA
Products: Suits, Shirts, Weddings, Blazers, Pants, Vests, Accessories
Measurements: Yourself (easy-to-follow measurement videos)
Fabrics samples: Up to 3 swatches
Shipping and time: Free worldwide, 4 weeks
Alternations: Credits for a local tailor ($75 per suit, $50 for everything else)
Phone: no phone support, online only
Email: concierge@blacklapel.com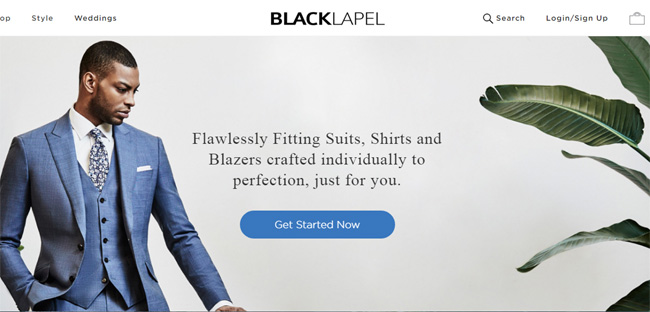 Name: Daniel and Lade Bespoke Menswear (D&L)
Website: www.danielandlade.com
Country: UK
Products: Bespoke suits, Bespoke shoes, Weddings
Measurement: Yourself by online 3D designer platforms or in store (London)
Fabric samples: No
Shipping and time: Free shipping on all items within the UK. International shipping vary depending on the Country, 15-20 workdays
Alterations: If it's a fault from their end, D&L resolve the problem at no extra cost to the customer
Phone: 02033183030
Email: info@danielandlade.co.uk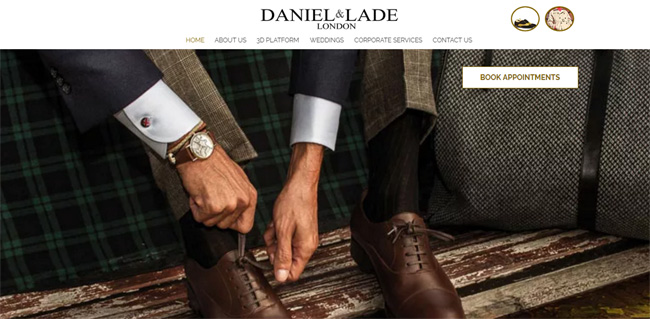 Name: Indochino
Website: www.indochino.com
Country: Canada and USA
Products: Suits, Shirts, Blazers, Coats, Pants, Accessories
Measurements: Yourself (and get a free tape measure delivered to your home)
Fabric samples: 29$ (will be credited with the next purchase)
Shipping and time: Free, 28 days
Alterations: Up to 75$ at a local tailor in form of credit for the online store, otherwise free remake or even return
Phone: 1 (855) 334-0788
Email: help@indochino.com


Name: InStitchu
Website: www.institchu.com
Country: Australia
Products: Suits, Shirts, Jackets, Pants, Vests, School uniforms
Measurement: Yourself (instructions, photo and video tutorials) or a tailor
Fabric samples: No
Shipping and time: Free on orders over $100. For orders under $100 there is a $20 Flat Rate Shipping charge; 3-4 weeks, for all wedding groups a minimum of 8 weeks is required
Alterations: up to $50 worth of alterations within 30 days of receiving the order. InStitchu offers also a $25 Suit Insurance, guaranteeing that if you need some adjustments, the company will provide you with up to $100 of Store Credit to reimburse you for the Alterations
Phone: (02) 9222 2801
Email: contact@institchu.com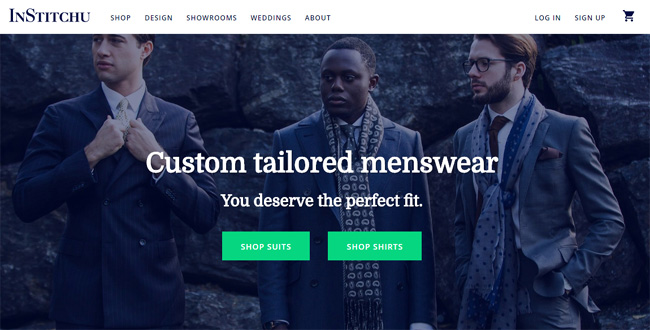 Name: Knot Standard
Website: www.knotstandard.com
Country: USA
Products: Suits, Shirts, Blazers, Trousers, Ties, Squares, Scarves, Accessories
Measurements: Yourself (via webcam, measuring tape or your favorite suit)
Fabric samples: No
Shipping and time: Free, 3-5 weeks
Alterations: they cover up to $75
Phone: 855.784.8968
Email: info@knotstandard.com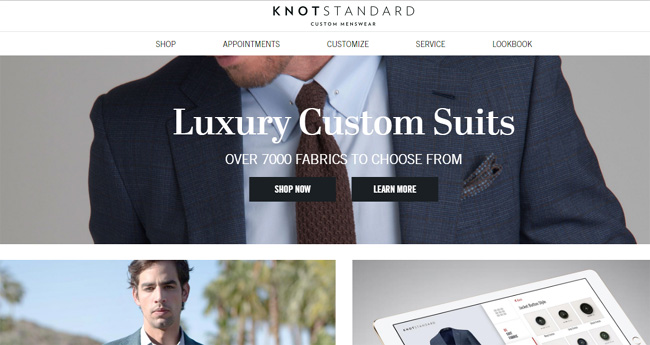 Name: Oliver Wicks
Website: www.oliverwicks.com
Country: USA-based company, Made in Europe suits
Products: Suits, Shirts, Accessories
Measurement: Quick and simple one-time self-measurement process
Fabric samples: Free via mail or $15 for express delivery
Shipping and time: Free on all orders over $ 60 (EUR 50). Swatch books and tape measures are also delivered free of charge. Shipping costs $ 14.90 (EUR 9.90) for all other orders; returns in the US and UK are free within 30 days
Alterations: Adjustment of garments at a local tailor (Suit: $125, Other tailored garments: $50). If the item cannot be altered, Oliver Wicks will remake the garment
Phone: +1 888-914-8913
Email: custom@oliverwicks.com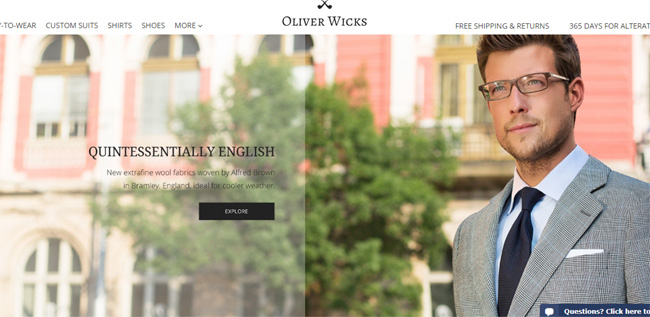 Name: Suitly
Website: www.suitly.com
Country: Canada
Products: Suits, shirts, jackets, pants, accessories
Measurements: Yourself
Fabrics samples: No
Shipping and time: Free Worldwide Shipping on all orders over $140, up to 3 weeks
Alterations: Local tailor adjustments (Suit - $75, Shirt - $50) P
Phone: No phone support, online only
Email: hello@suitly.com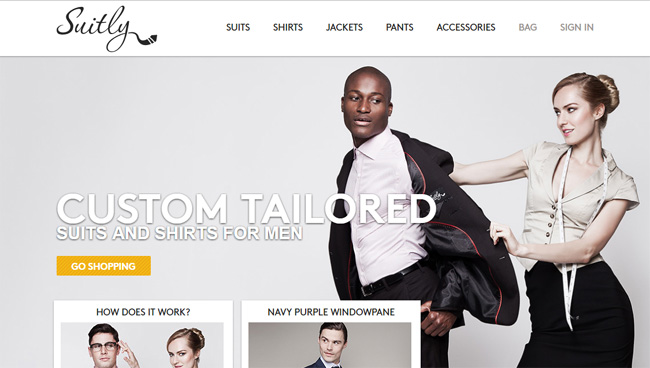 Name: Suitopia
Website: www.suitopia.com
Country: Sweden
Products: Suits, Tuxedos, Dress coats, Morning coats, Frock coats, Weddings, Shirts, Accessories
Measurements: Yourself (offers easy to use measurement guide)
Fabric samples: Free
Shipping and time: Free delivery worldwide for all orders, 2-3 weeks
Alterations: Local tailor adjustments (Suit - $50, Jacket - $30, Trousers - $20); If necessary adjustments are not possible, Suitopia remakes the garments
Phone: No phone support, online only
Email: customerservice@suitopia.com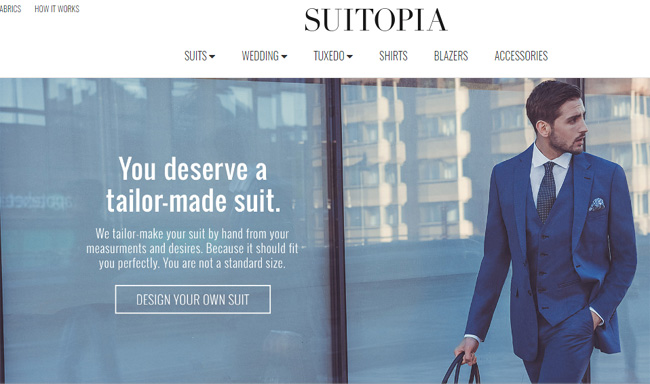 Name: Tailor Store
Website: www.tailorstore.com
Country: Sweden
Products: Suits, Shirts, Chinos, Polos, Underwear, Jackets, Coats, Sweaters, T-shirts, Uniform shirts, Ladies' shirts and polos
Measurements: Yourself (measurement guidelines)
Fabric samples: Yes
Shipping and time: Free shipping on orders above $150, fabric samples - $2, Garments and accessories - $19.90, 10-20 workdays
Alterations: Adjustment of garments at a local tailor (Shirt: $20, Polo piqu?: $20, Chinos: $30, Entire suit: $50, Only jacket: $45, Only trousers: $30)
Phone: No phone support, online only
Email: support@tailorstore.com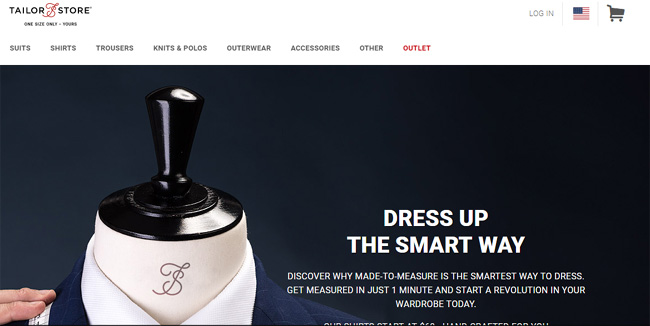 Name: Tailor4Less
Website: www.tailor4less.com
Country: A company based in Spain and Switzerland
Products: Suits, Jackets, Waistcoats, Polo Shirts, Shirts, Pants, Coats, Accessories, Dresses, Skirts in addition for Women
Measurements: Yourself (measurement guidelines) or a Measure Estimator
Fabric samples: 1.30$ per Swatch Sample, that turns into web credit for your next purchase
Shipping and time: Free for orders above 100$ (worldwide), otherwise 10$, 2 weeks
Alterations: Bring your garment to a local tailor and get the money returned in cash
Phone: No phone support, online only
Email: cs@tailor4less.com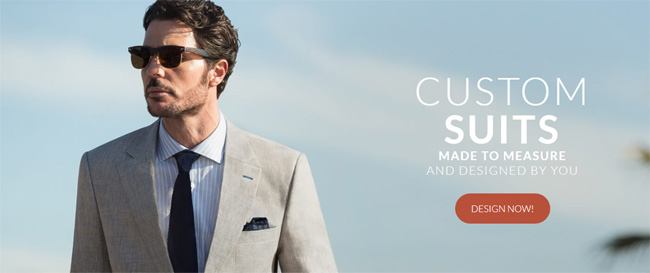 Name: Tailors Mark
Website: www.tailorsmark.co.uk/
Country: UK
Products: Suits, Jackets, Shirts, Pants, Chinos, Vests
Design a suit:Choose a fabric, inner lining, style, lapel, pockets, sleeve buttons, vents, bottom cut
Shipping and time: Hand crafting your shirt and delivering to anywhere in the world usually takes between 4-6 weeks. Tailors Mark uses various safe and reliable shipping companies depending on where in the world we are shipping to.
Alterations: They can alterate a shirt, jacket or pants
Phone: 44 169 793 891
Email: support@tailorsmark.com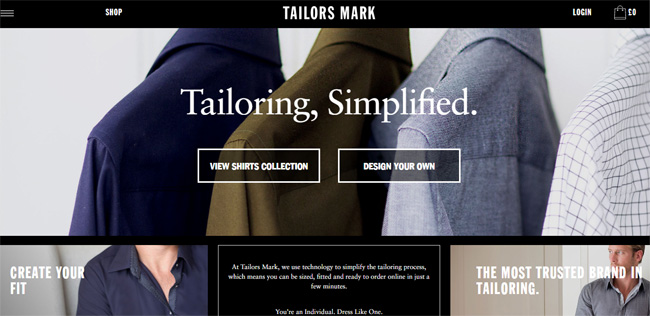 Name: Sartieri
Website: http://www.sartieri.com
Country: UK based company
Products: Suits, Trousers, Shirts, Waistcoats, Jackets, Shirts
Their suits, as well as their jackets, trousers and waistcoats undergo a long and complex working process. Suits are the focus and pillar of our company. The most prestigious New Zealand wools are selected by the most important wool mills in the world: Fratelli Tallia di Delfino, Guabello and Cerruti are just some among their quality fabrics and yarns suppliers. The wool is processed by using traditional techniques that give to these yarns a great level of finesse and softness, just like silk. The hands of our artisans sew these exquisite fabrics together almost like if they were painting a work of art: every single detail is paid attention to as if it were a brush stroke. And all this just to achieve their goal: offer to their clients something unique, exclusive, tailor cut. A masterpiece of craftsmanship: a Sartieri.
Shipping and time: They offer free standard delivery to all mainland UK addresses and all EU Countries, on all orders over GBP/EUR 50 (including VAT).
Phone: 44 (0) 202 189 1793
Email: info@sartieri.com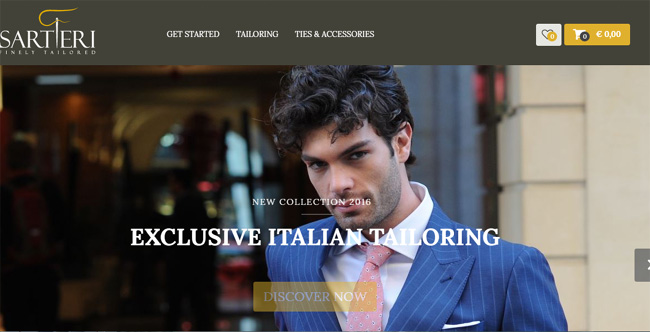 Name: Blackpier
Website: www.blackpier.com
Country: Spain
Products: Suits, Pants, Shirts, Jackets, Coats
Design your garment, customize it and measure yourself in 10 minutes. Choose a fabrcis, get measured and choose a style of the garment.
Shipping and time: All the orders over ?82,96 has its shipment free. Those which don?t exceed this amount will have a surcharge of ?8,26. Within 15 working days you will receive your order at home.
Phone: 902 04 03 07
Email: info@blackpier.com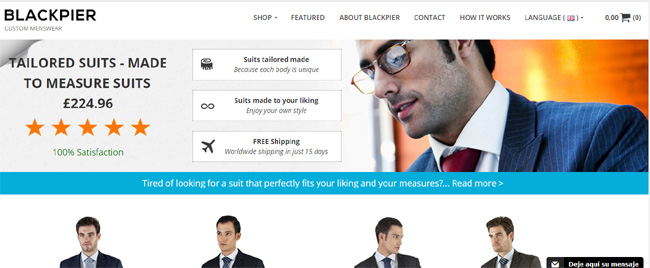 Name: Suitablee
Website: www.suitablee.com
Country: Based in Montreal, Canada
Products: Suits, Shirts
Jacket selection: fabric, lapels, jacket pocket flaps, jacket button layout, jacket vents, interior lining
Shipping and time: your suit or shirt is made from scratch, it takes 3-4 weeks from the moment your order is placed. Suitablee ships internationally with FedEx Express shipping. All shipping is free for orders over $100. For any shipping below $100, we charge a flat $40 shipping charge.
Phone:1 514-600-6306
Email: info@suitablee.com

Name: George and King
Website: www.suitablee.com
Country: Sydney, Australia
Products: Suits, Shirts, Pants, Overcoats, Vests
Jacket selection: fabric, lapels, lining, under collar, vents, hip pockets, sleeve buttonhole, pants pleats, pant cuffs,
Shipping and time: Priority Tailoring: 21-day guaranteed delivery - $150.00 per order Express Tailoring: 14-day guaranteed delivery - $300.00 per order
Phone:1300 179 133
Email: team@georgeandking.com.au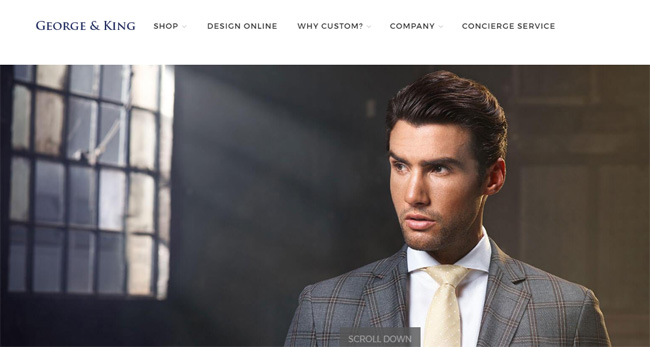 Made To Order production

The European factory RICHMART is a quality manufacturer of made-to-measure and made-to-order men's suits. RICHMART is looking for men's suits brands and retailers who are willing to request the production of Made To Order men's suits.

Richmart services are appropriate for retailers, brands, designers and tailors, who want to optimize their work and efficiency, reduce investments and increase ROI. Contact RICHMART for a quote


Hits: 39504 | Leave a comment