How to offer fast fashion by your men's suits brand
The term fast fashion is used by fashion retailers to express that designs move from catwalk to the stores quickly in order to capture current fashion trends. Fast fashion clothing collections are based on the most recent fashion trends presented at the Fashion Weeks around the world. They are designed and manufactured quickly to allow the mainstream consumer to buy current clothing styles at a lower price. This philosophy of quick manufacturing at an affordable price is used in large retailers such as H&M, Zara, Peacocks, and Topshop.
But if you are a small brand there is still a way to organise production quickly if you find the suitable manufacturing company.
You should remember, that the efficiency is achieved through the retailers' understanding of the target market's wants. This is usually a high fashion looking garment at a price at the lower end of the clothing sector, but a key factor is also the variety of the models and colours. The consumer in the fast fashion market desires a constant change and the frequent availability of new products.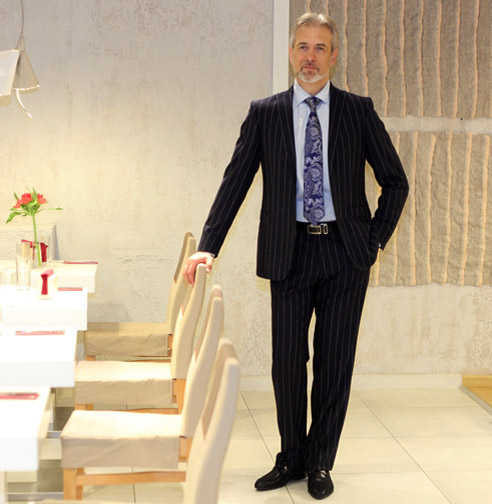 Men's suits are not the best example of fast fashion, but I would like to give you an idea how to boost sales of men's suits based on the fast fashion model. Most shops do not offer a variety of colours and models of men's suits because it requires a large investment. However, if the production cycle is short, you will need a smaller investment and you will be able to offer a bigger variety of suits through the whole year. This is achieved with Made To Order production.

The most modern men's suits factory in Europe Richmart started a new production line Made To Order in the beginning of 2015.

Made To Order is a new kind of process for orders, production and supply of men's suits.

In this system stores can order new suits every week in unlimited quantities and production cycle of 2-3 weeks. This allows them to meet demand in every moment.

Richmart organizes its Made To Order processes using new CAD/CAM systems for orders processing, 24 cutting robots /the ordinary manufacturing needs just 2 robots/ and new production lines by Brisay, Durkopp and Baisler.

Richmart keeps more than 1,000 items in stock - fabrics from world famous mills like Cerutti, Vitale Barberis Cononico, E.Thomas, Dormeuil and offers over 300 different designs of men's suits, coats, jackets and vests (designed for different markets and age groups).

Feel free to contact Richmart factory for the Made To Order production

The European factory RICHMART is a quality manufacturer of made-to-measure and made-to-order men's suits.

RICHMART is looking for men's suits brands and retailers

who are willing to request the production of Made To Order men's suits.

Richmart

services are appropriate for retailers, brands, designers and tailors, who want to optimize their work and efficiency, reduce investments and increase ROI.

Contact RICHMART for a quote


Hits: 19813 | Leave a comment