Men's suit as a cult
by Dandy
,
03 August, 2016
I knew a wealthy Greek, who loved to be seen with me, and thinking retrospectively - me, too. To become an instrument for exhibitionism in the fashion world is somehow flattering. We've always chosen as a scene for our appearances across locales and restaurants very theatrical places like platforms, terraces and central tables.
One look in the wardrobe of Mr. Filipos Pimenidis stood me in font of more stands than in a renown menswear store full with men's suits ordered carefully by colors. Filipos used to say: 'For me the suit is a cult' and he didn't love Summer a lot, because he couldn't wear great suit jackets.
The suit, turned into cult or not, is just a business card of a man, in which we can define details of cut, fineness, style, appearance. The suit must be worn with dignity and respect for yourself, the others and the qualities of the garment. It should be worn as it's a part of you, not as something bought and put on for the first time as an unbearable burden...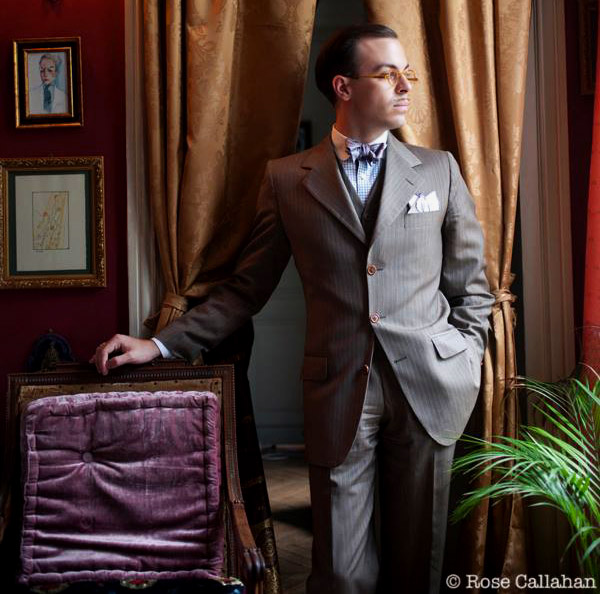 Massimo - a dandy, presented in the book I Am Dandy: The Return of the Elegant Gentleman


Well, there are men who find wearing a buttoned jacket a real challenge, but I should say that there is nothing more tragic than wearing a double-breasted suit jacket unbuttoned... And remember to never button your bottom button - unless you are wearing a military uniform in a garrison.

Some men find the tie knot a heavy millstone and wear it always loose and with unbuttoned collar button of the shirt, which gives signals for its owner profane habits. Usually politicians make similar really depressing impression - a suit jacket with a T-shirt in the parliament, for example, is a total attempt over the good taste and the required dress code. There is something suspicious and disrespectful in a politician with a T-shirt and a suit jacket.

Suits in the ratty mouse gray-brown color with baggy American cut complete the picture of ill-favored clothing among the insecure in their style men. Fear of pure colors reveals narrow-mindedness and sometimes the proletarian presumption - fear of dirt. Too long trousers with unsightly outworn legs are also an unendurable scene...

Suspenders, as we know, are not for everyone, but a belt with a strange buckle could be even worse - especially worn with a tailcoat!!!

Sewn shut slits, labels of the jacket sleeves or suit jacket pockets are another tragic picture. And men wear them, because they think that that's the right way. Another unsightly is that of overflowing pockets of the jacket or pants.

Rolled up jacket sleeves and lifted collar are among the liberties-violence.

Wearing separates without harmonizing their collars is pretty plebeian. While combining a suit with something like voluminous Alpine tourist shoes is just ridiculous.

Centaur outfits, which I like, could be experimented only by men with a great taste and fashion sense, otherwise they turn into caricatures...

And most importantly - the desired suit should be skilfully and delicately personalized through monograms and accessories, so you don't look like in the fitting room or on the catwalk of a cheap fashion show...

Nobility obliges, wearing a suit, too...


Hits: 4697 | Leave a comment