Top 10 SEO tips that really work for getting traffic to your brand's site
Having a web site is not a one time investment. As a manager, you should know what is needed so that your site drives more traffic and respectively new customers for your business. Even if you have hired a SEO company to work on your site, you should be aware what should be done, so that your site really works for you. You also need to know what to require from the SEO specialists you have selected to optimise your site. And in fact even if you are not a SEO expert, you can apply some of our tips on your own and save money.
SEO tip 1. Create engaging content
Have you seen that most of the websites add a blog apart from the pure advertising content for the brand? In a blog you can give tips and professional advices, which will make you more reputable but also drive traffic to your site. The more valuable content you add, the more visitiors you can attract. They can either come from the search engines or through social sharing.
SEO tip 2. Link to authoritative sites
If you add links to authoritative sites (pages of large and reputable organizations, news sites and magazines, etc.) in your content, your site will also look reputable. And you will actually be useful to the site visitors and your potential clients.
SEO tip 3. Use keywords in your titles and in your content
Don't rely just on images in your site. Add a good amount of text and try to put your most important keywords in the beginning of the text. This is also valid for your blog posts. How to get ideas which keywords and phrases to use? You can plan your keywords with the help of Google keyword planner tool in Google Adwords.
SEO tip 4. Make your website secure
You can make that by adding a SSL certificate, so that your web address starts with https:// rather than http:// Google is giving a ranking boost to secure HTTPS/SSL sites.
SEO tip 5. Speed up your site
To speed up your site you can compress images, switch to a faster hosting provider or use a content delivery network (CDN). If you are unsure how to do this, you can check your site speed and follow the instructions at Google Page Speed Tool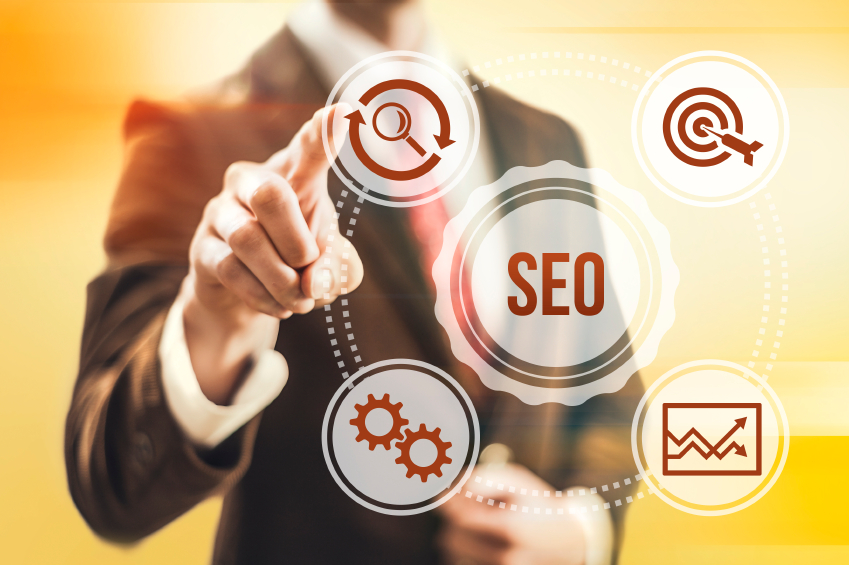 SEO tip 6. Include a sitemap
If you are using Wordpress for the development of your site, it would be easy to add a plugin, which will create a sitemap of your website. If your site is custom built, here is a tool that will help you create a sitemap. After creating the XML file, you should upload it to your site through FTP and add a link to it in Google Webmaster Tools.
SEO tip 7. Optimise your site for mobile
This is a little bit more complex task. You should ask your web designers about that, if your site is not mobile yet.
SEO tip 8. Generate powerful backlinks
To be able to do this in fact you also need to create engaging content on your site. Even if it is only the content about your brand, there should be a reason why someone links to it. The best way is to offer some really valuable information. Here are some ideas:
- make an interview with a person, who is an authority in your niche
- write about important events in your industry
- write news about trade fairs that you attend
- write how-to guides
- write an article about the history of a product related to your niche
- make free tools that others can put on their sites
- create infographics
- make interesting pictures or images
Here are some other ideas for you to get quality backlinks:
- Register in company directories - I don't recommend all directories, you need to select only the best. If you are unsure, make some research. One of the best directories, where you should try to be included is DMOZ. Other useful directories are ones that are specialised in your product, for example fashion directories, textile directories, etc.
- Get Your Free Business Listing on Google – Google My Business
- Become a member of professional organizations - Such organizations, for example Associations and Chambers, usually list their members on their web sites.
- Ask your business partners to add a link to your site on their sites
Read more information at seo business startup guide.
- Find other potential backlink resources
Those can be blogs that accept guest posts. You can find them by searching for phrases like "Submit an article", "Submit a guest post", "Become an author", "Contribute to the site", "Become a contributor", etc.
SEO tip 9. Use structured data
Here you can get more information How To Mark Up Your Content Items
You can not do this on your own if you are not a web specialist, but you can ask your web design company to implement that.
SEO tip 10. Find broken link building opportunities
This is a very interesting tactic. Have you searched for something and then found that it is missing and you get to a page, saying 404 Not Found? This means that a site had this resource before but for some reason it was deleted. It is not good for the website to have such pages. If it is a theme about which you can provide content, you can write an article and offer it to the site webmaster to publish it, in exchange of a link to your site.

Hits: 32159 | Leave a comment