Gentleman's dress - White Tie
by Dandy
,
22 December, 2015
If White Tie is written on the invitation, it prescribes the most solemn and sophisticated dress style for attending dinners, balls and receptions in sophisticated party.
In the presence of great persons, dignitaries and officials in the evening men wear full evening wear, particularly - a tailcoat made of worsted yarn fabric, a white pique vest, a white shirt with a broker collar, again made of pique, with double cuffs and cufflinks, a white tie - a pique bow tie, white batiste pochette, black trousers with double satin edging, black silk socks with black or à jour baguette and ballroom patent leather slippers or simplified Oxford; a white flower in the boutonnièr; gloves - white, made of chevrette, and at a very grand ball - of kid-skin; a silk top hat or clack.
The buttons on the plastron or breastplate of the shirt are pearl and the cufflinks are made of the most precious metals and inlaid with precious stones.
For evening weddings precisely this dress code is prescribed and at day weddings, as well as prayers and funerals, it is required to wear a jacket, a white pique vest, a white pique shirt, gray striped trousers, a light tie fixed with a needle, light gray Swedish gloves and a top hat.
In England this is the dress code for horse races in Ascot - a glamorous scene of centuries of secular vanity and unshakable tradition. According to this prescription, watches are pocket.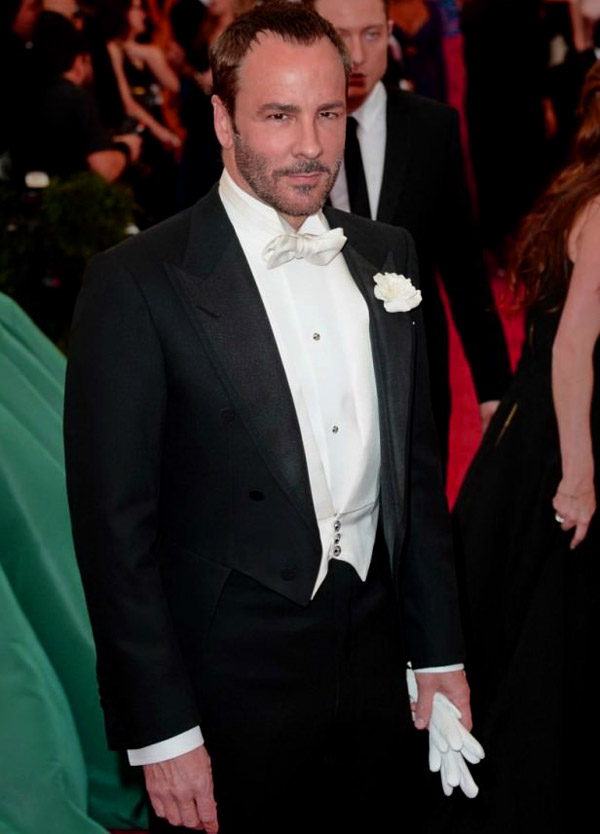 The tailcoat is worn with a black cape or a black coat. It is obligatory to wear a tailcoat at official receptions in embassies, in presentation of credentials to crowned persons and in awarding Nobel Prizes. On the invitations the medals and honors awarded to the person are indicated. The belt has folds up because gentlemen traditionally put there the business cards which they receive during receptions.


Photo:
American fashion designer Tom Ford in White Tie set




Hits: 19509 | Leave a comment