Men's suit jacket collars and lapels
Large collar with long edges and a single button is known as Classic Kent. It's suitable for formal events and small knot. It's a good choice for gentlemen who are definitely not fans of experimenting and fashion innovations. In short, we talk about a boring decision...
A medial variation is the collar with edges slightly apart, which requires much more voluminous knot. There is something froggy in this type of collar...
A collar with a bigger space between the edges is meant for Windsor knot, but sometimes it can be combined with a smaller one. Just nuances... in the paradigm...
The collar could be significantly higher with two buttons - very elegant, but not for men with short necks.
There are collars, which are worn unbuttoned, leaving the neck free. They are worn without a necktie and obviously meant for leisure time and free spirits. They are preferred by men, who hate neckties. And I can assure you that the effect is astounding.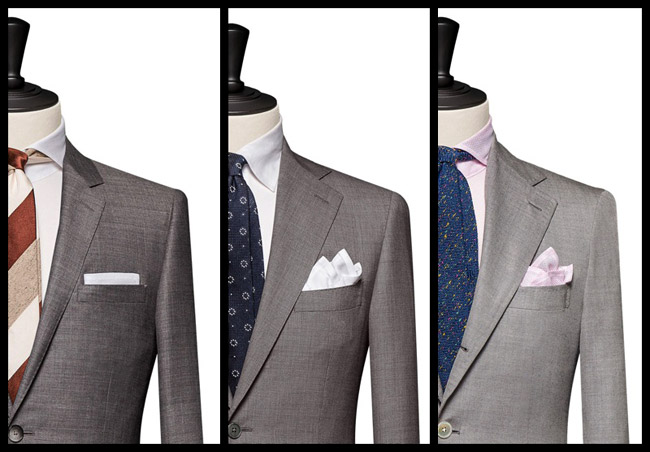 A collar, which pointed ends are secured by a needle, which also raises the tie knot, should be worn only with a necktie. It's called Pin-Collar. A pretentious decision for connoisseurs ... with fat wallets. The needle of course is golden...

The predecessor of the Button-down collar is a softer variant in which the tips of the collar lie softly and it is known in the USA as a soft roll collar.

In Europe is popular one variation of the above with smaller collar, which has almost nothing in common with the original and is meant for a smaller knot. Somehow it seems pretty narrow minded and effeminate...

Italian shirt-makers offer one variation of the US classics with higher collar and two buttons, obviously suitable for bigger knots.

A high collar with significantly apart edges and one button fits best with a wool necktie with big knot. It doesn't tighten the neck.

And we reach out a very elegant option, which I would choose for horse races Royal Ascot - it has rounded collar tips, secured by a special locking under the tie knot. This variation gives sense of wonderful old-fashion and it's sometimes worn by Karl Lagerfeld as well as by me...

The described collars' forms and functions are in direct dependence from the shape of the suit jacket lapels - and here have no rules, only intuition.

A stand-up collar, a.k.a army collar in Bulgaria, initially was meant for attaching a removable collar, but today is an informal collar, preferred by artists, conductors and painters.

And here we come to the most formal and lovely collar - for tailcoats and tuxedos - the button-down collar, which was part of the business wear in the beginning of the XIX century and today is worn with cut. It's extremely elegant and gives attractive sharpness to the man's neck. It's meant for bow ties, but looks good with a necktie, too - in absolute disagreement with the rules... Gentlemen who wear this collar type during the day, too, practically have no day life and that's very chic...

Warum nicht?


Hits: 7296 | Leave a comment