Wool or Textile necktie to chose?
You will never find a wool or a textile necktie in the wardrobe of a British city-gentleman. He would wear a wool tie only in his countryside mansion, while knitted ties would leave with please for the people of art, science, literature and journalism, for their real or supposed rebelliousness and anti-conformism.
The same rules are valid outside England, too. One silk tie is considered formal everywhere in the world. It some sort of permissible to wear also a knitted tie or a wool tie with your business suit - even for evening - but you should know how to do it. Imagine a fine silk jacket with a thick wool tie - absurd!
The formal versions of knitted ties are, of course, in black or navy blue. It has the usual width of an ordinary tie, suits bright shirts and combined with a dark gray suit - looks quite correctly. Monochromatic knitted ties fits well with colorful shirts, too. But a man who is not quite aware of the issues of style, should skip knit ties, as its ordinariness requires a steady hand for combinations with available shirts.
Wool neckties are available in similar variety of colors and patterns, as silk ones. In the academic world in England, for shirts is very popular the so-called Tattersall check-Hemd - necessarily coupled with a wool tie.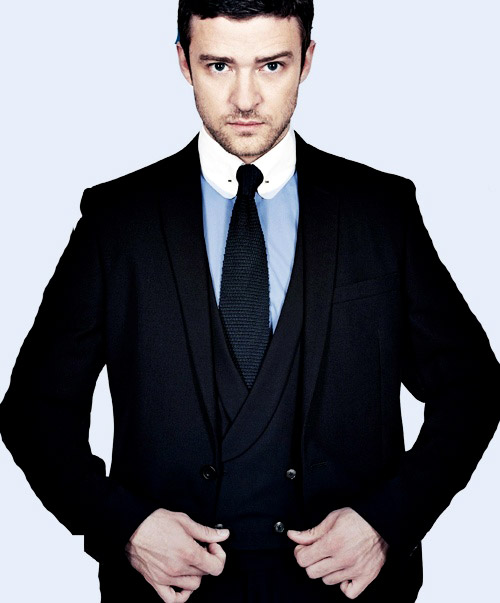 American singer Justin Timberlake

When it's combined with a check shirt, wool tie should be, of course, monochromatic. But it could be also striped in all classic variations like Paisley and Foulard, or with typical local motifs like pheasants, ducks and horses.

Quality wool ties are offered in Italy, too - for example, by Milan manufacture Nicky. In Italy, wool and silk ties are equally worn. Wool ties are made mainly of wool or cashmere, but also of blends of wool and cashmere, wool and silk or silk and cashmere. Each of the variations makes a tie warmer and more solid than silk ones, so they are good for Autumn and Winter as its elegant alternative.

And here's Justin Timberlake in a tuxedo and a boucle necktie - like those that were modern
when I was a student...


Hits: 2964 | Leave a comment