The Brooks Brothers shirt
This type of shirt won his final and decisive victory during the 1980s, when every real Yuppie brought from New York a true Button-down shirt in pale blue, pink, white, yellow or mint, striped, checked or tartan. Combined, of course, with original dark blue Levi's, Alden cordovan shoes or G.H. Bass & Co. Men's Larson Penny Loafers.
This might seems incomprehensible to younger readers of men's fashion magazines, but it's a fact. A key role for product's success had Gianni Agnelli, who preferred exactly this type Brooks Brothers ready-to-wear shirt with soft roll collar, although he could order his shirts at the best shirt makers in England and Italy. Americans can find the shirt at Madison Avenue, Manhattan, NYC, since 1900.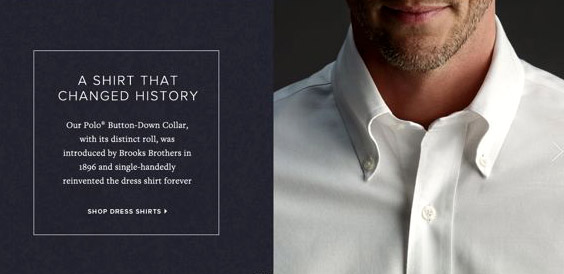 They say that John Brooks saw the little buttons on the collars of polo players during a game and inspired ordered the Button-down shirt, which is a permanent part of company's product range ever since. I don't know if the story is real, but it sounds nice. Well-informed say that real polo shirts has nothing in common with their American 'sisters', but anyway Button-down shirt is one of the very few contributions of Americans in classic men's fashion. But the charm of this product is indisputable, only if it's Brooks Brothers', because so far, noone has managed to copy successfully the original cut of soft roll collar.

Contrary to the European prejudices, on the East coast of the USA dominate pretty strict requirements about the dress code, which are unconditionally applied in the business life. If you bring your vintage shoes to a shoeblack in the morning in Manhattan, you will surely notice that you are surrounded only by suits. The only exception is Casual Friday, while during the weekend, a gentleman can appear in jeans and a polo shirt. This Casual style includes a sport jacket, Chinos and a more leisurely shirt know as the Friday shirt.

In Brooks Brothers catalog you'll find pages dedicated to the Friday-shirt, from which you can choose Chambray and different typical samples like mini plaids, candy stripes and mini tattersalls, which colors are suitable for the weekend.

One more occasion during your next visit in New York to go to the corner of 346 Madison Avenue (44th St). And there, ladies and gentlemen, you should ask for a soft roll collar, because at the birth place of the Button-down shirt from some time now, you could also find an European version of this classics...


Hits: 3993 | Leave a comment