Men's fashion trends for Summer 2016
As we know, blue suits and gray suits are classics for men who don't want to risk their reputation - even if they are not politicians or businessmen. They are clean, simple and suits every occasion. But this monochromatic look is kind of background for this Summer season. Men are happy to experiment wearing suits in strange parrot-like colors, showing no reserves. Canary, lavender, bright red, deep green, pink and so on... All limits are down. We see even suits on figurines, dots, Paisleys, quirky prints of antique engravings, encyclopedic graphics or urban-graffiti. Glaring colors, intrusive patterns, huge checks - everything is allowed in this cacophony styling with Fauvism elements.
Naturally, a gray suit requires simple awareness that you will be like the others, while a colorful suit claims for boldness and diversity. But when everyone wears a colorful suit, maybe it's a good moment for restrained classics. You just have to believe in yourself...
'Two is better than one' or 'Too much is never enough' - talking about menswear, these mean preferences to double-breasted suits. There is something military attractive in double-breasted suit jacket. Some sort of festivity, which is light-weighted for the Summer. Slim-fit and minimalist - this suit jacket is currently a hit. Novelty? - not at all - just an optical trick and a rediscovered antiquity...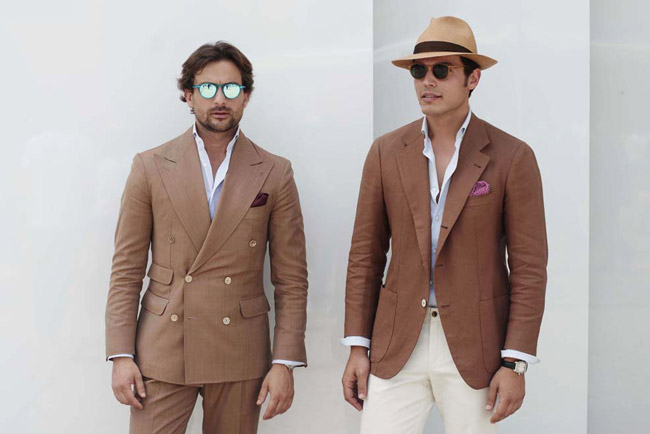 Another key color for Summer 2016 is with no doubt Khaki in its lightest version. It's a very good choice for hot weather - better than pompous white. And mentioning white, this Summer white sartorial denim, cabinet pajamas and dressing gowns are definitely accents this season.

The most elegant man I saw at the theater festival in Avignon, was wearing a light khaki pants, a linen jacket on extravagant wide blue and white stripes, suede loafers and a Panama hat.

The Panama hat triumphed in Summer outfits this season with the sense of artistry and bohemian style, which it gives, but as you can guess, it is not suitable for shorter men. Elegance is a matter of right accessories.

Wearing shoes barefoot becomes alarmingly popular. It is far from good taste, but that's the world of fashion - sometimes vagabondish. Barefoot men appear on dinner parties and Red carpets - I think that the next step is to see them shoeless like Indian wise men...

Why are we doing this overview?
Just to recommend you to not reach for clichés, but cling to your own taste and style!


Hits: 5097 | Leave a comment