Men's suit accessories: Cravat
We've already mentioned that type of men's shirt collar, which is not buttoned around the neck and is meant for gentlemen, who don't wear neckties. So, this type of collar is suitable for the so-called Cravat (scarf-tie) - a whimsical fashion accessory, similar to Ascot and Plastron and loaded with many stylistic connotations. When a movie's scenario provides the appearance of a playboy, he will surely wear a Cravat, most often combined with navy blue blazer with amazing metal buttons or a knitted waistcoat with a scarf-collar.
The cliché image of a fictional writer, movie producer or millionaire, also dictates that he should be presented in the same tone. This curious associations give the cravat that trail of elegance and formality, necessary for the casual look of a weekend night event.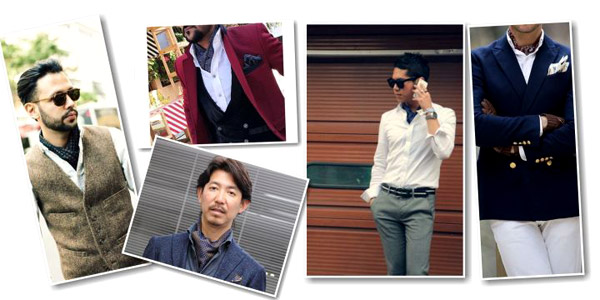 A simple outfit consisting of a Tattersall Check shirt, a pair of jeans, a bottle green pullover with V-neck and G.H. Bass & Co Weejuns (Moccasin-style shoes for casual wear) in burgundy, could be perfectly matched with a Paisley Cravat, which fully completes the term Casual elegant style. The combination a gray tweed jacket, herringbone, dark gray flannel trousers and black Brogues would also look more impressive with a Cravat instead of green striped club necktie.

A Cravat ups the level of a sporty look, while to a formal outfit it gives a leisure note. Some gentlemen don't accept those nuances. They prefer a sharp distinction between a formal and a sport style and miss that intermediate level destined exactly for the Cravat.

Cravats are usually made of silk, in a huge variety of patterns, never monochromatic. The classic patterns are Paisley and Foulard (a small-scale pattern with basic block repeat, also called a set pattern or a tailored pattern).

Decorating with a cravat is so flexible, that it covers a wide range of looks -
from classic formality to extravagance.
There is daring in this accessory...


Hits: 5988 | Leave a comment