Why men's suit jacket pockets are sewn shut ?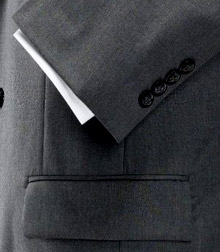 A men's suit should look elegant, stylish, classy and new! Every gentleman would like to keep his outlook as smart as possible for a long time. Manufacturers know that and have men's suit jackets pockets sewn shut. This keeps them from deforming while men try on the jackets.
Sometimes suits don't have any real pockets, but the flaps, buttons and seems are sewn to look as if there are pockets. In case the jacket has real pockets, its owner should decide if he will use them or he won't.
Some say that pockets are there to be used – to carry some light things, like tickets or cigars. So you should definitely open your pockets up.

Others say that using the pockets can stress the seams and ruin the jacket over time. So, in their view, it's better to keep your pockets sewn shut.

The choice is yours.

If you choose the first option, you can ask your tailor to open the pockets when you buy the jacket. If you are more the 'do-it-yourself' kind of person you can use a seam ripper, a pair of nail clippers or fine scissors to cut the threads.

If you choose the second one – just enjoy your suit and find other places to put your belongings.




RICHMART - Manufacturer of made-to-measure suits

The Bulgarian company RICHMART is a quality manufacturer of made-to-measure men's suits.

RICHMART is looking for made-to-measure retailers, ateliers, shops, agents

who are willing to take orders for the manufacturing of made-to-measure suits and work as franchise partners.

The franchising of

Richmart

is appropriate for traders without experience in the field of fashion, as well as for designers and tailors, who want to optimize their work and efficiency.

Contact RICHMART


Hits: 10802 | Leave a comment