The Business Suit
The business suit for a man is like a business card in the society. It should fully represents the nature of the gentleman. Contempt to your suit is automatically contempt to your business.
A navy blue suit with small stripes or delicate checks is suitable for an official business meeting. More dandy style variations are meant for people from the show business, rentiers or adventurers.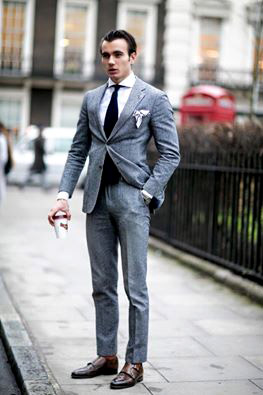 Other appropriate colors are inky blue, lead gray, anthracite, mouse gray-brown, dark chocolate brown.
Trousers are necessarily cuffed. Double-breasted buttoning conveys authority and power. The waistcoat is a sure sign of conservatism and mellowness. The shirt is white, worn with cufflinks and a neck-tie only in black, pastels, dots, British or American stripes.
According to really vain Oscar Wilde, the gentleman's tie know reveals more about him, than can be spread by the gossips.
We distinguish three types of knots:
- Four-in-Hand - small in size knot, suitable for thick silks;
- Half Windsor - bigger and more symmetrical knot, with a fold in the middle, suitable for narrow ties;
- Windsor - the biggest and the most symmetrical knot, the wide end of the tie get through the neck loop twice.
If your tie is very narrow, don't put a needle. NEVER use a needle-clip. Pre-tied bow ties are very popular, but it's much more chic if you tie it yourself.
Your pocket square should NOT duplicate the pattern of your tie or bow-tie in no case - they should be in a bizarre contrast. And how to fold your pochette? You can choose a different manner every day, depending on your mood. The seams of the pocket square must be hand made, it could also have a monogram.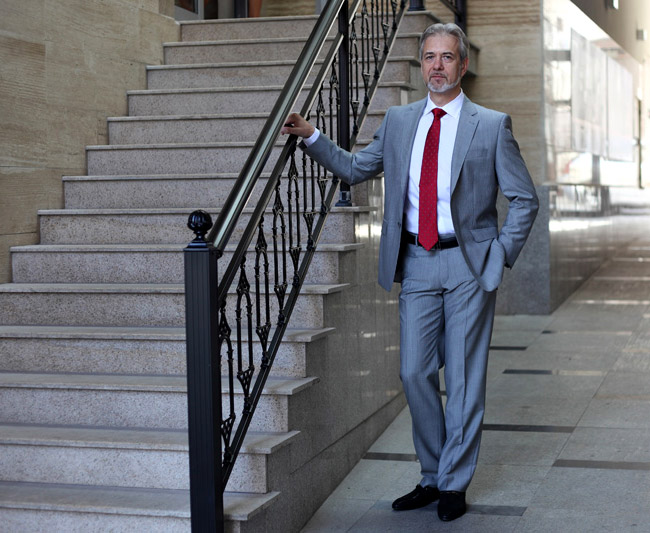 Richmart made-to-measure men's business suit

A business suit is worn with Oxford shoes, Loafers or Botine Balmoral. Obsession with maintenance of expensive shoes has reached the point in which a society of gentlemen in Paris, who gather together at Hotel Ritz to polish their footwear with special shoe polish and Dom P?rignon, which gave them 'specific shine'. Others, put their shoes under the moonlight to achieve a certain hues. Don't wear patent leather shoes during the day. The color of your socks should match the color of your shoes. I recommend Mes Chaussettes Rouges, Gammarelli version in... raspberry red, let's say.


Hits: 4513 | Leave a comment