The Gentleman's wardrobe: Cufflinks
The magnificence of the men's suit, ladies and gentlemen, is not just a one-man show but a pretext for many accessories that give extra shine, but only in case they are well considered and worn with pleasure.
Cufflinks are among those accessories, whose importance is inversely proportional to their size and whose power to finish the look is huge no matter of their small size.
If from your jacket's sleeves we don't see double cuffs with cufflinks, you're obviously a layman in fashion... or a politician... Cufflinks are the last touch in men's suit. Of course, to wear them you need a classic double cuff shirt.
If you're even more sophisticated, you'll order shirts for tailcoats or tuxedos with buttonholes on both sides to insert a special ribbon with unique silver or gold buttons fully in line with your cufflinks... and your manicure.
If you are a diplomat, you will appear for meetings with cufflinks with blazons and monograms of the respective countries.
If you are an eccentric, you can put different cufflinks on both hands. I've had a pair with Japanese hieroglyph of happiness, another with monograms of Sultan Abdul Hamid, third - with stones identical to those of my rings and my needle.
Always skip shirts with buttons and buttonholes for cufflinks as well as with sewn textile cufflinks on the sleeves - this combinations are not stylish. Cufflinks are like brooches for women - through them you can express your mood and taste.
When the two parts of the button are connected with a chain that's pretty traditional solution, which fits to have initials engraved on the front or zodiac gemstones.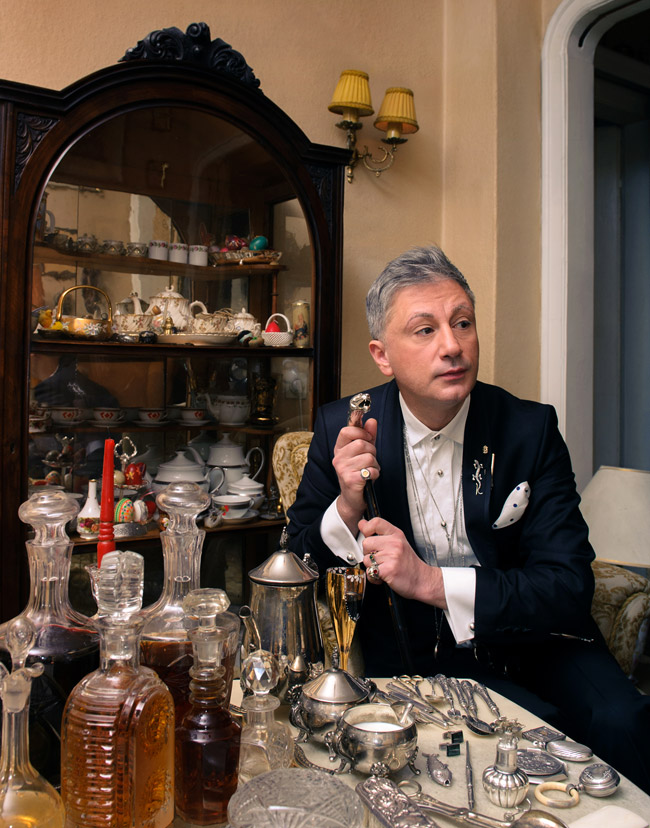 Dandy with a small part of his accessories

Your cufflinks have to match your watch, pen, glasses, rings, needle, walking stick and boutonnière. Some consider that gold and silver shouldn't be worn together, but there is jewelry with Kabbalah symbolism, which traditionally includes five metals - silver, gold, copper, tin and lead.

If you chose expensive cufflinks with stonegems, can't wear them with a sport coat. It could be combined with smaller and unostentatious cufflinks.

In contemporary men's fashion, contrasts are a wanted effect sometimes - for example a blazer with jeans and golden cufflinks - but in this case, everything should be very well considered.


Hits: 3052 | Leave a comment