The Brooks Brothers men's suit
Brooks Brothers is not only the largest supplier of men's suits in America, but also an American institution, recognized as the American flag and the Statue of Liberty. This is the original prestige of American style. When Andy Warhol receives a check for series of his stage performance for shoe store I. Miller, he bought for himself a hundred identical white shirts from Brooks Brothers.
Brooks Brothers was founded in 1818 and its tradition is as long as this of some European men's fashion houses. The history of the company is closely linked to the history of the USA. President Abraham Lincoln was wearing a Brooks Brothers coat during his introduction for the second presidetial term in 1864. 19 years earlier, in 1845, the company sold its first ready-made men's suit, something unheard until then in the USA. It's the prototype of today's typical Brooks Brothers suit with the Sack-Suit cut, including natural shoulders, three buttons, and a back slit.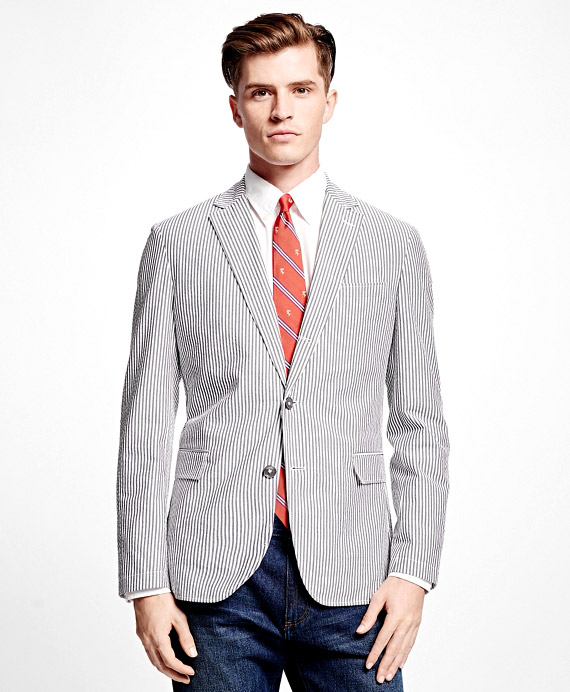 The typical patterns are blue and gray stripes, gray herringbone, Prince-of-Wales-Check, monochrome blue, gray and olive green. Sizes are from 36 to 50. Coats have up to 5 lengths - regular, short, medium long, long, extra long; and trousers - up to three - regular, short, long. Alterations are available on spot in the atelier.

The customers can choose jacket and trousers separates, which as a rule in continental Europe is impossible. They offer two types of trousers - with or without pleats.

The prices are definitely lower in comparison with the expensive European confection. The fashion house offers a wide range of T-shirts, ties, underwear and socks and most of all - sport articles like checked T-shirts, pullovers, Rugby-Shirts, velvet trousers, etc.

You should visit the shoe department, too - there you can find the popular Alden shoes, made of horse skin leather, as part of the label Brooks Brothers. But the best thing is that you can buy endlessly the same items, that you have already loved, without need of trying other.

The old customers are pretty skeptical to all kinds of innovations, because the style and the quality are are blurred from unnecessary changes. We hope that this trend will not lead to the loss of company's identity, which power and fascination is to insist in following of the traditions.


Hits: 4756 | Leave a comment