Premium quality shirting fabrics for Spring-Summer 2017 by Tessitura Monti
Stylistic reworking of an evocative sensory experience.
A renewed bond between tradition and innovation

The history of Gruppo Tessile Monti is rooted in the middle of the 1800s and today Tessitura Monti S.p.A. is the Monti family's historical textile production vehicle - a worldwide leader in premium quality shirting fabrics.
Tessitura Monti offers every season new colors, structures, special yarns and innovative prints. Spring-Summer collection 2017 looks colorful in all its designs, for a fresh proposal, typical of Summer, more dynamic and lively.
Tessitura Monti collection is the stylistic reworking of a travel on three evocative sensory dimensions:
* an urban itinerary, through cultures, colors, metropolitan graphics, movement and dynamism;
* an exotic-tropical journey, made of colors, scents, of constant aesthetic renovation and a reinterpretation of taste and new realities;
* a virtual trip, through digital network, new structures, lightness and speed.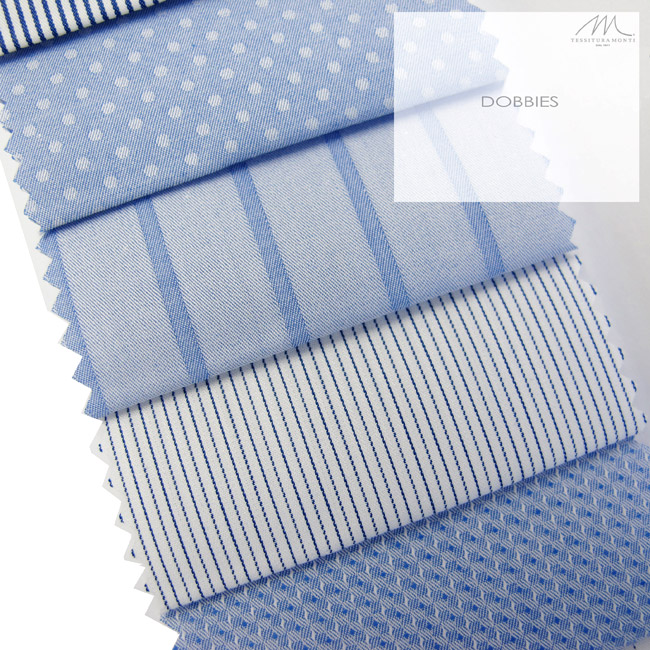 Tones
A colorful collection. Three tones of shading, developing as many color themes, define the color palette SS2017.
Safe colors: a classic of shirting world from blue to sky, with tones from red to pink, and for sure the classic white, the non-color for excellence, across all the collections. Safe tones, related to the journey, chromatically translate the dawn, the beginning of every new day, when the light is soft.
Colonial tones: colors are neutral, not saturated and poor of brightness, becoming in this way the shades of discretion and balance. The beige, shades of khaki, the burnt colors reminding sulphur, minerals and volcanic landscapes recalling the charm of sunset, the day turning to dusk.
Tropical: all the ranges of saturated and vibrant colors, with a particular attention to the light tones of pink, yellow and aqua, up to the more intense ones of orange, red, green and turquoise. Also this palette, like the others, interprets a moment of the day, the central one, the hottest, brightest and most vivid.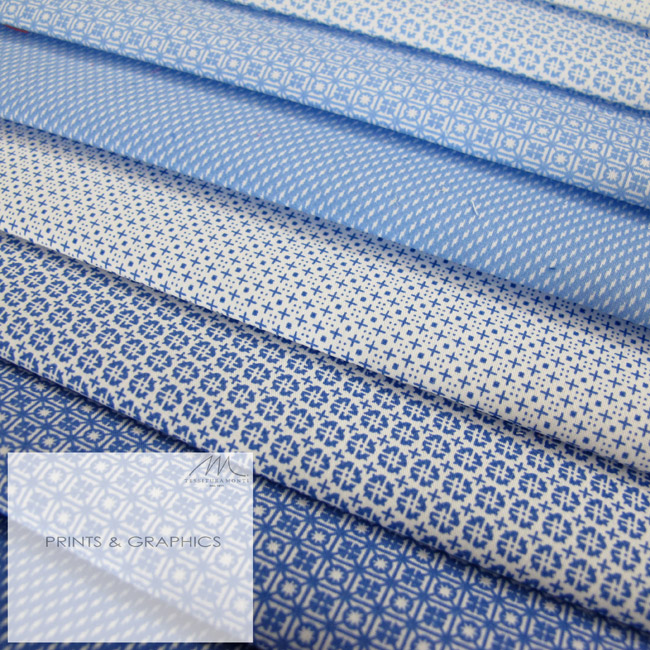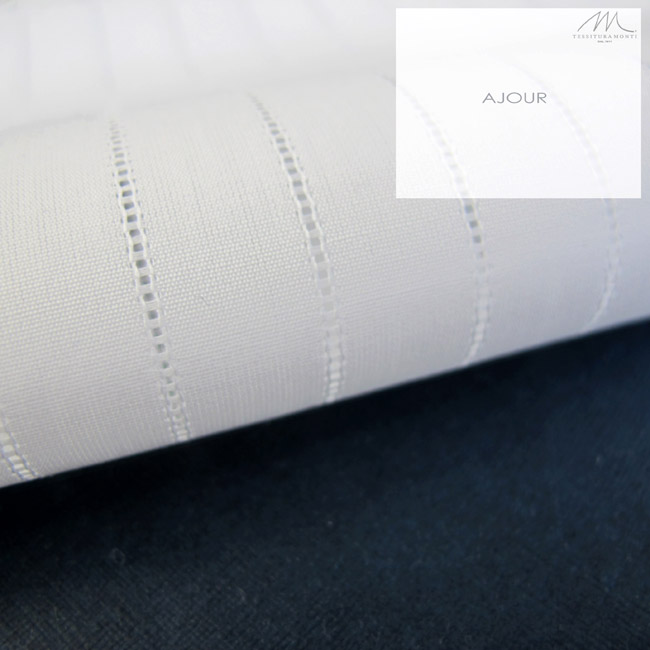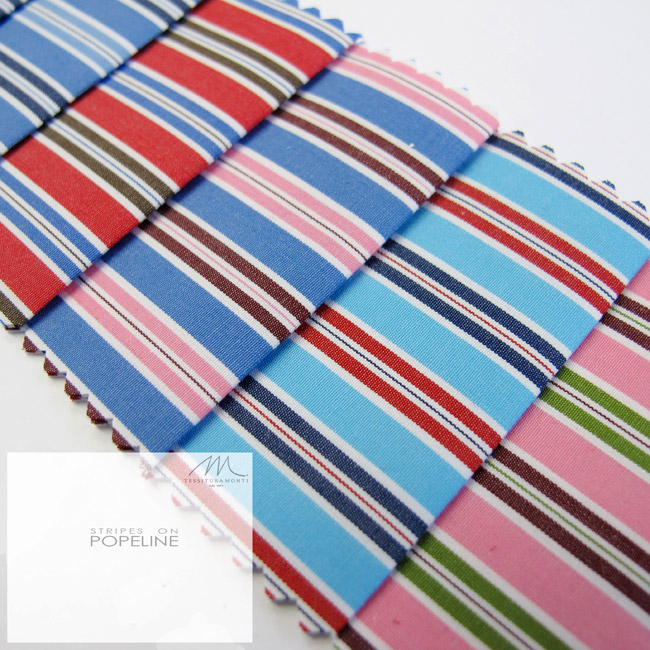 Structures and weights
Lightness and motion. Concerning structures and weights, Tessitura Monti shows once again exclusive news.
Light structures, with fluid and natural hand feels prevail, wavy fabrics, starting from simple construction effects up to the more complex techniques of seersucker and wrinkle look, obtained mechanically or by the use of special yarns irregularly placed in the fabric. Seersucker, one of the season themes, creates mixed up stripes, wavy, for a lightness and softness effect interpreting an easy shirt, practical, informal, with a modern and dynamic look. A crossbreeding of more styles, exactly like in our multiethnic societies.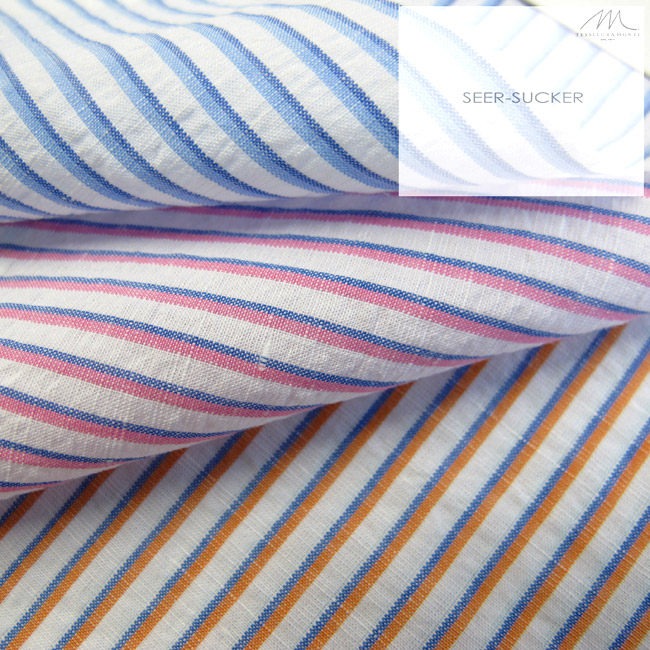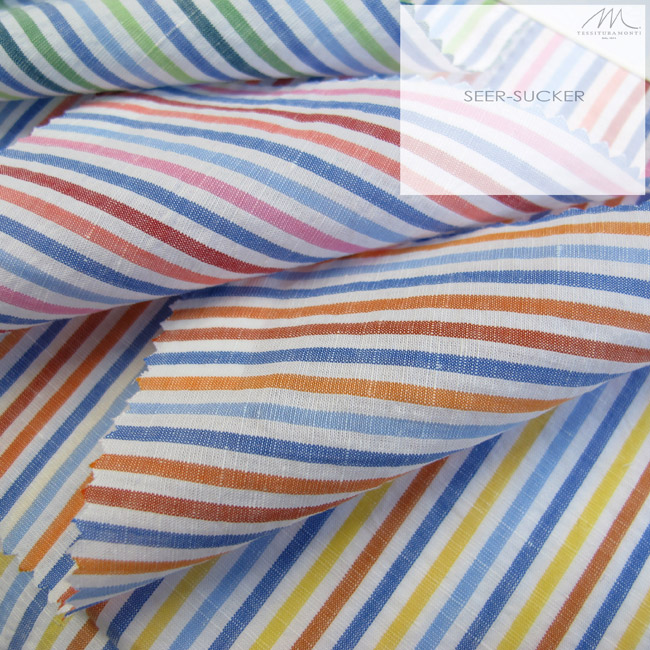 Tessitura Monti also revised the classic themes through the proposal 'More than Classic', a collection of structured fabrics as an imitation of the basket weave and dobby, with tridimensional effects. A renewed classic, of new generation, a true desire of evolution, translating the will of change towards a comfortable look, for a customer loving convenience, elegance and dynamism through garments suitable for different occasions.
The Basket Weave proposal includes new bases, where small seersucker effects liven up surfaces. Fabrics are plated with delavé pigment dyeing, whose color gradually fades away up to get the definitive nuance, giving life to a completely renewed interpretation of basket weave, with light variations, structures and stripe effects.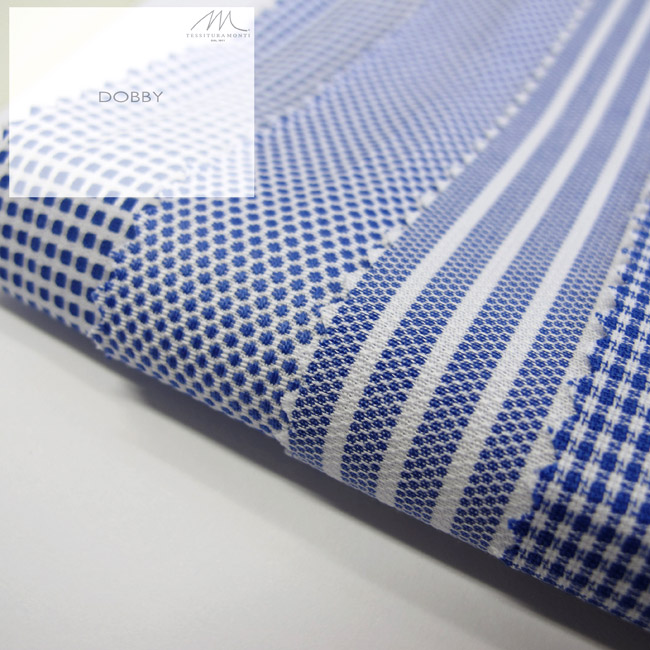 Knitted fabrics are made with the finest twisted yarn counts. Jersey fabrics, plains and printed, for a plated chromatic effect, where T-shirts and polo-shirts are the tradition, whereas shirts are the innovation. A jersey shirt, soft and at the same time stable, made with 60 yarn count, for fabrics with an innovative structure and classic designs, original and trendy. Compact and twisted yarns, very fine (120/2), light but resistant, for an informal and comfortable look.
Linen, essential in a summer proposal, remains a noble fabric, a seasonal must-have, for its undiscussed characteristics of purity, freshness and lightness. In contrast to cottons, Tessitura Monti also offers a wide range of linen blends.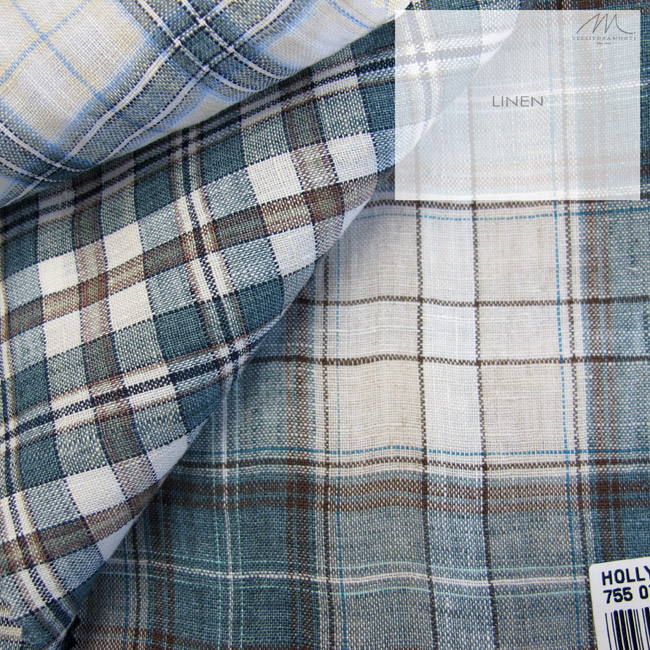 Textures and Graphics
Stripes, expressing themselves through a new and dynamic behavior, varying from the bold monochromatic ones, more marked and defined, to the thinner and refined ones, from the horizontal ones, with a shady degradé effect, to the hidden ones, designed by structures creating plays of light and shadow. Faux unis, micro-effects and geometries, moving on surfaces to create wavy and irregular effects. Micro checks and tartans in unexpected combinations.
Print is for this season still an important theme and enriches products with high quality and added value thanks to its application on yarn-dyed fabrics.
Micro prints imitating yarn-dyed fabrics up to more important dimensions; embroidery playing with prints and fil-coupé proposing tropical and nautical designs.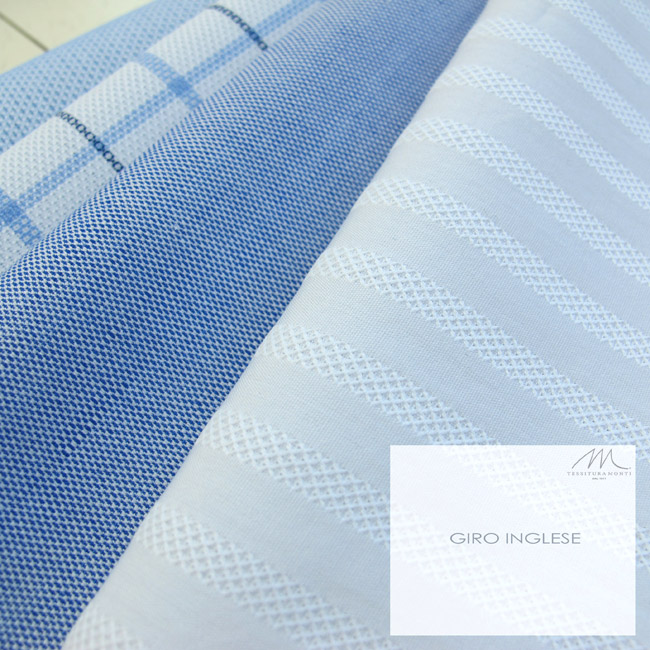 Special finishings

The trend is a fix with transpiring plating, creating a frost effect, delavé surfaces and soft and fluid hand feels for a vintage shirt concept, informal and casual.

For more information: www.monti.it


Hits: 10206 | Leave a comment