Première Vision Paris through Dandy's eyes
In six spanless detailed halls in Paris' exposition center Villepinte was held with a chilling thoroughness the last edition of fashion show Première Vision. For this appearance I had once again a special name and identity - during the registration I was given a badge with the name Susanne Rohrmann, Studio Rohrmann, Danemark (after I've received the title 'Mister Magic' in Milan) and it gave me an access to those discrete bars, where champagne flowed... without anyone counting your glasses.
So my way through exposure could be wetly called The path of champagne. It brought me to the party of 'Shigoto Project' - a conceptual group L'Eclaireur with boutiques in Paris and Los Angeles. There I was directed by Kevin Le Roux - a dazzling blond curator in black-and-white striped redingote, shortened pants shoes with Budapest bowler. Models, situated on the awe-inspiring heights along the edges of the stand, were a kind of monuments of the eclectic urban attire with a fantasy element, a scout joke, Japanese motifs and recycle imagination.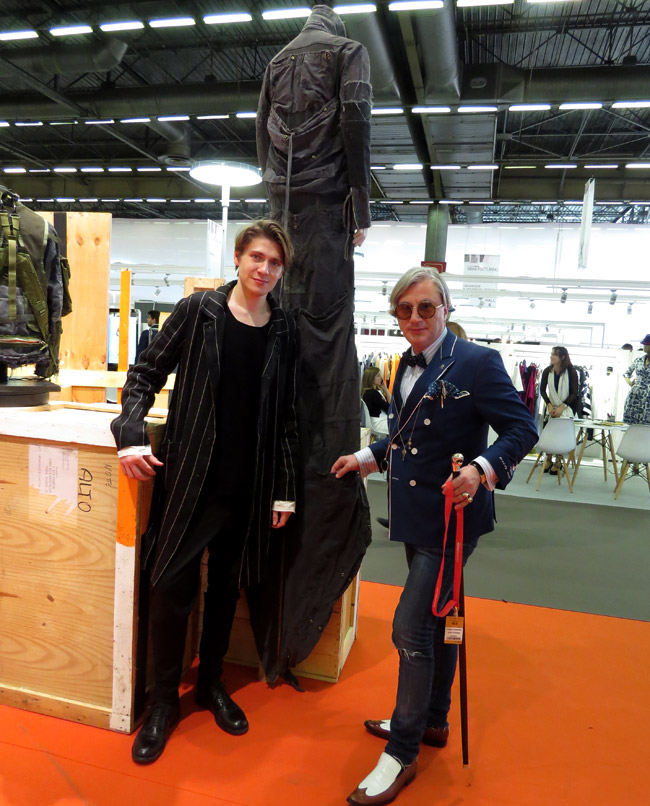 The model of Men's Fashion Cluster Dandy (R) poses with a designer from Shigoto project

It was full with Bohemian outfits in which Military elements are built, strange items such as corkscrews, which gave me carte blanche to move conceptually among them with my protruding from the pockets silver spoons, boutonnieres, vases and countless monarchical needles like a more gallant, but not old-fashioned scout.
There were also Japanese jackets made of brocade-like fabrics, which I would dress immediately, because they had noble backwardness.
During the liaison I was impressed by a young lady with a Victorian bell coat and a hat in the style of Princess Clementine, who was escorted by a young scout in patchwork pants with suspenders, just like varmints Max and Moritz, and by an elderly lady similar to a Russian countess with a Bastogne, most probably of Chinese origin, who was kind enough to judge that my Bastogne with a silver head of the hydra is far more elegant.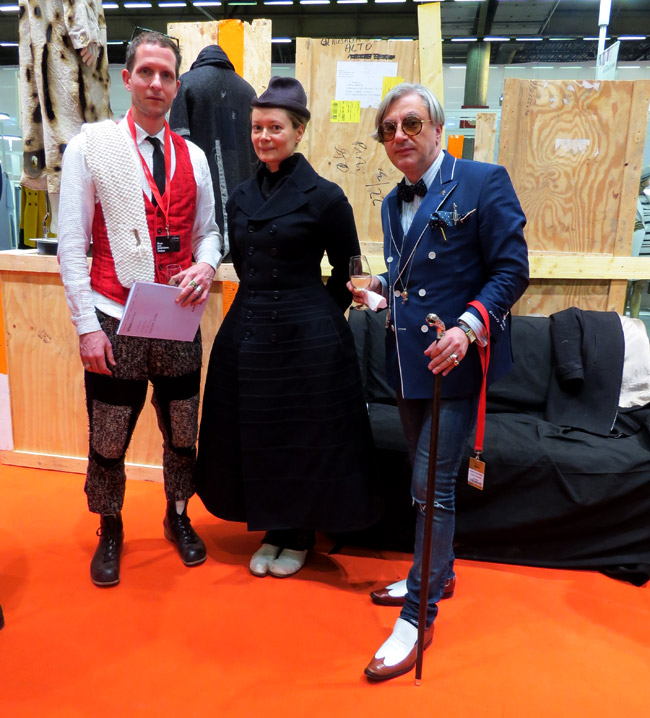 Dandy (R) during the Shigoto project's party

From there the trail of champagne took me to the stand of Holland & Sherry, where they also had tried to create a suitable setup for me - except the wool fabrics and the photographs of sheep so kind to give us wool, there were a dozen hybrid tuxedos and morning jackets - the kind of which I pleased to appear in on the second day of the exhibition and who would dare to deny this very fashionable triumph. The theme was 'Masquerade' and a very nice employee of the famous company, dressed in an elegant blue and yellow check set, pouring champagne as my personal waiter...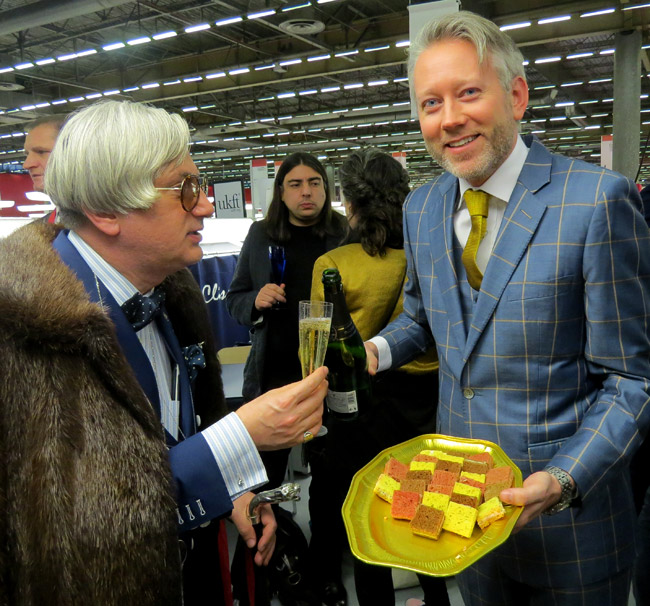 Dandy (L) at the stand of Holland & Sherry

I was dined with Prosecco and parmesan at the stand of Fratelli Tallia di Delfino, which surprised me with fine fabrics in all shades of blue, from which I - in monarchical motives - preffer bleu de roi.
In fact, the first day I was wearing a blazer with white revers in this hue, which inspired trust on me and this venerable company. It is interesting how invented by the Duke of Windsor blue evening continues season after season to be a fashion hit...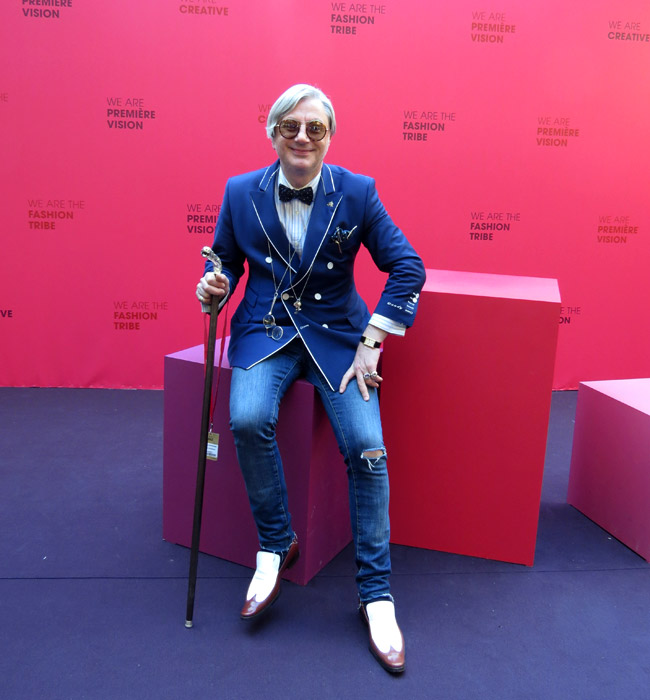 Dandy@Première Vision Paris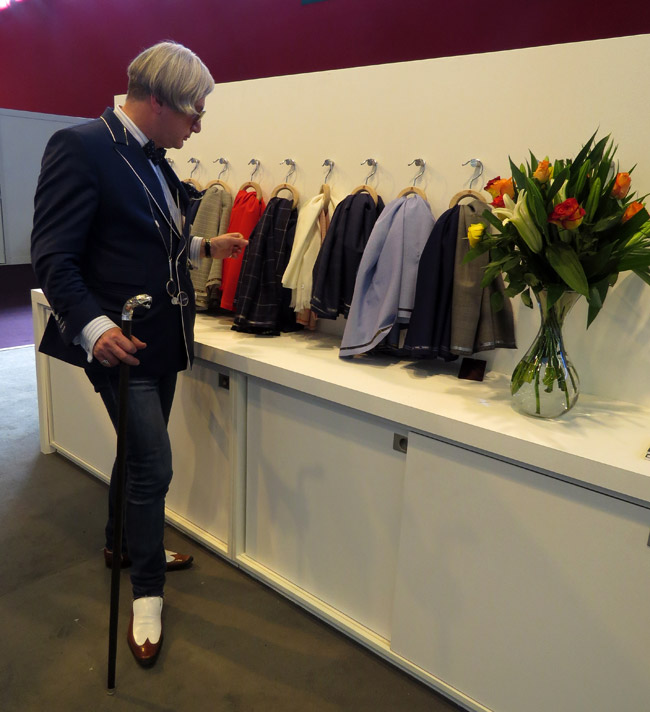 Dandy@Première Vision Paris


And for the finale of this reportage - what impressed me most? Unconditionally the Shantung and Crepon suit jackets wore by the members of the band 'Marzotto'. Well, the Summer is coming...

I've missed a Louis Vuitton catwalk show, because I've preferred a few professional poses in cafe 'Sarah Bernhardt'... Voila!


Photos: © Be Global Fashion Network


Hits: 3561 | Leave a comment