10 Men's Fashion Trends for Spring/Summer 2019 from Paris Men's Fashion Week
This isn't your typical Paris Men's Fashion Week recap that includes explicit mention of the who's who at the event to the ambiance and sets as well as the never ending looks on glamour and style, most of which indicate what we'll be seeing and wearing in spring and summer of 2019. Instead, and to break the monotony of so many articles with a similar gist in common, I thought I'd share something different, touching on some key factors that made Paris Men's Fashion Week this year truly memorable, a dash of drama, a sprinkle or two of spice and some of the biggest trends that will transform menswear in 2019. All spread out stylishly from June 19th-24th 2018.
Denim, denim and more… DENIM
There was a huge presence of denim throughout the event, which wasn't as big a surprise as it was to see how interestingly designers incorporated denim into their collections. From denim that had a dressed up, smart casual look to a high-end street style that made way for many different types of denim. I'm talking about distressed denim, stone-wash denim that was influenced by the eighties but had a modern look, acid wash jeans, there was lots of creativity that was reflected in each of the denim looks. While Off-white, Sacai and Y Project showed more effortless denim looks, Facetasm, Maison Mihara and Rick Owens had some artsy vibes going with their denim ensembles. Balmain though was one of the popular crowd favourites in the denim department.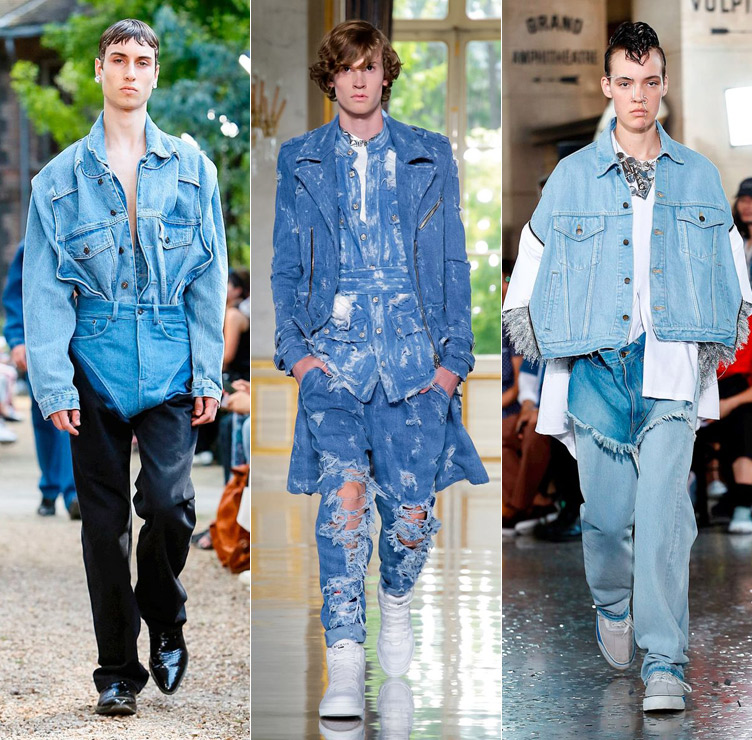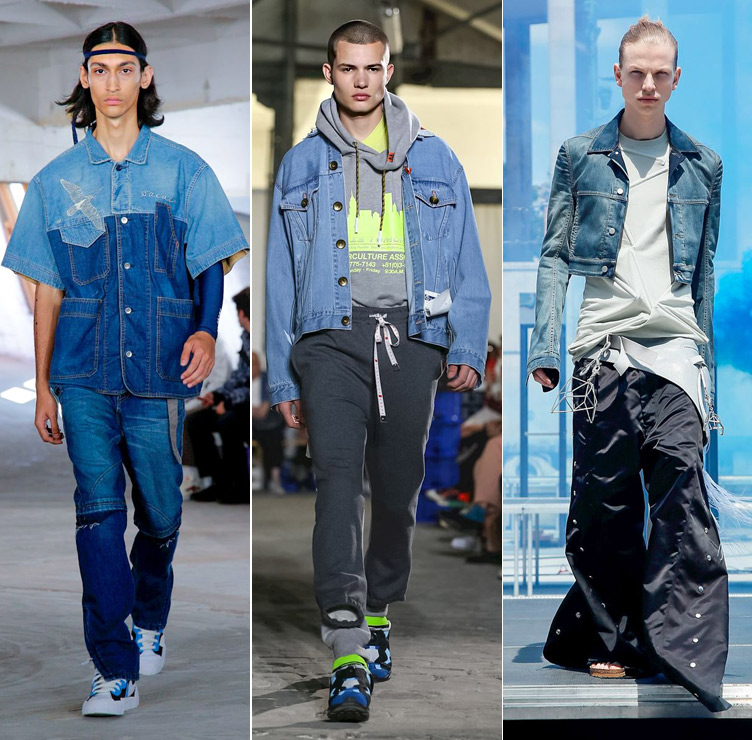 Prints for some Pizazz
It is a universal understanding that prints are synonymous with spring and summer, add to that the style that is amplified because of it. The prints that ruled the show at Paris Men's Fashion Week were a mix of classic floral, some inspired abstract and an exciting use of Aztec prints some having a cross-country tribal element. With the blend of colour and print, spring/summer 2019 will surely have bursts of energizing print-colour combinations. Now that's something refreshing to look forward to. There were the traditional call to prints that included stripes, checks and plaid but on the other side there were abstract prints such as the one on leather at the Alexander McQueen show, or the tribal influenced print at the SSS World show. Louis Vuitton added to the print party-list by adding tie 'n' dye print that has made a grand come-back taking on a brand new appearance.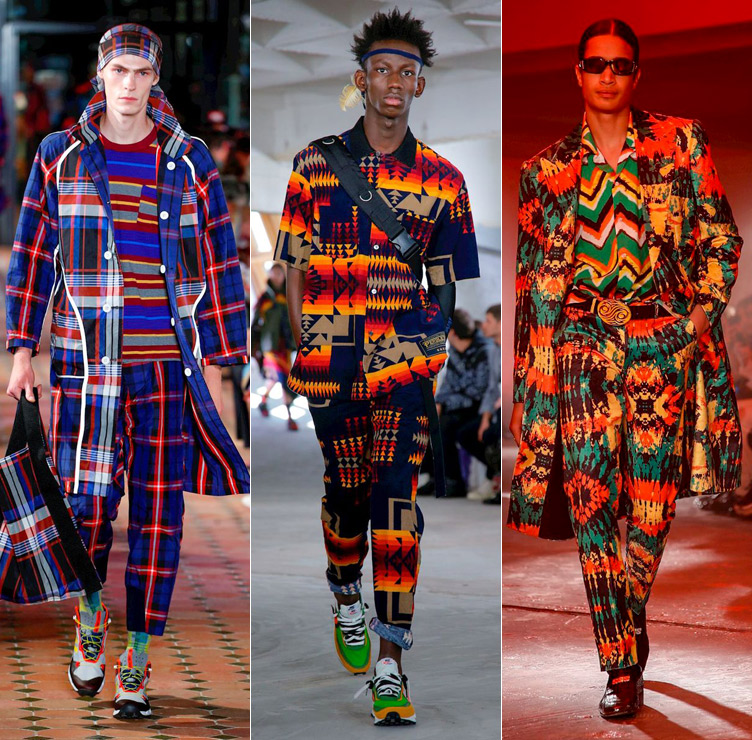 Saturated Colours 100%
There was generous use of saturated colours that added their own impact to almost every show. The richness of red, electrifying blue, energizing yellow and warm orange are just a few of the bold, vibrant colours seen on the runway. From the quirkiness at the Thom Browne show to the high-street vibes at the Maison Mihara Yasuhiro show or better yet the Alexander McQueen ensemble of a rich lapis lazuli hue, the eggplant purple at Louis Vuitton and not forgetting Junya Watanabe and that red and white ensemble. It is truly awesome to see men warming up to the idea of incorporating more colour into their wardrobe.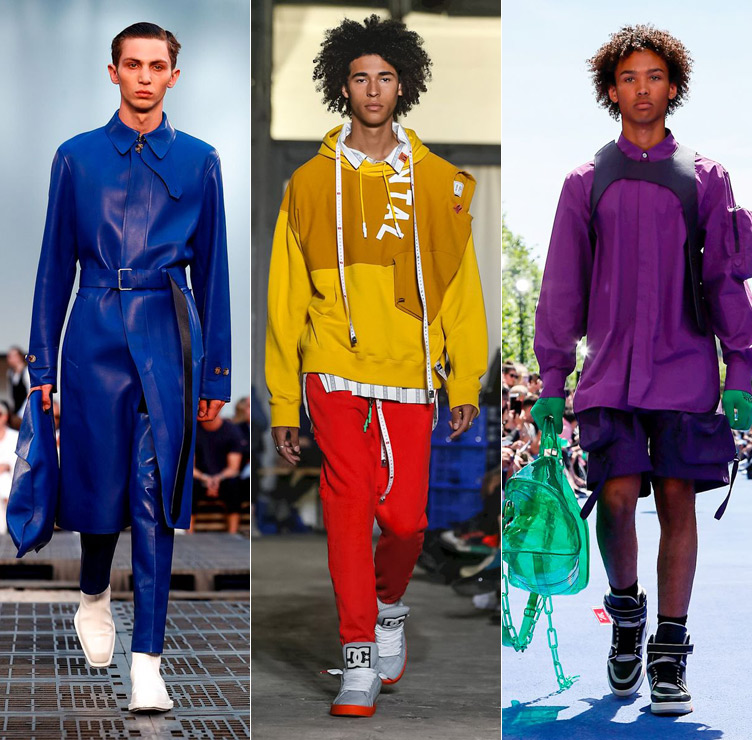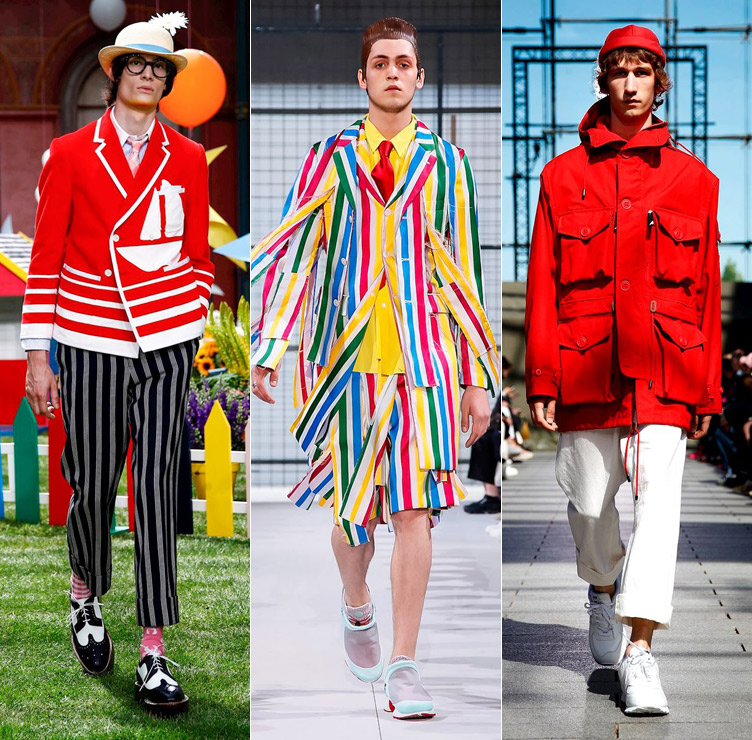 Aces for Accessorizing
While you wouldn't expect men or menswear to have too much emphasis focusing on accessories, the shows at Paris Men's Fashion Week did great to render this statement untrue. The cool styles of bags, having unique structures and designs to the awesome hats, caps and minimalist jewellery. From the strikingly cool rounded bag at the Wooyoungmi show to the interesting buttercup bag at the Junya Watanabe show. There was evidently much thought put into the design and execution of each design in the accessories department because men too, in 2019 will be all about that statement bag.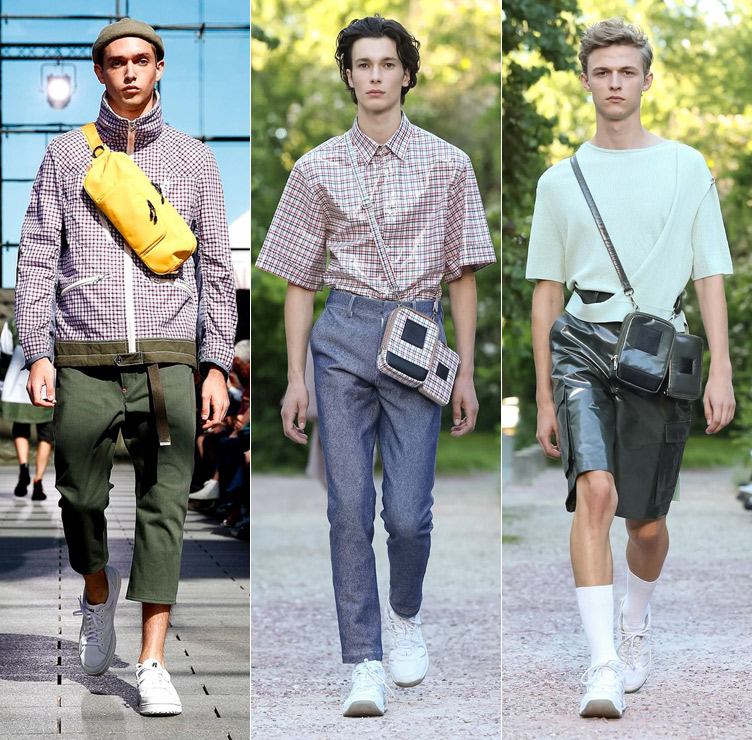 Quirky Concepts and Style
Whether mildly quirky or over-the-top artsy inspired quirk, the trend that has swept us all off our feet is one that maybe a little eccentric but nonetheless stylish and unique. Paris Men's Fashion Week wouldn't have been complete if it weren't for those quirky styles that were seen peppered through most of the collections. Whether a mix match of fabrics or details, exaggerated elements such as an oversized pocket, wearing print on print are just some of the factors that can be expected in quirky looks for spring and summer of 2019. Walter Van Beirendonck, Maison Mihara Yasuhiro, Thom Browne and Wooyoungmi were a few that had big impact with their quirky looks.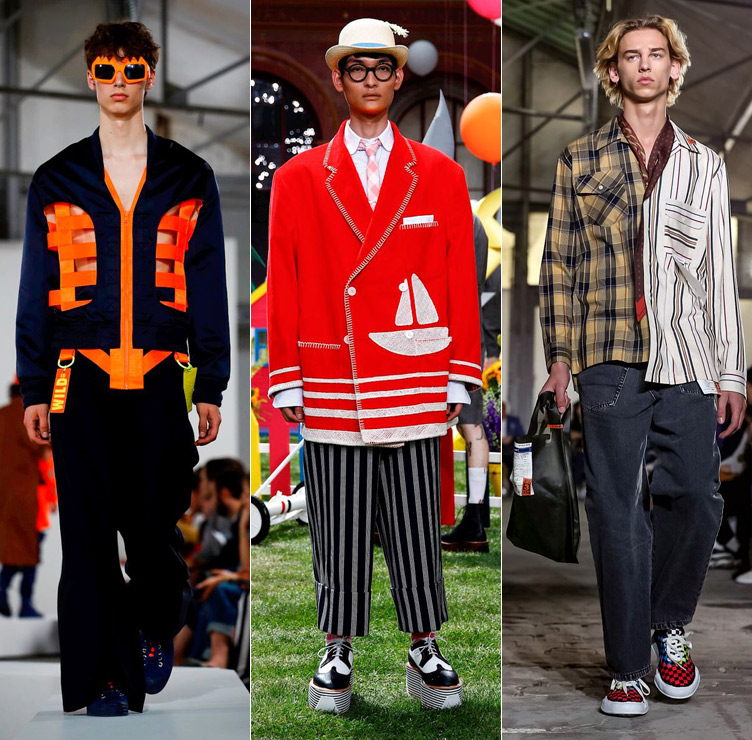 Throwback Trends
Channeling throwback Thursdays, I was inspired by the trends and elements that served as influence for these looks during Paris Men's Fashion Week. From the cool seventies styles to the fun approach to the sixties. A few influences from eighties glam worked well to add a fun element to the revisiting of the past. It wouldn't be fair to not mention the cool white suit reminiscent to the one worn in Saturday Night Fever by John Travolta, included in the Wooyoungmi show. The eighties disco vibe from the metallic ensemble in the SSS World show or the hints of retro in the Thom Browne show as well as a few looks in the Balmain collection. It's great to see classic old-school trends making a refreshing return to be enjoyed some more.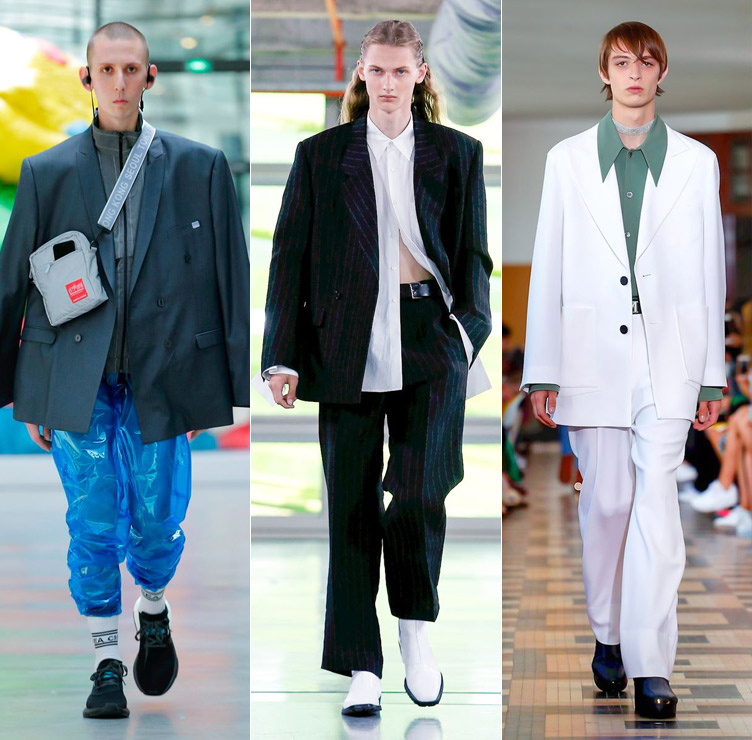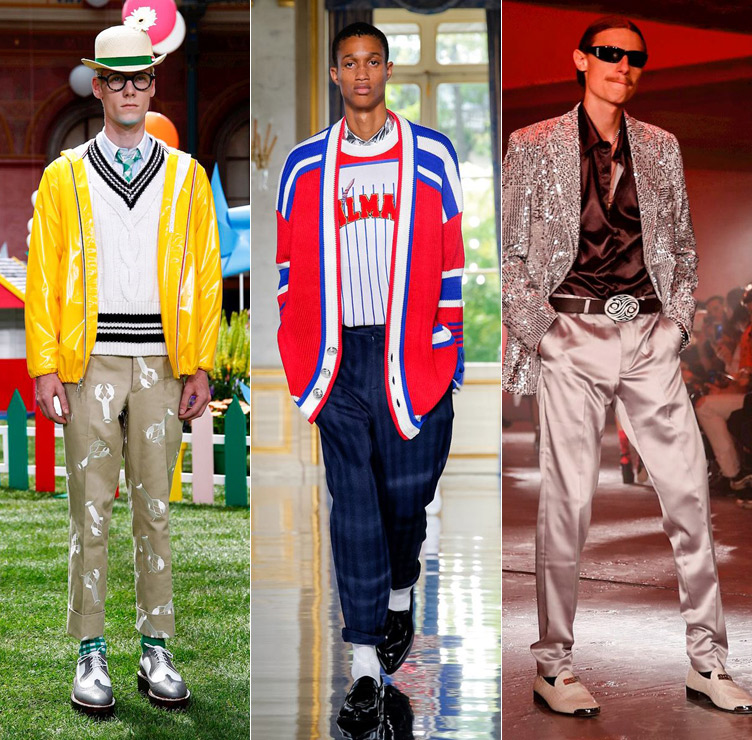 Grunge Guy Style
Not too far from my last point on revisiting past trends, do I see grunge take on a whole new image and attitude for spring/summer menswear 2019. While the appearance and essence may remain similar there is an interesting, fresh set of vibes that move from artsy grunge to hardcore gothic grunge. What makes this furthermore, fascinating, is the wear-ability and effortlessness that each of these ensembles carry through at fashion week. Whether we're talking about Yohji Yamamoto or Hed Mayner or even Sankuanz all showing different variations of this grunge aspect of men's style.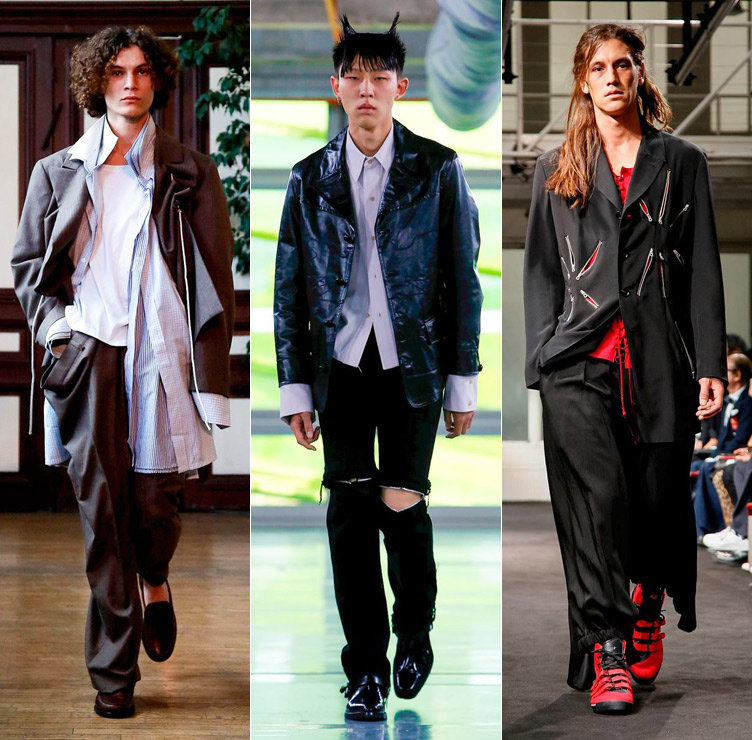 Unstructured Silhouettes
Exhibiting cool, fresh and interesting approaches to style were the unstructured silhouettes that often forced the mind to guess along the lines of wear, functionality and more. From the oversized and somewhat shapeless coats at the Sean Suen show to the Walter Van Beirendonck show that had over-the-top unstructured silhouettes in vibrant hues. Comme Des Garcon was another that had a particular ensemble that was as stylish as it was shapeless. Will these looks ever reach mainstream retail stores or not may be subject to a matter of opinion.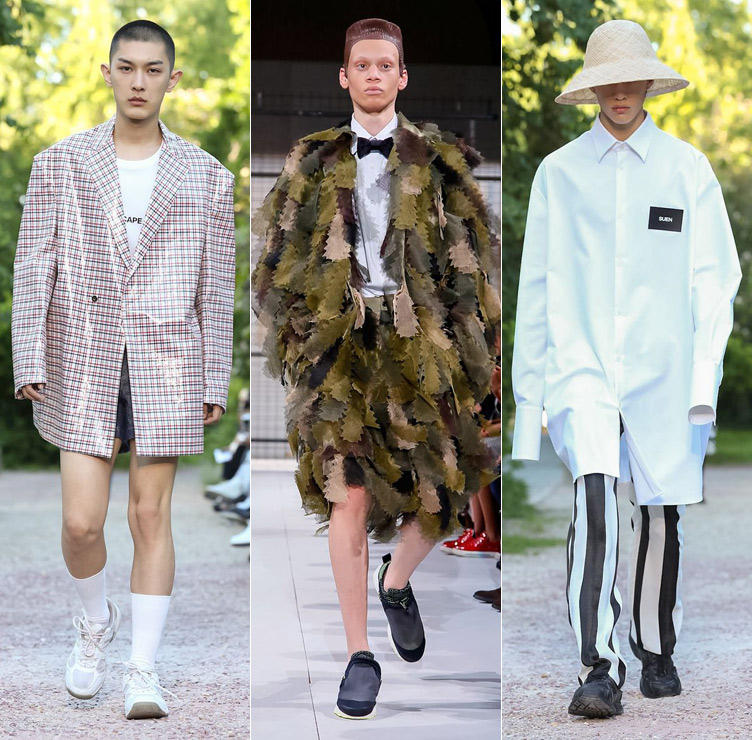 Yellow, Bright and Sunny
Among the many vibrant hues seen at Paris Men's Fashion Week, the saturated tones or the soft subdued colours, yellow stood-out in an impressive way. From sunny bright yellow to buttercup yellow, lemon, citrus, acid yellow among others are perhaps one of the biggest and best trends for spring summer menswear 2019. Andrew Crew, Dior, Wooyoungmi, Balmain, Sacai and Junya Watanabe added their own unique twist to this trend, using different types of yellow in various design aspects for wearable ease. Yellow being a happy colour, full of energy and vitality, will have no issues finding a place in the wardrobes of many men in spring and summer of 2019.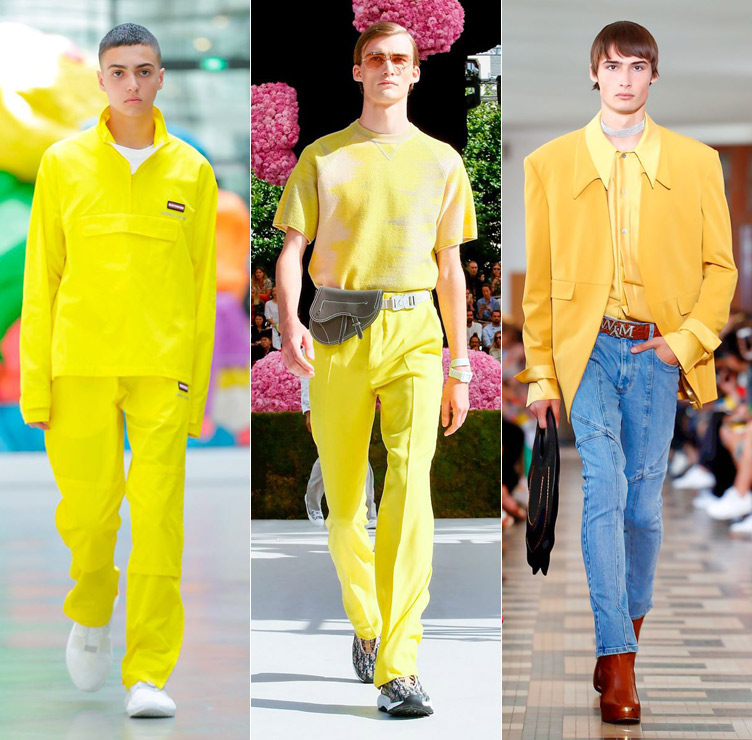 Rustic Country Cool
A trend to have received a slight mix of impressions was the rustic country vibes seen quite a lot at Paris Men's Fashion Week. The mix of raw rustic elements from silhouette, style and influence to the cool country style that gels well together to give a modern interpretation of that classic country style. From hats to boots and jackets along with earth tones, plaid and checks. Ann Demeulemeester, Wooyoungmi and Ami Alexandre Mattiussi were among the front runners in the presentation and styling of this trend.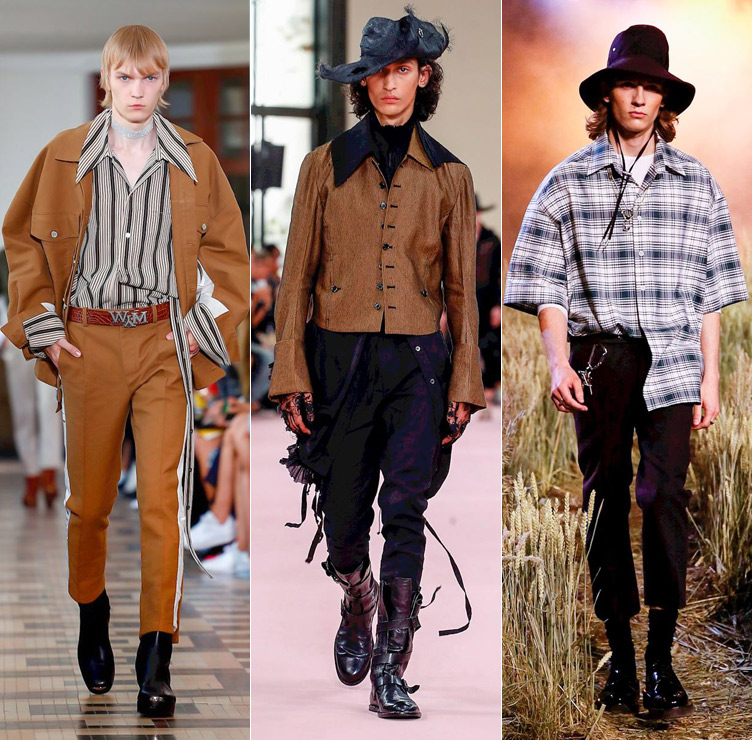 In Ending…

While spotting trends was terrific at Paris Men's Fashion Week, what was floating around were a few mixed feelings regarding the direction of high fashion and how low key many collections looked due to the huge crossover from past shows. Among the questions posed was "is streetwear the new high-fashion" if so, where do luxury products and brands fit in this newly formed equation? It was more evident than ever that many of the collections did have a very mainstream street style essence which could blur, if not eradicate the line between high-fashion and streetwear. From this thought alone we can start a whole new debate that for now, is best left for another article at a later time. For now, I leave you with a very insightful quote by the legendary Vogue editor Diana Vreeland, who once said, "You're not supposed to give people what they want, you're supposed to give them what they don't know they want yet".  

Photos by: Guillaume Roujas, Gio Staiano, Regis Collin Berthelier


Hits: 22216 | Leave a comment