The Barbour jacket
The first thing, which I saw hanging on the door of a store in the resort Saintes-Maries-de-la-Mer, near Avignon, France, was the icon of English rainproof style - the legendary Barbour jacket...
By buying a Barbour jacket you will own not just a comfortable piece of cloth, great for rainy weather, but also a piece of the international life style. A piece, which belongs to the world of those, who have money, style and success. It gives security both as suitable for rainy weather clothing and as great fashion choice. It may sound absurd, but dressed in a pullover, jeans and a Barbour-jacket, you can find yourself at an evening event by accident, looking better than if you were wearing a ill-fitting suit and patent leather shoes.
All over Europe this jacket is a kind of whimsical pass for the elite society and if it's combined with an expensive watch, you can go anywhere without any worries. The famous jacket symbolizes good taste, style sensitivity and connection to the traditions, especially if it's not new and hints about inheritance and worthy antiquity.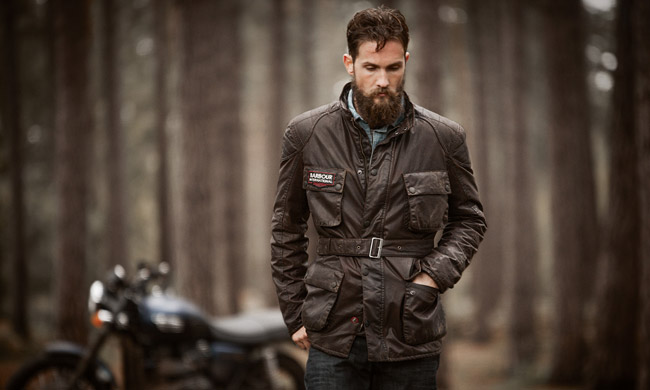 It's very difficult to say how the Barbour jacket - in comparison with other English brands and although different cultures - has reached such an international fame. From Helsinki to Madrid, its presence is ubiquitous, and you can't find a tabloid in which there are no photos of celebrities dressed exactly in this jacket. Maybe this comes from the sense that by buying a Barbour jacket, you acquire a piece of the glamorous world and - in contrast to most fashion items - is a lasting and worthy investment, which value grows with time. The antiquity of the jacket silently certified 'membership since', so the longer you own it, the longer you belong to the 'good society'.

Despite its reputation, the jacket remains an individual possession. It offers an abundance of aesthetic, ideological, stylistic and ethical mutuality - both hunters and animal rights defenders like it equally. The patented jacket is unconditionally and in the same time English and practical, slightly rough and sporty, nature-friendly and acceptable, precious, wearable and snobbish...

But the most fascinating thing about the Barbour jacket is its default status. We can't imagine that it can disappear some day - it's like it was always there. Although the design is unchanged for years, we can't say one name that have reached the genial idea about it. This makes it acceptable for many, who don't want to parade with the name of a famous designer, but to identify themselves with the worthy Barbour brand - just one old English company, which humbly offers us a jacket...


You'll learn more about the legend Barbour tomorrow...


Hits: 7911 | Leave a comment