Alumo shirt fabrics - the Swiss quality
Talking about shirt fabrics connoisseurs think about English and Italian fabric mills' creations. Of course, they are well-known and appreciated, but some of the best ateliers and manufacturers of bespoke shirts chose fabrics by Swiss mill Alumo in Appenzell. Who travels around will be surprised by the buildings of their factory. The home of the finest cotton fabrics is a well-considered building decision with a huge glazed facade, which allows weavers to have a wonderful view to the cozy town with 6,000 inhabitants.
On the first floor are placed 85 looms, which can be approached by visitors only with tightly closed ears. 1 million meters Alumo fabrics are produced here each year. 'This is not a huge amount, as you guess, but in Appenzell quantity is nothing, quality - everything', says chief manager of the factory, Markus Heller.
On the forth floor, where offices are located, you will here no noise - that's great for designer Raphael Sommer, who creates there his collections of exclusive designs. Very few fabric manufacturers can offer to their clients fabrics, which can't be find anywhere else, says the pattern-maker, who renovate old English clocks in his leisure time.
The smallest order by specific client's preferences is 240 m, i.e. 4 rolls x 60 m. One roll is enough to be produced 33 shirts, which means about 1.8 m per piece. That's why shirts, made of this rare fabrics, can't cost less than EUR150 in stores. And when the high quality requires additional cuttings (like in pleated tuxedo shirts), the price can reach EUR400.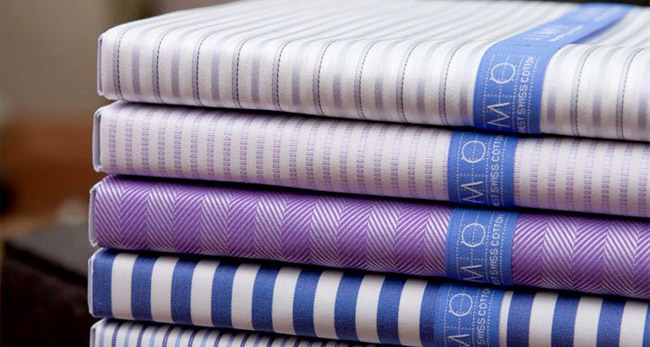 The nice Swiss man, who has previously been a footballer, considers these prices connoisseur, not high. Their yarn is made of Egyptian cotton GIZA-45 - it's fibers are so fine, that 1,000 m of yarn weight only 2 grams. The quality of the fibers and yarns are the objective criteria about the sense of touching the fabric, after passing the complex processing. This process gives fabrics the desired texture on touching. Poplin should be silky soft, batiste and voile - airy, Oxford - grainy...

Initially, the fabric goes into a giant washing machine, then it's stretched for drying onto a huge rotating device arounf hot rings. After that the surface is ironed and provided with the wanted noble luster.

The process require a lot of water, that's why the factory is close to a water spring. But you should not be considered about Swiss water, says Markus Heller, because Alumo has a Okotex-1000 certificate. So after the manufacturing process, water goes out clearer than in the beginning...

The exclusive Alumo collections include mainly classic colors and patterns as well as
everything that the customer has wished to be produced...


Hits: 9798 | Leave a comment