The Italian hand-sewn shirts
The one, who is searching for a shirt, which to fit perfectly to his bespoke suit, as we mentioned earlier, will find something in England, but... not exactly. None of the shirt makers on Jermyn Street actually offers really hand-sewn shirts. Even in the smallest ateliers in London, they don't sew in the good old meaning of 'by hand'. Noone is working with a needle ant threads. In England, they call it 'handmade', because the tailor with his own hands and sewing machine creates the garment.
The situation is totally different in small and bigger Camiciai in Naples, Italy. Here everything is hand-sewn with a needle and threads from the beginning to the end. No matter if you are in a small shop in an isolated part of the city or in an representative industrial building, like Borrelli factory at Via Fasso Imperatore, the credo always is 'fatto a mano'.
The fact that all over the world fashion experts passionately discuss the qualities of Italian hand-sewn shirts is due to the work of Borrelli. Luigi Borrelli is among the first manufacturers who started offering their shirts in Europe and USA and with literally one product they created a general cult to the hand-made in Naples clothing as a world phenomenon.
Borrelli is the most significant Italian shirt brand, although on the market you could find also high quality products from B. Finamore, Kiton, Attolini, etc. Their mark leads connoisseurs to thrill and the additional label with the blazon of Casa di Savoia gives a discrete sign that they are the tailors of the Savoy dynasty.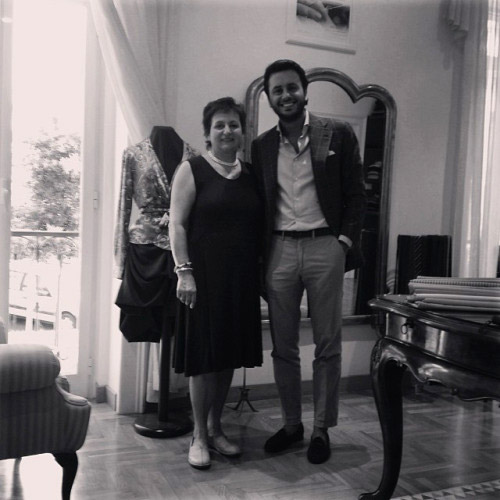 Among the small ateliers, Anna Matuozzo at 26 Viale Gramsci also has a good reputation. The lady worked for famous tailors for a long time, before starting her own business. Only a small sign over the doorbell inform about the atelier. The arrangement inside is like in a private home and only the rolls of fabrics and the sewing table give a sign for the purpose of this space. One floor below Anna Matuozzo stores selected fabrics. Every piece is sewn by hand, according to the individual measurements of the client. Sleeves, shoulders and collar are embroidered by hand, every buttonhole is processed manually, every button is hand-sewn with the typical for Naples manual stitch A Gallina ('Chicken leg'). The initials of atelier's famous clients are hand embroidered using a magnifying glass. Pretty scary, right?!


Hits: 5787 | Leave a comment