The most elegant man in the world
by Dandy
,
08 February, 2016
According to Anna Wintour - and she knows what she's talking, even when you throw eggs on her because of her expensive fur coats - the grandson of Gianni Agnelli, so elegant and charming as his famous grandfather is, anyway, the most fashionable man on the planet. And Wintour uses superlatives rarely... Lapo Elkann was Fiat's marketing manager and manager of brand promotion, he has the fame of a seducer, he is a friend of Henry Kissinger and is a passionate admirer of Juventus FC. Almost everything that assuaged peacefully in modern men's fashion today was part of Lapo's fashion experiments over the years. He is a classic - like the cut of the special cuff of his grandfather's shirts, so that his expensive watch can be seen ...

Elkann is charming, red-haired and freckled, like the Italian crown prince Emanuele Filiberto di Savoia - another no less elegant playboy, radianced from the aristocratic past of his family, as well as the legend for the elegance of his grandfather, Umberto di Savoia, who was famous in his youth as 'the most elegant prince in Europe'.
When they ask Lapo where he sews his suits, he says offhandedly 'I don't sew them, I inherit them', which is very English and absolutely in the trend of British imperial myths mania.
Everyone has seen how in the morning one 'Alfa Romeo 147' jumps out from a house in the hills around Turin and rushes at high speed to the Fiat headquater at Mirafiori.
On the steering wheel is Lapo already managed to make his morning run. Having in mind that he is a workaholic, his every-day-and-every-hour elegance is surprising. He travels a lot and speak fluently four languages.
Lapo Elkann, called 'The Golden Grandson of Italy', is a cosmopolitan - born in New York, studied in a French school, lived in Paris, New York and Rio de Janeiro.
He was a student in London, he has worked for Piaggio under a false name, he has performed military service, he was a mountaineer, and an intern - for a whole year - at the Henry Kissinger's consulting company at 'Park Avenue' in Manhattan.
In Lapo's elegance you can find the spontaneity of the Americans, the mannerism of the Britons, the gallantry of the French, but also the lighting business response, apparently inherited from his grandfather Gianni.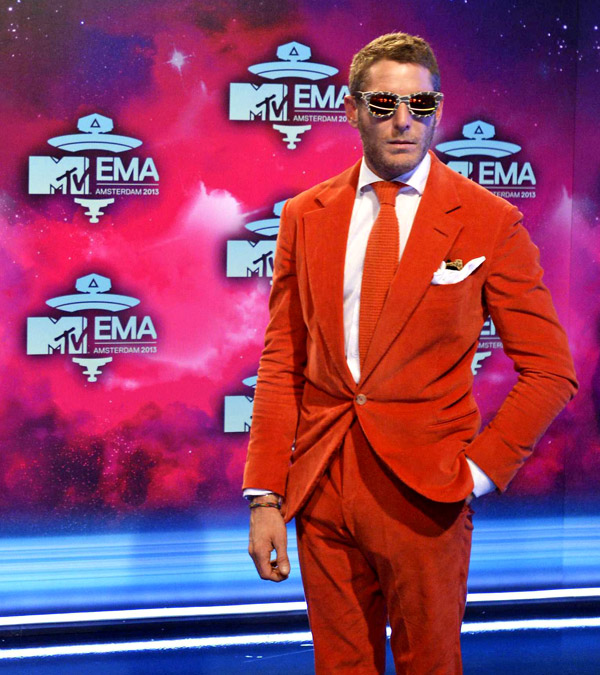 Living behind his origin, Lapo is still a young man with his eccentricities, but also with a strong will for ingratiating genuineness. This makes him nice, even when going to the most severe parties and the most expensive trendy restaurants. So, you can meet him both in the chic 'Sushi Samba' in New York and at a reception at the White House, alongside Henry Kisssinger, or at fashion shows, Vogue and GQ covers and ... anywhere. But as the person, who has the aim to preserve Fiat's image forever young, Lapo has the artistic courage for his passions: he doesn't miss a single exhibition of automobile design or contemporary art events. He is proud of his seven tattoos and pretty good body shape. Here somewhere is the secret of his elegance - even his cars are sometimes including in the linings of his chic tuxedos; his elegance is almost technological and psychedelic.

In his outfits dominates the English chic but highly artified in Italian manner. Not to mention the inspired by him fashion accessories offered by fashion brand 'Fiat', turned it into spectacular fashion fetish.

Lapo's definite imperative is 'To annual the distances in the world'. So, he most often can be seen at the airports. He is always first - to greet, to listen, to predisposes and he is an expert on ancient gesture like kissing lady's hand and choosing delicate colors for his outfits.

And all this is part of his 'Operation sympathy' - he invests in everything - from potential customers of Fiat to his secretaries, whom he sends flowers. This is also applied to his fashion attitude, where cosmopolitan chic and great satisfaction of the strange decision rule.

'He achieves maximum results with minimum efforts', said about Lapo's love conquests his cousin Eduardo Fabry, who shared an apartment with him in London. Even the relationships with journalists are included in 'Operation Sympathy'. 'The grandson of Italy' is taking good care of them - to those, interested in automobiles, he personally gives technical explanations; Lapo makes statements rarely, but being a foppish man, he is interested in photographers to whom parades.

Even the affair with cocaine and Turin transvestites didn't cause him significant demage, but was that little wickedness that causes us to look more carefully at his far-famed suits.

Sometimes he puts jeans and a tank top under a checked tuxedo and he is still charming. And he can say, like Dada artist Baroness Elsa von Freytag-Loringhoven: 'Dressed I look great, naked - even more...'

'When you wait for him infront of a restaurant to paparazzied him, he comes to you so politely that he disarms you', reveals his experience with Lapo, secular photographer Umberto Pizzi.


Planetary elegance... in a luxury carriage... and many many flashes...

If you like his style as much as I do, you can support Lapo Elkann in BGFN readers' voting for Most Stylish Men 2016 and win a made-to-measure suit jacket!
Hits: 8022 | Leave a comment