Men's suit Classic patterns and motifs
by Dandy
,
04 February, 2016
Let's make a short overview of the most common men's suit tweeds:
Donegal Tweed - a great fabric for sport jackets, that could be perfectly matched with wool, silk or Irish Popelin (wool and silk blend) ties. Because of the predominance of white in this kind of tweed, it could be worn with a Tattersallcheck shirt.
Shepherd's Check - much loved, comparatively rustic motif for Derby Tweed. There are different color combinations and figures sizes. The black and white version with smaller figures is known as Shepherd's plaid.
Harris Tweed - it is the perfect definition of tweed for continental Europe. It has a rough surface and is well amenable to modeling. This tweed in bright colors is suitable for sport derby jackets for an outing in the countryside, in combination with velvet trousers, for example.
Herringbone - a true classic fot sports jackets. It's typical for US manufacturers and could be find in the standard assortment of, let's say, Brooks Brothers. There are different color combinations, typically including brown, dark and light gray and green, but also in dark and light blue. Gray herringbone fits perfectly a white Oxford cotton shirt and a black knitted tie or silk scarf.
Varied Herringbone - in this version are woven more colors.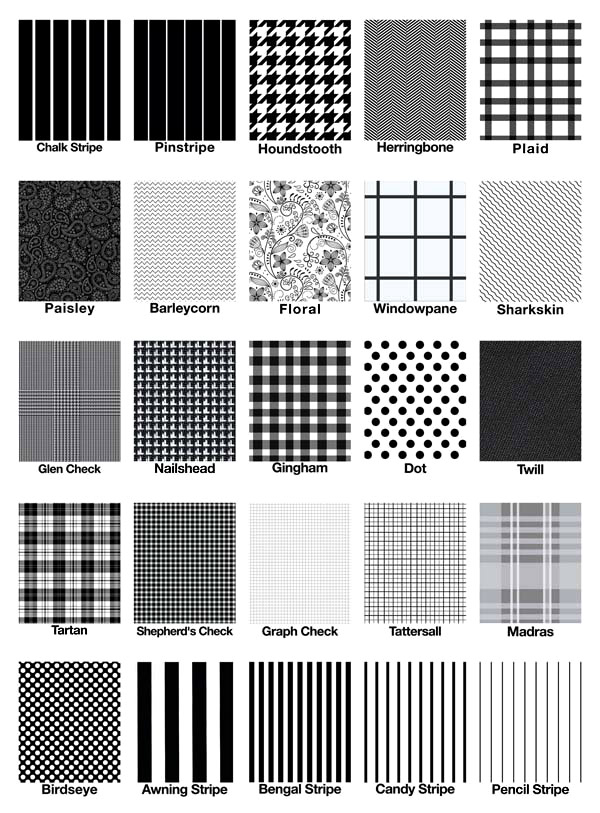 Houndstooth - uneasy motif, requiring a lot of caution, when combining. It is suitable for sport jackets, acceptable for the office, too.

Cheviot - it's a strong worsted fabric made of the Cheviot sheep wool. It's typical for sports suits. Cutters jokingly describe this heavy fabric as 'bulletproof'.

Covert - fine mélange fabric - a great material for the so called English Countrywear. It's used for coats and jackets but also for hacking jackets (for riding). Green and brown hues are typical for Covert. This classic material is used by the contemporary designers.

Bedford Cord - heavy and warm woolen fabric, designed for hunting jackets and suits in Britain - inconceivable for office attire. The coats made of this heavy fabric often overlive their owners. The optics of Bedford Cord means a lot for the friends of English taste.


Hits: 13054 | Leave a comment