Pitti Uomo 89 - A spectacular Fashion-Art composite, or How the elegant man feels like a cathedral
by Dandy
,
19 January, 2016
The most glamorous and stunner stage of man's vanity, equipped with historical decorum of centuries-old splendence dome of Brunelleschi, Fountain of Neptune and heavenly doors of Ghiberti, unconditionally and without exaggeration is Pitti Uomo in Florence. Such a pleasure of fashion and nutritious jummy is difficult to see and taste elsewhere...
The alimentaria aspect of fashion ... 'Eat, pray and love' turns into 'Eat, pray and dress'.
Pitti Uomo gives stage not so much of the foisted fashion trends, but it's more like a chivalrous tournament between men who is the most elegant. That's why the eyes are crossed like rapiers and the arrogance is followed by unconcealed curiosity. But the protagonist is not so the elegant man but the taste... Of course, this would be very annoying if not framing such a permissiveness of fashion manners, which brought them closer to the higher art. We remember Prada's munching hay goats, Jean Paul Gaultier with skull installation in the medical museum and Yves Saint Laurent in the Uffizi Gallery...
It is dangerous to appear at this fashion event - the Russian edition of GQ even gives advice how the gentlemen should dress to go to this spectacular fashion show without worries.
I was dressed in a double-breasted suit in eggplant color from my own collection Max & Moriz, produced by Richmart, a walking stick with a silver hydra head and I was sipping pinot noir from my silver goblet. I was asked by an elegant Italian who I am actually. I calmly replied: 'A monument with a budget for restoration'. Living cultural heritage.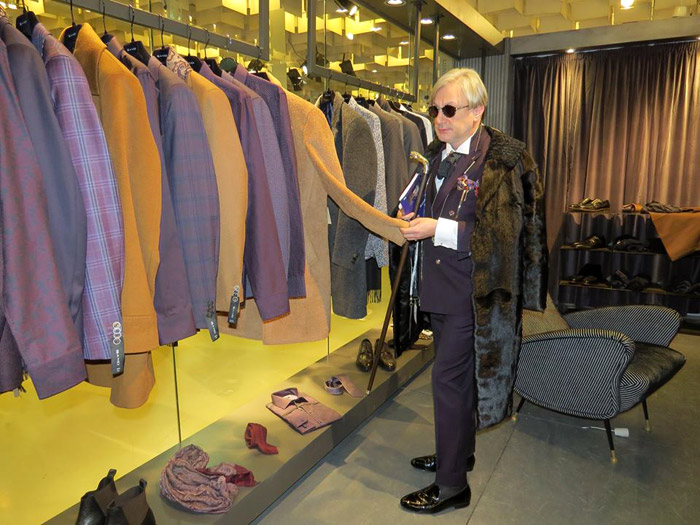 Dandy, dressed in a suit by Richmart@Pitti Uomo 89

The emulation is pretty big in the whole range - chalk striped or plaid classic suits, bohemian and eccentric Scottish skirts, Gothic style a la Escorial, or hybrid fashion, who derided both sporty style and the traditions of the century elegance. You could see also many hats - from bowler 'Melone' to a man's version of cap shingles.
A triumph of knitwear, whose coryphaeus is obviously Falke. Unthinkable refinery of velvet tuxedo in inimitable version of Chifoneli and many ballroom slippers and bootees Balmoral and Gabriele d'Annunzio, whose patent, O times, is not just English, but also Japanese.
Japanese are disturbingly elegant, but with a hint of imitation, unless they are in their typical style... Some of the gentlemen have changed their looks several times with a great pleasure.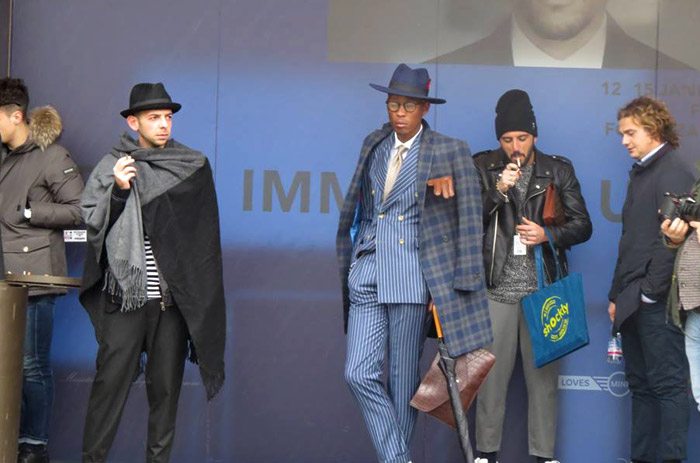 Pitti People@Pitti Uomo 89

But what created this not edifying charm of this Florentine fashion fiesta, an apotheosis of fashion exhibitionism? Two concepts of the Italian charm: first - spezzato - the skill to combine suit parts, which are not a set and refresh the look, which is no longer fashion captivity, but a pure freedom; and second and more important - sprezzatura - hardly achieved negligence, a carefree casualty, which is not negligee.
Neapolitan shoulder and the barchetta pocket are parts of this hardly achieved and ultra luxury ease, which was walking aroung with the highest-paid male models from Italy and abroad... Unfortunately I did not saw David Gandy, but instead I saw some of the faces of the British Style and thoroughbred Italian Adonises, who was in an elegant anonymity - incognito.
This year we saw again Zegna, Marni, Moschino, Korean designer Juun.J, known for his minimalist cuts, Military-classics and a love chameleon David Bowie, the Japanese brand White Mountaineneering in collaboration with Adidas, flaunting new technologies ... The good news is that in the cathedral of masculine elegance the double-breasted three-piece suit remains unchanged for the powerful man... Sashes and waistbands give him extra shine; expensive suits of precious fabrics are lighted from bizarre accessories for one artifacted elegance on the edge of the absurd, a transition reminiscent of Vasari passage connecting the Uffizi with the Palazzo Pitti.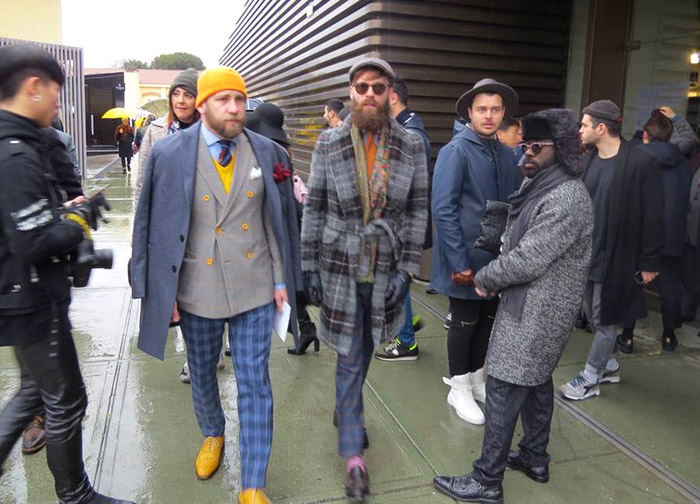 Pitti People@Pitti Uomo 89

Palazzo Pitti is a meeting point for several fashion intuitions with ultimate power in modern male elegance - the steady traditions of Italian Sartori having its apotheosis in London with famous Luca Rubinacci, the British fashion prejudices and affectation of Catholic line, wssentially embodied in the phenomenon of Macaronism, and a special hedonism associated with the concept soive.
Soive is a concept for the pleasure of dressing well in the elegant epochs. Macaronism is an affectation of the late English Rococo in the field of precision masculine elegance, when the imitation of French palace patterns among dandy prevails, not devoid of curious but attractive with his wit. The white silk socks and ballroom slippers encrusted with diamonds, of course, are long gone, except in the English court, but the inner pocket of men's jacket is a small inheritance of macaronism.
So, the wonderful collaboration between the Italian Sartori, English prejudices and the incredible macaronic preference for rare colors gives the essence of the male elegance a la Pitti Uomo, in a sense, ultimately timeless.

Pitti People@Pitti Uomo 89


Blue plaid and stripes, cashmere in camel and red wine, restrained conservative suits, blasted in dots, florals and other wallpaper motifs, waistcoats over suit jackets, combinations of competing checks, stripes and dots, ironic deconstructions, Op-art and ethno were the dominating elements during the event. Let's not talk about the colors of socks... What better occasion than this to come back from Florence in a frog green tie with blue drops... Next time in Florence - with breeches and turban a la Cosimo de' Medici... Chin-chin!


Photos: © Be Global Fashion Network


Hits: 5232 | Leave a comment