How to save money, when buying a men's suit?
Buying a new suit is a serious investment. On one hand, men's suits might be really expensive. But on the other hand, there is nothing worse, than a cheap-looking suit. So, what can we do? The trick is to have enough knowledge, so you can choose the highest quality suit, that you can afford to buy.

Keep yourself from the salesman:
He will tell you only what you want to hear - that everything suits you perfectly, that their tailor can adjust every suit and that it is an excellent purchase. That's why, before you enter the store, you should know How to Tell if Your Suit Fits, How to get the right fit for men's suit and what type of suit you are looking for.

Fabrics:
Every fabric is different in quality, strength, feel and price. There are non-wool fabrics - linen, polyester, microfiber and Teflon - that you should really avoid. Remember that wool is the perfect choice for a men's suit fabric. It is natural, breathable, resistant and stylish. The fabric can be lighter or heavier - you should choose the fabric fineness depending on your country's climate.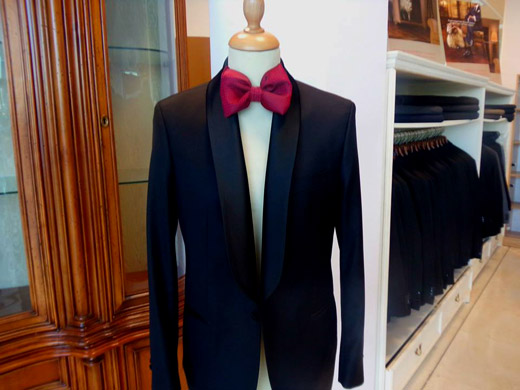 Style:
There are different styles of men's suits - American cut, Full cut, European cut, jackets with certain collars, shoulders, lapels, sleeves, buttons and a different type of slits. There are different shirts, neck ties and trousers types, too. In general, it is a good idea to choose simple looks.


Availability:
When you are ready to start shopping, go with a friend, who will tell you his opinion. It is best if you start from a department store, where you can find a variety of men's suits with different prices and labels. Or you can ask your colleagues and friends, who dress sharp, according to you, where do they shop.  It's a good idea to take with you the shirt and shoes, which you think to combine with the suit, so you can see the overall look.


Budget:
Will shop from a luxury boutique or from a men's suits store, depends on your budget. It is not necessary to spend a lot of money to buy a good suit. As a rule, you should be ready to spend at least $300 per suit. There are certain levels of quality, which will affect the price as invisible seams, fine or highly twisted yarn, sewing, which looks sharp and lining in the pants.


The fitting:
This is extremely important, because if the suit doesn't fit you perfectly, spent money, time and efforts are lost. Make sure that the salesperson will take all your measurements and after that will start showing you suits. Ask who is store's tailor and if they just send suits in some atelier or dry cleaning for adjustments, take your suit and bring it to a professional tailor for alterations. Remember that a really good men's suit fits the body like a glove and don't accept anything less.  


Photo: Richmart men's suits


Hits: 7702 | Leave a comment