Anatomy of the men's trousers
Trousers (also called Pants in American English) are important part of the men's suit, because a well-fitting pair of trousers helps the gentleman look slimmer and elegant.
Trousers have been worn by males in most of the Western world since ancient times and since mid 20th century - by many females, too.
The oldest known trousers are found at the Yanghai cemetery in Turpan, Xinjiang, China, dated to the period between the 13th and the 10th century BC. It is believed they were invented to make horse riding easier.
Today, suit trousers (also known as dress pants in the USA) are always made of the same fabric as the suit coat - mainly wool.

Parts of trousers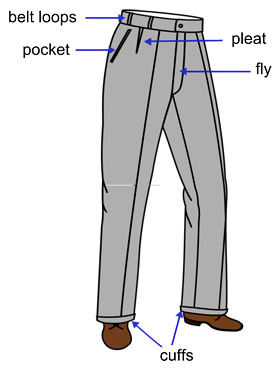 Cuffs
They were popularized in the 1890s by Edward VII and are used to add weight to the bottom of the leg, helping the drape of the trousers. Cuffs have always been an informal option, being inappropriate on all formalwear.

Fly
It's a piece of cloth, covering an opening join concealing the mechanism (zipper, buttons).


Pleats
A pleat is a type of fold formed by doubling fabric back upon itself and securing it in place. There are to types of pleats - reverse pleats (they open towards the pockets - typical of most trousers today) and forward pleats (they open toward the fly). Trousers may have one, two, three or no pleats. The most classic style of trousers are these with two forward pleats, which give more comfort sitting and better hang standing.

Belt loops
In the past, belt loops were acceptable only for casual and work trousers, while suit and formal trousers were suspended by the use of braces (suspendersin American English), but nowadays belt loops are the preferred method (being more effective and more comfortable) of trouser support.


Photo by Spodnie.svg: Bastianowderivative work: Themightyquill (Spodnie.svg) [CC-BY-SA-3.0-2.5-2.0-1.0 or GFDL], via Wikimedia Commons


Hits: 12463 | Leave a comment