Michelle Obama with first Fashion Education Workshop 'Celebration of Design'
Yesterday (October 8, 2014) US First Lady Michelle Obama held a reception at the White House, titled 'Celebration of Design'.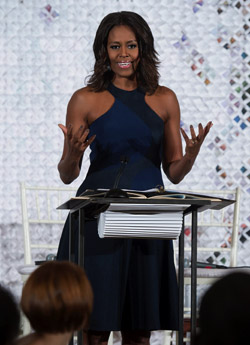 150 high school and college students (designers-to-be) were selected by the White House to participate in this first of its kind Fashion Education Workshop, aiming to show what it takes to be a success in the fashion industry.
'Today there are boots that charge your cell phone; bras that detect breast cancer; and compression shirts that monitor and record your heart rate, breathing rate, and body temperature as a virtual coach. As the lines between technology, product, and fashion merge, we will soon be surrounded with technology in everything we wear', said the White House's note for the event.
When Obama took the stage, she said to the students: 'Is this not cool? I mean, come on. You're in the White House. There are some of the most impressive people in fashion here to teach you all … And there's food. What more could you ask for?'.
Michelle Obama stressed the importance of students working on their craft: 'You have to practice it. You have to learn it. You have to study it. It's easy for us to look at the accomplished people in this room and think, 'Well, it must have been easy being Jason Wu.' Jason's like, 'Not so much.' '.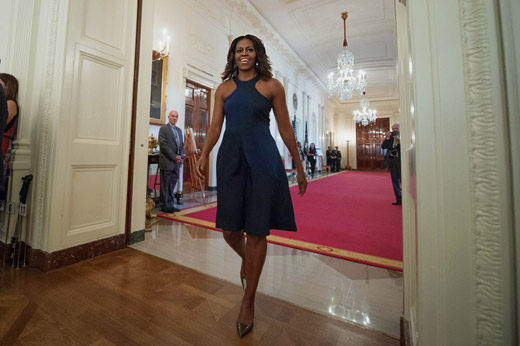 Five workshops were conducted based on journalism, wearable technology, inspiration, construction and entrepreneurship with participation of designers, executives and editors such as Anna Wintour, Diane von Furstenberg, Jenna Lyons, Posen, Tracy Reese, Jason Wu, Prabal Gurung, Narciso Rodriguez, Lela Rose, Vera Wang, Georgina Chapman, Naeem Khan, Maria Cornejo, Alexis Bittar, Phillip Lim, Thom Browne and Reed Krakoff.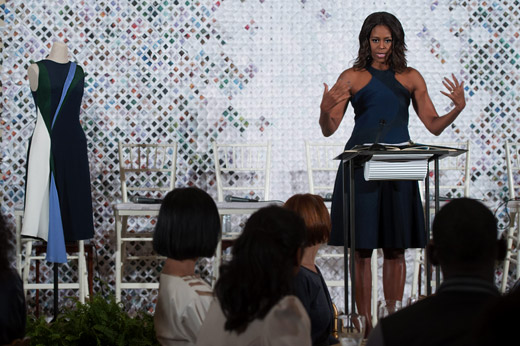 One of the pieces of advice handed out:
Learn to use social media like the design stars do.

Photos:
1. Michelle Obama delivers remarks at the first-ever Fashion Education Workshop, in the East Room of the White House in Washington DC, USA.
2. Michelle Obama (as she enters the White House's East Room) wears a sleeveless sapphire dress, designed by the winner of a student fashion design competition, Natalya Koval of Fashion Institute of Technology (FIT).
3. Michelle Obama delivers remarks beside a mannequin, displaying a dress, designed by the winner of student fashion design competition, Chelsea Chen of Fashion Institute of Technology (FIT).
© EPA/MICHAEL REYNOLDS

Men's Style - International project for fashion designers Men's Style

is a project of the

Men's Fashion Cluster

. It helps you start your own business with

men's suits

or develop an existing one. You have a chance to create a men's suits collection that will be

produced and promoted at trade fairs FREE of charge

.

All participants receive a training how to create their OWN men's suits brand and offer

made-to-measure suits

.

The training is completely FREE of charge. It takes place at Richmart factory in Ruse, Bulgaria, Eastern Europe.

READ MORE AND REGISTER


Hits: 5750 | Leave a comment