LCFMA16 Womenswear graduates - let's get to know them!
As I've previously reported, London College of Fashion's annual MA Womenswear catwalk show will be held on February 18, 2016. So, let's spend a few minutes to know better these ten talented young designers, who are going to show their works during the event:

Lauren Lake
Describe your final collection?
My final collection is called Some Girls Aren't Meant to Be Tamed. The inspiration came from traditional Roman Gypsies, it's based on their rawness and their fun edge, mixed with a modern-day women. I also tried to mix with traditional inuit dress and women of that culture. I wanted to create a group of girls that represent a 'new women', a new type of women that's really powerful and really strong, a kind of women that cares about other people but also does their own thing. I wanted to create a collection that represents young modern women that want to make a statement, not a statement just through colour but also with the boldness of the print and the cut of the clothes. The collection is very feminine and powerful.
Do you have a muse? If so, who and why?
I don't have just one muse, it's more like a tribe of women. My muses are the group of women that would wear my clothes, powerful and confident women in their early 20s going up all the way to their 40s who are fun and confident. A group of women who are powerful in themselves and willing to take a risk in clothing!
What are your future plans?
After the show in February, I'm going to try and apply for Fashion East, New Gen, funding and see if I can get on some PR books. I've started to look into some of these already, but in London's there's always a pressure of being a designer. That's where I'm at the moment, it can be really hard and a struggle for designers in London.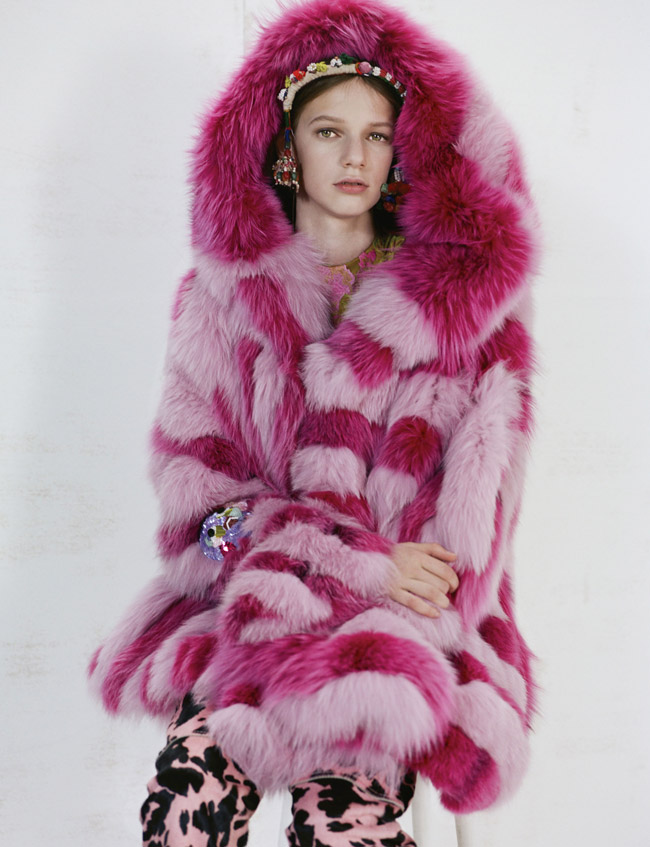 Desirée Slabik
Describe your final collection?
The collection is called 'Life after People'. It is inspired by an American documentary which is really dramatic - scientists/experts talk about a situation in the future when everyone on earth has vanished. I wanted the collection to portray a possible future for this: white clean architecture mixed with the organic which represents the vegetation left on the planet. The whole collection is built up from this development - the first piece is a strong, bold, architectural shape and the last piece is a large flower bomb which is exploding - it's about how all the looks are breaking to expose this organic, floral piece so it is has a real wow effect by the end.
Describe your work in five words
Sculptural - organic, white - colourful, conceptual, tactile
Do you have a muse? If so, who and why?
I am a big fan of the Dutch fashion photographer Viviane Sassen. Her work is a big inspiration source for me.
What are your future plans?
I would like to work for Marni and Victor & Rolf - experience working in Parisian Haute Couture would be brilliant as I currently design ready-to-wear.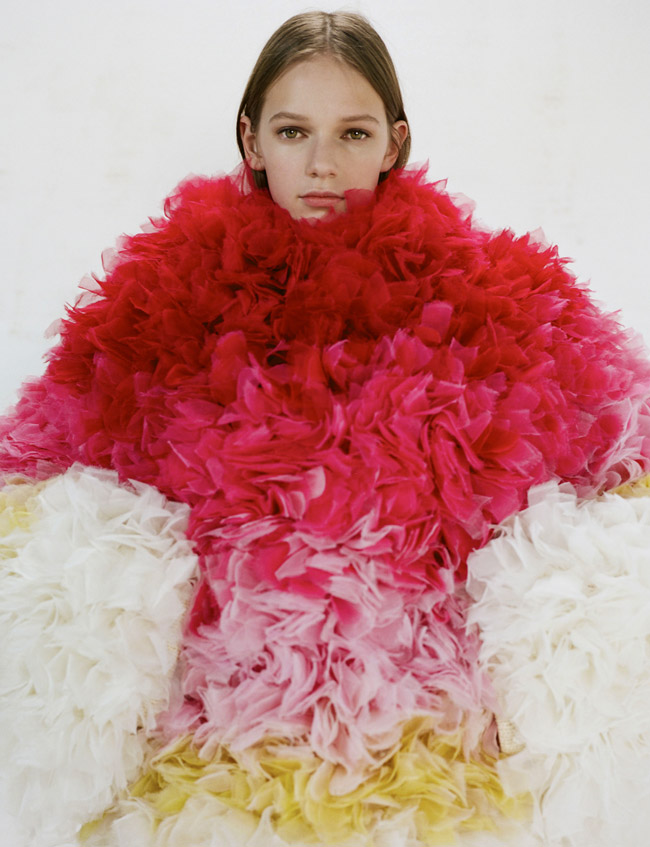 Zhixian Wang
Tell us about your final collection?
My final collection is based on San Mao, the Chinese poet and writer. San Mao spent her whole life seeking freedom and true love, she had a romantic but sad love story with her husband in the Sahara desert. I love her poems and stories, so I wanted to use her in my collection, I wanted to represent her story in my design style. I used white, red and orange; as the story starts with freedom and pureness, it finishes off sadly with the death of her husband. It's a sad and romantic story but she was a very strong woman.
Describe your work in five words
Romantic, poetic, freedom, aesthetics, pure
Do you have a muse? If so, who and why?
My muse is also the person I based my collection on, San Mao. She's my muse because I love her style, I grew up reading her poems and writing so I wanted to represent one of my favourite stories from her. It's kind of like a small dream representing her poem with my designs and collection.
What are your future plans?
I have several choices and I haven't decided which route to follow. The first plan is to find a job in London, at the brand or studio I like, then I'd want to stay and work here for one or two years. The dream job would be Alexander McQueen, I know it's difficult but I can try. There are also some great platforms for new designers, if things don't work here, I might try and grow as a designer in China.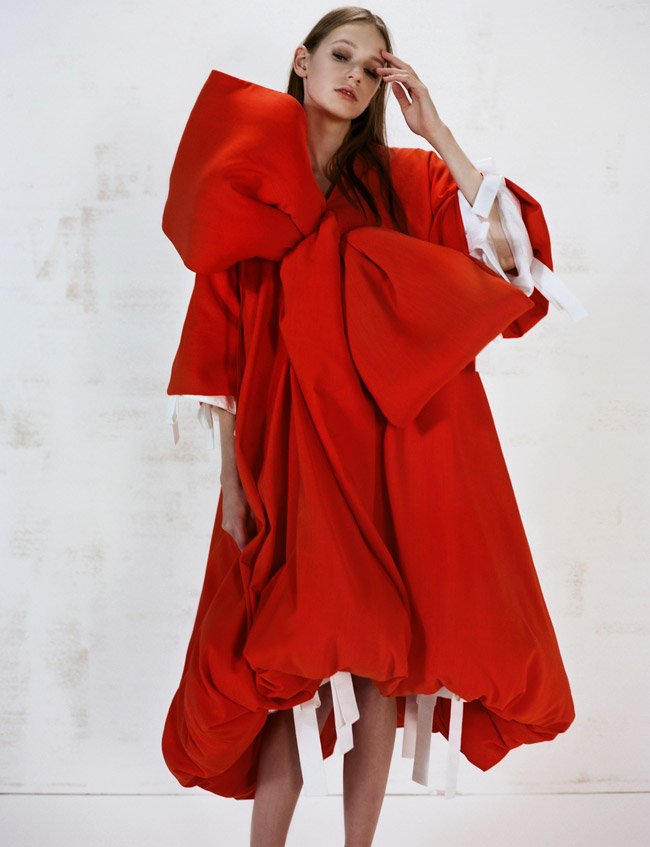 Kirim Yun
Describe your final collection?
I took inspiration from 19th century children's garments so things like petticoats which is why there are quite a lot of petticoats in my collection. I wanted to create a hyper-pretty look. I chose pink because I wanted to create something that would make people think of love.
Describe your work in five words
Super-lovely, Teddy bear, Unique, Petticoat, Complex
Do you have a muse? If so, who and why?
I like French designers like Chanel.
What are your future plans and how do you think the course will help you to realise these plans?
I want to work in France. I want to work with a brand that have a modern flair and focuses on details.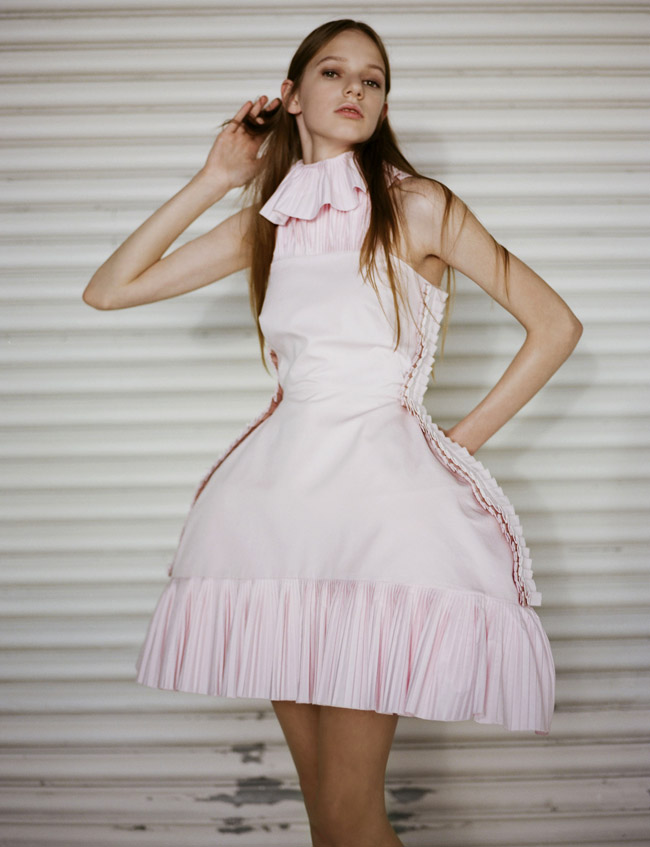 Yawen Qian
Describe your final collection?
My final collection is called Sick. It's inspired by and dedicated to my parents – both of them are doctors so I have a deep connection to doctors. At first I focused on the hospital itself but it's a wide area to research, so instead I looked at the fashion of disabled people and many details in my garments reference my research into this. There's no extras on any of my garments - all the pieces that make up each garment in my collection are very big and I combine them into one. I made all the patterns myself but had professional help with the technique. Some of the pieces are made of jersey and some are made from artificial fabrics that aren't traditionally used for garments.
Describe your work in five words
Pattern cutting, wearable, normal, drops, minimal
Do you have a muse? If so, who and why?
I like the Japanese American model Jenny Shimizu. I think she's really cool - she is very handsome and has boyish looks.
What are your future plans?
Some stylists have contacted me this month because I just posted some photos of my collection on Showtime saying they like my garments and they would like to use them in a magazine photoshoot next year which is exciting. I think that doing my MA at LCF has given me a clear vision of my style, and after graduating I want to go back to China and find a job in a global company to gain more experience and learn how to communicate with factories.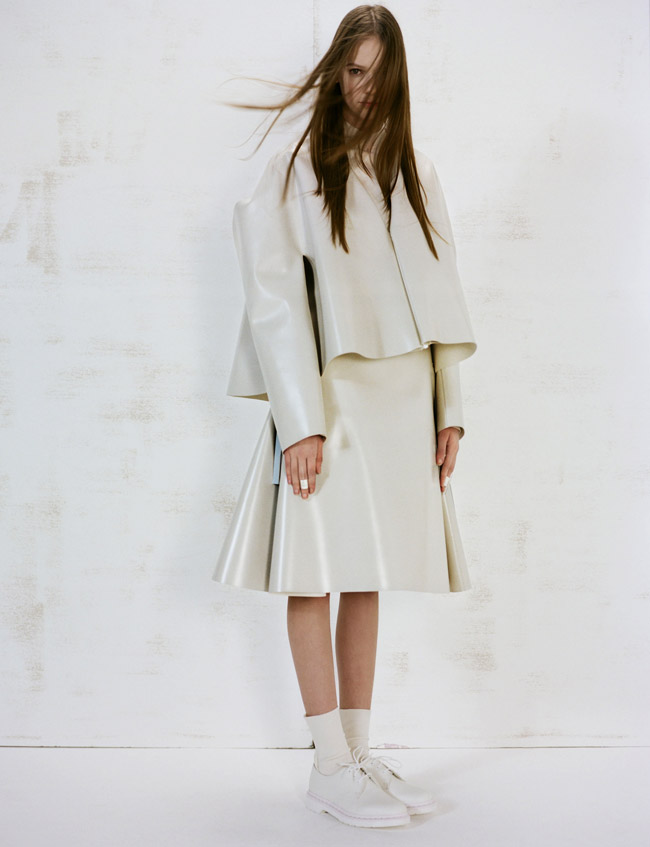 Pelin Isildak
Describe your final collection?
I started by analysing uniforms to see why we've worn them throughout history. Why do we need them? I began to see that people wear uniforms to be part of society, but it's also because of hierarchy claimed by authorities or states. I then started looking at specific periods of time, especially between 1600-1900s, looking at a sense of hierarchy and nobility. I looked at what and how we defined nobility at different points in history through dress and uniform. I also looked at what common people tended to wear during these periods, I wanted to mix the noble with common in a single moment of dress. The single moment is kind of represents the past but how it's affected by the future. The collection was also inspired by Buddhism, the zen of the religion. I looked at furs, leather, denims and cotton shirts that societies use to wear several countries years ago. My collection looks at uniforms in the past, why we needed them, still need them, why people want to belong to something, and why people try to analyse societies and perceptions through uniforms. My collection took these things and mixed it with a modern minimalists feel, mixing the common with the noble and different cultures. I tried to make the hierarchy disappear with my collection, so we're all equal and hopefully we don't try to analyse one another.
What are your future plans?
I'll see what the best options are for me after I graduate. I want to start my own brand, apply for lots of competitions and contests. I would really like to work for Louis Vuitton and other similar brands.

Ysabel Lee
Describe your final collection?
My final collection is inspired the Meiji Ishin restoration, which took place in Japan in the 1860s. It was the first time that western civilisations impacted oriental countries. I combined this with the state we are living in today - we are getting bored of all the information we are exposed to and we need a breakthrough. I used squares, rectangles and cubes as the elements for my collection. Visually, I took inspiration from the kimono and added a modern touch to it - that's why you can see many squares and rectangles in the collection. I always like to use black and dark colours - I don't like patterned fabrics because it can destroy the structural details that you want to show. Pattern cutting and structure is the key point I want to develop in my collection, and it is also my strength.
Describe your work in five words
Dark, clean, neutral, incomplete, self-restrained.
Do you have a muse? If so, who and why?
I have different muses for different collections. For this one I was inspired by the model Xiaowen Ju, but I normally choose Lara Stone because she's sexy but chic.
What are your future plans?
I really want to work as a creative pattern cutter in a brand but I don't want to quit the design aspect. I don't think you can separate pattern cutting and design, they can have the best chemistry when they are combined. I learned a lot about technical skills during my MA at LCF so I think this will help me because in fashion it's like the art image is something that you can't touch but here you learn how you can build the steps for people to reach it.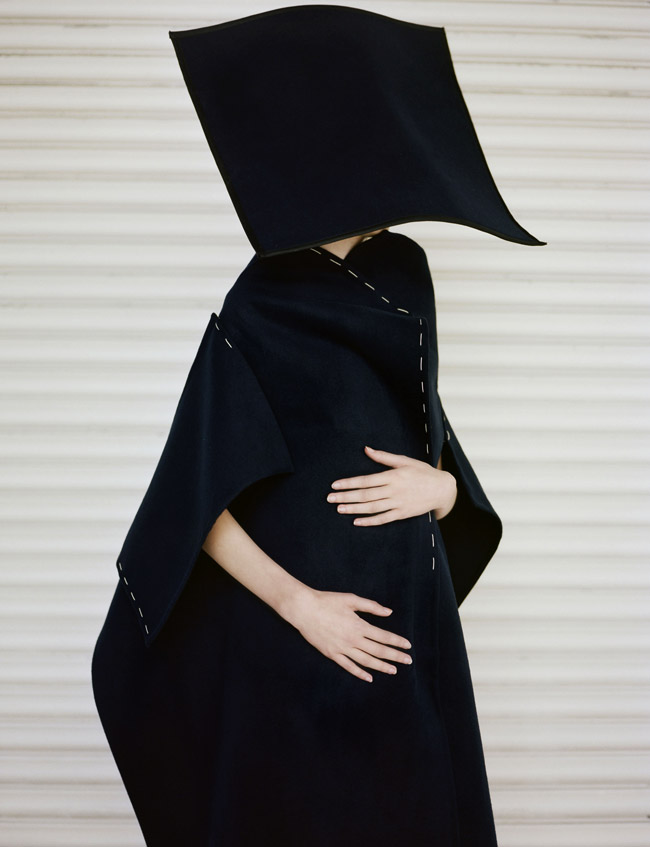 Ning Xu
Describe your final collection?
My final collection explores a spirit called 'depth of thinking and identity'. The inspiration came from myself - when I was a child I had an accident and at that time I couldn't hear anything clearly - I could only hear pieces and fragments of sound in my head. At that time I was really shy and I didn't want to talk to people so it was a very emotional experience, and this is what I used to create and develop my collection. I really like the colour blue - the artist Yves Klein created his own colour blue and he used a lot of blue colours to create his work. This is the one that I used in my collection because it was defined as an 'open window to freedom as the possibility of being immersed in the immeasurable existence of colour.' The collection is called Mute. I used small pops of orange and yellow to represent that, and I also used a lot of ear structure and hearing aid machine materials like silicon in the fastenings and attachments of the collection. The details highlight the functional aspect. Every garment is reversible, and the detachable details such as the collar, the hood or the pocket, provide a different way of wearing the garments.
Describe your work in five words…
Functional, detailed, different material, reversible, attachment.
Do you have a muse? If so, who and why?
I really like Twiggy. I like her characteristics - she looked like a boy in the 60s and wasn't very tall and at the time this kind of model was not very popular, but she paved the way and made people open their minds and understand that this kind of model can also be at the top.
What are your future plans?
I hope to create my own studio, which will hopefully be a theme studio or a manufacturing factory. When I go back to China for my final collection, the studios and companies only focus on making money and not on the details or designs so I really want to create a studio to help new designers to create their own designs.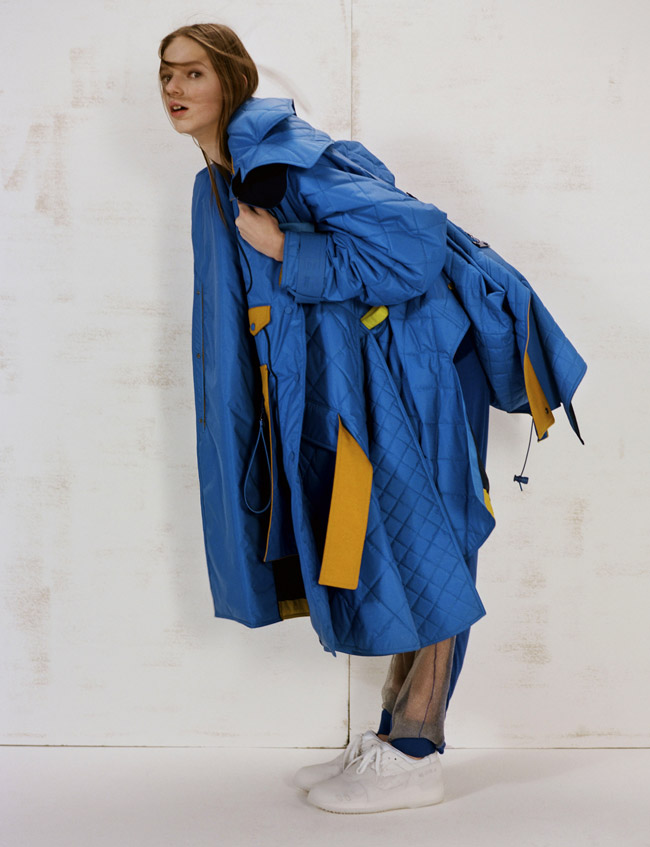 Yiru Sui
Describe your final collection?
The entire collection is based around geometry and zen, I combined the two to form my collection. I wanted to create a clean look but also combine that with nature so that is why I used wood with simple, pure colours like white. By deconstructing the traditional structures of the pieces, I was able to create numerous silhouettes.
Describe your work in five words
Leo, Zen, Sculpture, Clean shape, Pure
Who or what inspires you?
I am really inspired by Alexander McQueen, he is my favourite designer. When I first entered this industry around 6/7 years ago, I got a lot of my inspiration from McQueen.
What are your future plans?
I would love to work as a fashion designer for a luxury brand or fashion buyer at the beginning of my career and once I get experience and maybe funding, I would like to start my own brand.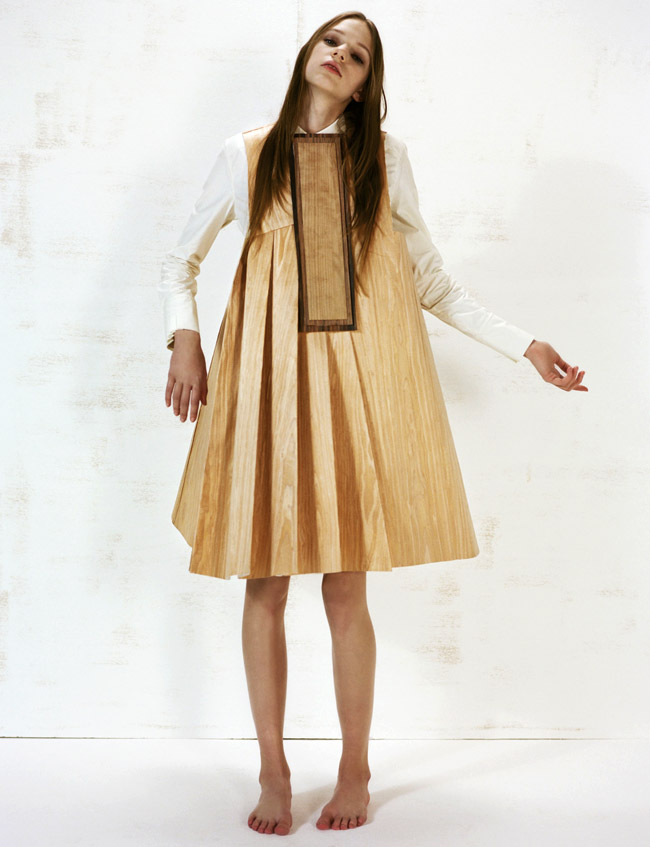 Alexandru Tunsu
Describe your final collection?
My collection is called 'Massacre of the Innocence'. When I started the collection I wanted to highlight the death of contour that's currently happening right now, looking at how it looked a few years ago then changing to how it's dissolved and changed into ready-to-wear. The fashion industry is cutting garments because we aren't happy with them, so I started looking at the life-cycle of the garment. I wanted to look at the life of garments, how they are born, how they mature and eventually how they die in a way. I started developing different techniques to create 'ghosts of garments'. This then became the afterlife of the garment, this was the concept that I worked with for my collection, looking at the evolution of a garment and the death of contour. I wanted to look at garments like a person, taking that concept quite literally with my collection, creating garments with pre-made fabrics, I'd then destroy it and fray it and I would then take it back to the thread, recreating it again with heat-press. It was kind of like creating a garment, killing it, and recreating it again.
What are your future plans?
I'm thinking of trying to do some menswear as well, I want to grab as much information as possible about fashion, especially in tailoring. I don't know enough about tailoring to take things to the next level. Eventually I want to move to Paris, hopefully in the next year, I want to enjoy London for a while but after that I want to create my own label, possibly in France.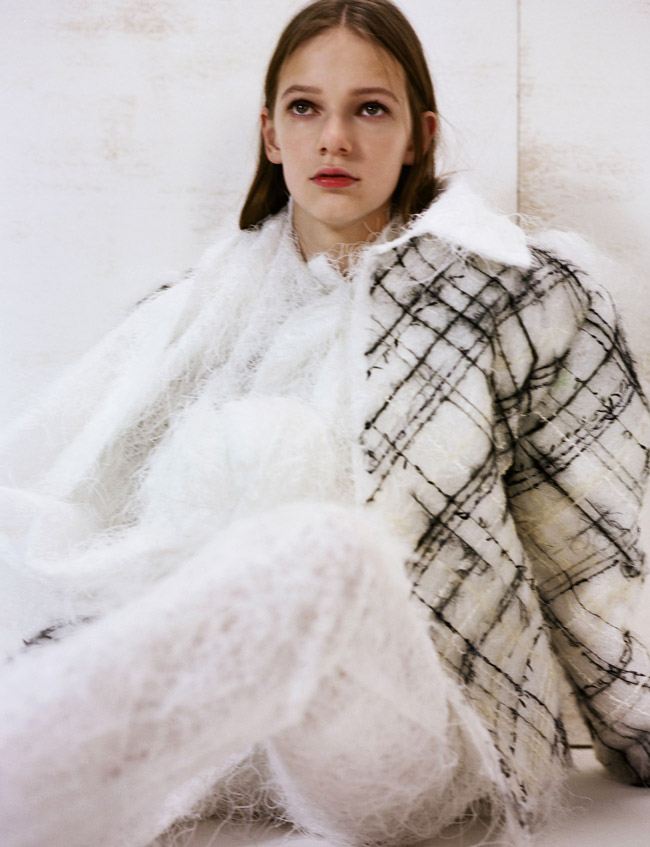 We wish to all of them luck and high professional achievements.
We are looking forward to present here their future works, because we believe that young designers have a lot of energy, creativity and meaning to show, and it's a matter of time to reveal their full potential!


The annual MA Womenswear catwalk show will be live streamed at the LCF's website (www.arts.ac.uk/fashion/)


Hits: 3876 | Leave a comment