How to take care of wool suits?
As we have already mentioned many times wool is the perfect fabric for men's suit, because of the important benefits it gives. Choose a suit with higher fiber fineness and you will feel and look great for a very long time.

But what should you know about caring for your wool suit?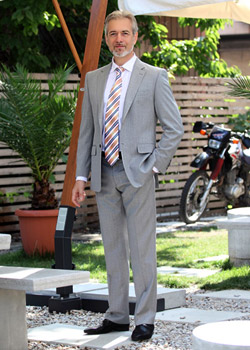 - after you have worn it once, wait 24 hours before do it again - due to its natural resiliency, wool will allow wrinkles to fall out and the suit's original shape will be recovered
- if a wool garment gets damp, hang it out of direct sunlight and brush it after it's dry
- soil and dust can be removed with a garment brush or a damp cloth
- for preventing your suit from clothes moth, brush wool with a fabric brush before storing
- store cleaned wool suits in airtight bags or containers with tight-fitting lids. When folding, add white tissue paper between folds to prevent wrinkling
- add mothballs, but NEVER put them directly on the fabric. Hang them in small woven cloth bags near the suit
- if the label says 'Dry Clean Only' bring the suit to a professional dry cleaner
- if there are any stubborn stains (like paint, dyes, nail polish, etc.) take the suit to a dry cleaner as soon as possible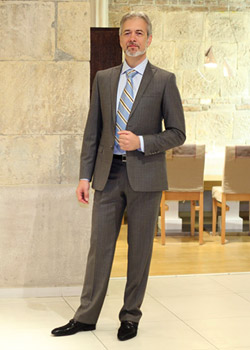 - for hand washing your wool suit use a mild detergent in lukewarm, NEVER hot, water. Do NOT use bleach ever!

- soak the suit for 3 to 5 minutes and gently squeeze. Do NOT wring the garment

- rinse thoroughly with cool water to remove all traces of the detergent and squeeze gently again

- lay the garment on a flat surface and allow to dry away from direct sunlight and heat. Never put wool clothing in the dryer - this would shrink it!

- when you ironing a wool suit add water to the iron and use steam heat. Never iron wool fabric dry

- press on the inside of the garment to avoid surface shine using a clean white handkerchief or cotton cloth


If you follow this simple but effective tips, you will look stylish and elegant in your wool suit for years!


Photos: Models of menswear brand Richmart


Hits: 6404 | Leave a comment