Which is the Best Leather Jacket for You?
Winter is upon us and the colder weather is moving in for a while. As the chilly temperatures make their appearance, it's time to start thinking of outerwear to offer protection from the elements while still ensuring you look slick.
The leather jacket is the perfect way to layer up in the coming months. As well as being durable and practical, this is a slick and timeless option. If you're thinking of investing in a leather jacket, here's a run through of the different styles out there that have been designed with the stylish and dapper gent in mind. 
The Classic Biker
When you think of leather jackets, you're probably picturing James Dean sat on his Triumph or Marlon Brando in a Perfecto jacket in The Wild One. These are all-out, rock 'n' roll jackets that ooze rockabilly cool.
Generally known as double rider jackets because they're double-breasted, they feature zips and buckles and were created to make riding your motorbike easy and comfortable. You don't have to have a bike to pull this look off, however. Team it with a plain white tee and hard-wearing jeans, James Dean-style for ultimate cool. The quiff hairstyle is optional.
The Aviator
The flying jacket was originally devised to keep pilots warm in the cockpit during World War One and has evolved to become a stylish piece. Soft, usually tan-coloured leather and a warm wool lining makes this the ultimate in comfortable outerwear.
It also features ribbed cuffs and two large pockets, and this style was the precursor to the bomber jackets that appeared in the '90s. Today, this is ideal casualwear that will keep you warm over the winter.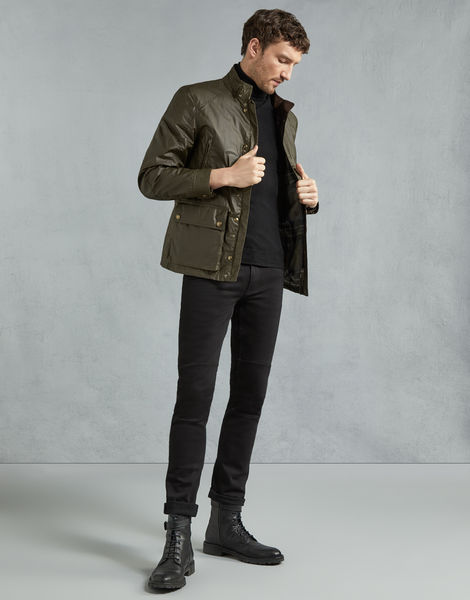 The Racer
For a leather jacket that works well both as a smart-casual piece and during your downtime, the racer is the way to go. Its versatility lies in its design, with features such as a classic centre zip, a band collar with a button fastener and zipped pockets, making it a simple, yet sleek option.
Thanks to its adaptability, investing in a racer like this from Belstaff means you can that you can easily dress it up or down. It works well with smart tailored trousers for an even or while you're out and about at the weekend.
The Fatigue
The fatigue jacket is longer than the other jackets in this line-up and design-wise look like a typical cloth jacket. They feature a soft collar and large flap pockets, making it ideal for long country walks. They're sometimes belted or cinched in at the waist and, while they offer a similar casual style to the leather bomber, they're more informal and work well as a day-to-day jacket.

Which one are you drawn to? If you're undecided, try out different styles to find the perfect fit. The one you invest in now will potentially see you through plenty of winters to come.


Hits: 18498 | Leave a comment