How to order a Savile Row suit. Interview with Brian Lishak from Richard Anderson
Can you, please, tell us more about your business, your house style and trends in men's suits?
Let me just introduce first of all the company Richard Anderson. My name is Brian Lishak and I have been working in Savile Row for 60 years and also traveling on behalf of companies in Savile Row for that period of time. What we do here is what is called bespoke, which is made by hand from start to finish and those products are made to the very highest quality standards plus they are made from the finest materials either from produced in this country, which would be 70% of what we sell and the other 30% most probably be from Italy - Loro Piana and companies of that sort.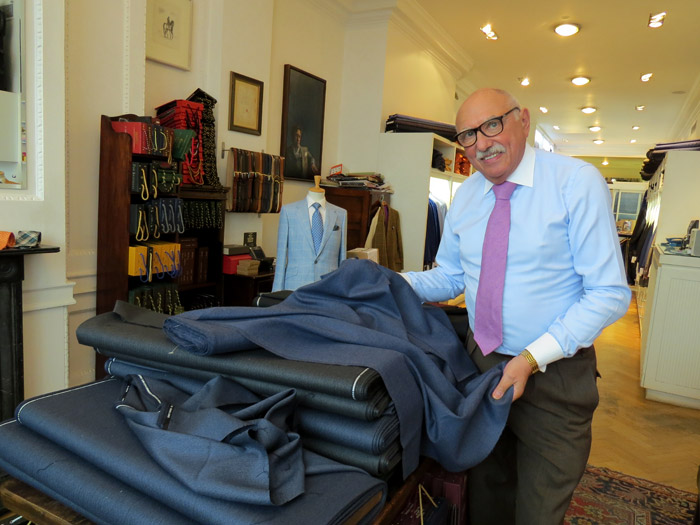 Brian Lishak from Richard Anderson
With regards to trends - you got trends in style, fashion and color. So the color that has been very very popular and which we are selling a great deal of, is the brighter shade of blue, not the very dark navy blue but the much more lighter color. In the suits we have very lovely rich shades of blue, much more popular than grey currently.
We have what we call 'The house style', because our job is not just to fit the customer but it's to make him look at his best. To make his style. And the main thing is to make men look taller and slimmer. And our kind of style and our philosophy to do that is by keeping high armholes so you get a long line through the body and a fairly slim outline, a slim shoulder just to the body. So that all of the lines are long ones. Generally we make single breasted jackets with just one button, because other buttons cut the straight lines of the jacket. The sleeves of the jacket are cut slim, so the whole thing is in proportion. Trousers too are cut very straight but slim, slim leg, which gives you more height. Most of the garments that we make are single breasted, occasionally we make double breasted, cut in much the same way, the same kind of style and line, but normally with 6 buttons. We also do ready-to-wear. We have a lot of customers who are not here long enough to have clothing made bespoke, so therefore we carry the ready-to-wear - they can buy them and take them home today if they fit or if we have to do adjustments, we can do that within a day or two.
How many fittings are needed for a bespoke suit?
For bespoke we normally make 4 fittings for the first suit. What we do here is we take probably something like 30 measurements and from them we cut an individual pattern for each customer. In each of the fittings the pattern is adjusted in the same way as the garment. We then keep it on file. You can see at the back of our shop above the fitting room the patterns hanging there, literally we've got thousands. When a customer comes to reorder we don't need as many fittings, we normally do two but if the customer is not available to do we only do it with one. So the whole process becomes an easier one.
About 50% of the business is done with customers from abroad. We travel to the USA 3 times a year probably 9-10 cities each time and there we take orders, we fit clothing that has been ordered here or by our customers on a previous visit. So that the whole process for the American customer means that he doesn't have to wait enormous time to get his suit. If he is a repeat customer we would normally just check the measurements to make sure if he didn't lose weight and then unless the change is huge we just make a small modification to the pattern which is usually around the waist. We also visit Japan twice a year. We have customers from all over the world.
If the customer is based in England and he is able to come in for fittings when we need him, then it normally takes 6 weeks to make a suit from start to finish. And the only areas we use machines are to do what we call straight seams which are these kind of seams (for example in trousers) because they are neater by machine and we put our pockets by machine because they are stronger. All of the internals are done by hand. The shoulders are hand made. The product is really very time consuming and labor consuming but the end product is worth it.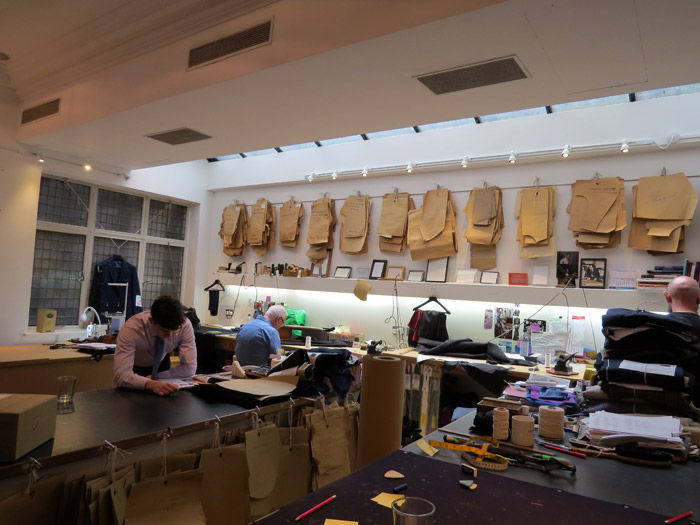 Richard Anderson atelier
How many vents do you usually put?
Most often two. I would think that out of every 50 coats we make 49 will be with two.
It is more comfortable and as you can see at the back of the jacket the two vents tend to accentuate the shape of the garment better than a single vent or no vents. We very seldom do no vents, because they are less comfortable when you tend to sit on them.
Something else special about the pockets?
The Pocket details, yeah. Those we normally change depending upon the kind of material. If it is a suit jacket and if it is a formal suit we would normally put pockets straight across and if it's a dressy suit we would normally leave the pocket flaps off, so that you get a very clean line.
Something a little bit sportier - we would put slanting pocketing and if it was a mix of coat with a sports coat we would very often put an extra pocket, a smaller pocket, called a ticket pocket.
Do men order brighter colors?
Yes. I think today men are wearing far brighter colors and all of the things they use, for example pocket squares - they are all bright and colorful and colorful socks. It is really quite an interesting change. That's a development. Although there is always a tendency towards what they call dress down, more casual, but we see, most of our customers are business people and so they want to look more formally dressed.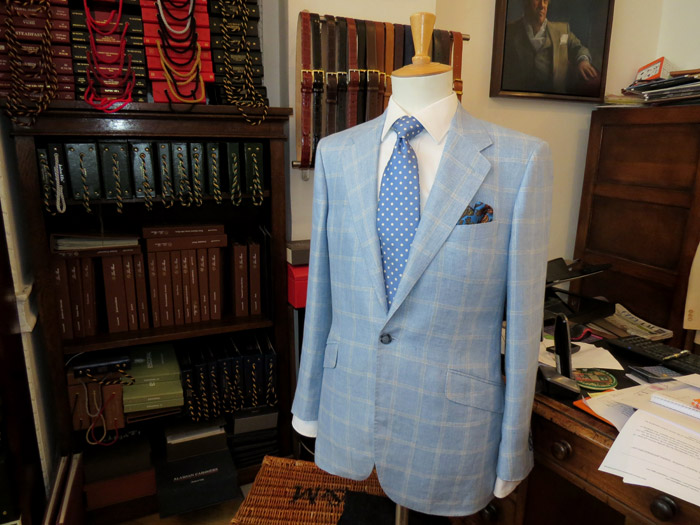 Summer jacket
Are there any celebrity clients or famous customers?
We have to be very discreet. If it is a customer from may be the film world, they don't mind, but the other customers want us to be very discreet. We have royalty, we have customers from all walks of life, we have lots of people from the entertainment business, as well as doctors, bankers and so on.
Do you put embroidery inside the jacket?
In bespoke all we do is put a little label which is hidden inside the pocket and we put the customer's name and the date the garment was ordered and the order number, it is for our use. So if he comes back and wants another suit like this one it is easy for us to trace it. So we can see the material that was used. In ready-to-wear clothes we do put a label. Again it is what the customer wants. The bespoke customers are very discreet and they don't want to have labels.
What fabrics do you use from UK?
We have quite a few materials specially made for us, those are made up in Yorkshire, which is the heart of the English worsted manufacture. We have them in different weights so that if we have a client from a very hot country we have very thin weights perhaps 250 to 270 grams, our norm is probably around 300 to 310 grams, but then we also carry heavy weights for customers for example from Scandinavia, plus the fact that the heavier the cloth is the better it performs - it doesn't crease as easily and it wears longer and it travels better. We have quite a few customers who don't mind wearing heavy weights because they are a more practical product.
What is the all season suit?
All season would be around 300 to 320 grams. A lot of our customers have different weights of cloth for the different seasons. They'll have their Winter suits and their Summer suits.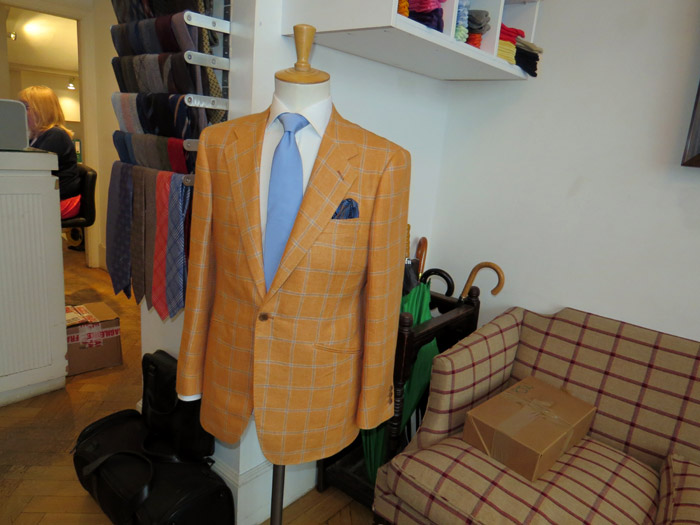 Summer jacket
What lining do you use?
We normally use a lining called ermazine which is made from an artificial silk. It is very light in weight but it is still very strong and it is absorbent. Synthetics are not absorbent, so they are not comfortable when you perspire it feels wet. But ermazine, which is made from viscose rayon, it is absorbent, it is cool to wear and it lasts a long time, although it is very thin.
When did you start the company?
Richard and I started the company in 2001. Richard came in to Savile Row when he was 17 as an apprentice and learned tailoring and then went on to cutting. On my side it was on selling the garments. I studied textiles at college and it was my intention to go to the university but I came to Savile Row, I was 16 and I fell in love with the whole business on Savile Row. When I had the opportunity to go to the university I decided not to do it but stay in tailoring. It is a wonderful business. I now have three generations of customers who I look after. Grandfather, son and grandsons. Which is really wonderful. Savile Row originally was very formal and when we opened here we decided that we don't want to be so formal, we wanted to be more open, because the kind of clients have changed. The great thing is to develop a relationship with your customer so that he feels very much at home and he enjoys his visits.
In the selling area we are really advisers because the majority of customers really they don't know what they want. They want a suit but they don't know which would be the best style for them, which would be the best color for them, and which would be the most practical fabric. So what we endeavor to do is very quickly discover from the customer what is his lifestyle, so somebody who is a banker for example is not going towards the same kind of fabric as somebody that is let's say an author.
That's for us to find out - we discreetly ask where they are from, what kind of business they have and we get an idea what is going to be the best for them.
One particular customer I remember was getting married and he phoned me from San Francisco and told me 'I am getting married'. I said 'Congratulations'.
He said 'I need a new suit for the wedding and the wedding is in 4 weeks so I haven't got the time to come over and choose the material. You know what I like.'
And I chose the fabric, we made the suit and I sent it to him and he was excited. So that's the kind of relationship we develop with the customers. That is something that is rather special.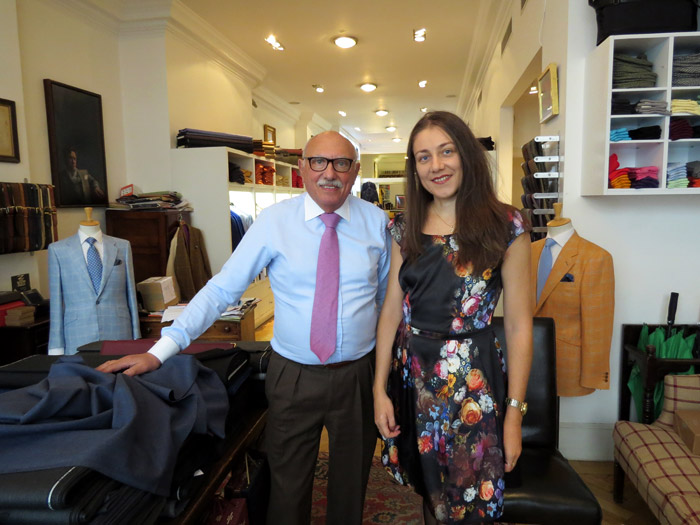 Brian Lishak and I at Richard Anderson shop on 13 Savile Row

Do you rely on recommendations?

A lot of customers come through recommendations but again the shopping style has changed, because you know years ago new customers would come along Savile Row and they look at this shop and that shop and the one that looked most appealing they will come into it. Now most of our customers do their shopping online and when they come to Savile Row they have already narrowed their choice to 1 or 2 shops and they only go to those shops. It is really quite a change.

People today want everything to be very easy for them.

How much does an entry level suit cost?

Bespoke suits are about 5,000 pounds. Ready-to-wear between 1,200 to 4,000 pounds.

The fabric makes a big difference. We have fabrics that would cost 8,000 pounds for a suit. The extent of fabrics is very large and we have super 200 for suits which are the very finest worsted fabrics that are produced. And in jackets and in top coats we have materials like vicu?a, which is rare and tremendously expensive. So a vicu?a overcoat would cost about 20,000 pounds. It depends upon the customer and his requirements.

Photos: © Be Global Fashion Network


Hits: 9135 | Leave a comment