Japan: Made-to-measure and Made-to-order men's suits
Taking in mind that Japanese are typically shorter and smaller than Europeans and Americans and that more than 2.5 million (potentially higher because of undocumented migrants) foreigners live in Japan, it is not surprising that many Japanese tailors offer made-to-measure and made-to-order garments - great options for both locals and foreigners.
A little-known but vital element of a well fitting men's suit is the so called 'drop', calculated by subtracting the waist measurement in centimeters from the chest measurement and dividing that number by two. The correct drop size allows the free movement of the arms, while not being baggy around the midriff. The average drop size in Japan is around 10, while many of the foreigners wear jackets with drop size over 20 which can't be found in local stores.
So, ordering a made-to-measure or a made-to-order garment allows the gentlemen to receive a perfectly fitting men's suit, matching their personal taste and style.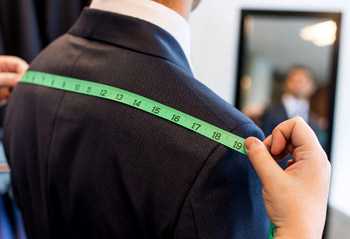 'More and more Japanese tailors in their 30s and 40s are active here and abroad', said Masato Kawai, who manages a group of suit lovers and writes magazine columns about tailors.

'Tailors in this age range have had many chances to see and buy international brand clothing in Japan since their late teens and have had access to the latest information about the apparel business via the Internet. They're enthusiastic about making clothes and don't hesitate to become apprentices of first-class tailors in other countries. Young Japanese tailors are meticulous in their work and attentive to customers' needs, so they're well-placed to win the hearts of their clientele', Kawai added.

Many of the Japanese tailors offer expertise and services in the manner of Savile Row, but in a modern and convenient setting. They bring together some of the world's finest textiles, linings and details, making ordering a suit both fun and easy.

In some ateliers customers can request an English-speaking interpreter to help them with their shopping.


Hits: 14103 | Leave a comment