GOTS - Global Organic Textiles Standard
GOTS is comprised of four reputed member organisations, namely OTA (USA), IVN (Germany), Soil Association (UK) and JOCA (Japan), which contribute to the GOTS, together with further international stakeholder organizations and experts, their respective expertise in organic farming and environmentally and socially responsible textile processing.
The GOTS' mission is the development, implementation, verification, protection and promotion of the Global Organic Textile Standard (GOTS). This standard stipulates requirements throughout the supply chain for both ecology and labour conditions in textile and apparel manufacturing using organically produced raw materials. Organic production is based on a system of farming that maintains and replenishes soil fertility without the use of toxic, persistent pesticides and fertilizers. In addition, organic production relies on adequate animal husbandry and excludes genetic modification.
GOTS is constituted of four reputable organisations with expertise in organic (fibre) farming as well as environmentally and socially responsible textile processing and manufacturing. All of these four organisations, of which three are industry associations and one is a membership charity (Soil Association) introduced their own textile standard previous to the development of GOTS from which they brought in their knowledge and experiences to the joint project GOTS.
The starting point for the Global Organic Textile Standard (GOTS) development was the Intercot Conference 2002 in D?sseldorf (Germany), where a workshop was launched with representatives of organic cotton producers, the textile industry, consumers as well as standard organisations and certifiers who discussed the need for a harmonised and world-wide recognised organic textile standard. At that time numerous different standards and draft standards existed in the niche market of organic textiles. The different standards caused confusion with (the few) producers, retailers and consumers who were interested in this field and they were an obstacle to international exchange and recognition of organic textiles.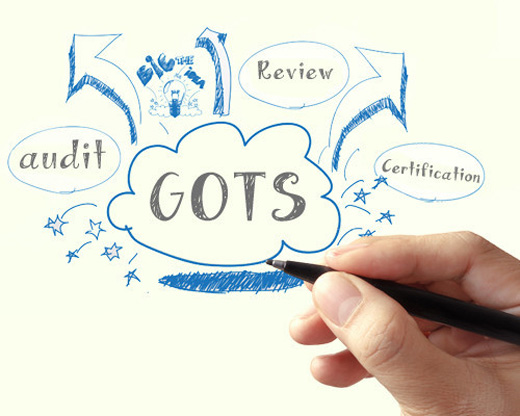 Since its introduction in 2006 by the International Working Group on Global Organic Textile Standard, the GOTS has gained universal recognition, led to abolishment of numerous previous similar standards of limited application and has become the leading standard for the processing of textile goods using organic fibres, including environmentally oriented technical as well as social criteria.

After the enormous growth of certified facilities between 2006 and 2009 (2006: 27 certified facilities, 2008: 1977, 2009: 2811) a consolidation phase was recognised in 2010 with a total number of 2754 certified facilities at the end of 2010. Beside the economic difficulties the textile industry had to face in general not the least the introduction of the public data base early 2010 (that had more than 120.000 search requests in 2010 already) led to the effect that brands, retailers and their wholesalers first looked up for suppliers that are actually certified before they considered requesting certification to new supply chains. Accordingly an effect has been noted that already certified entities receive in average more orders for certified textiles compared to the years before. However this trend cannot be quantified as the corresponding solid statistical data are not available. Since 2012 the number of certified facilities is growing again. A reason is that licensees worldwide get more orders and more diverse orders for GOTS, accordingly they apply certification for more production lines, processors and manufacturers.

The entities participating in the certification system include processing, manufacturing as well trading companies of the entire textile supply chain from small-scale units up to the largest vertical integrated enterprises mainly producing for the North American, European and Japanese sales markets. Beside the members of the four IWG parties an enormous demand is especially created by leading retailers and brands in garments that are produced and certified according to the GOTS. The first large-scale enterprise that committed towards the GOTS was the US based and word-wide largest retailer Wal-Mart followed by various competitors and brands.

Beside the technical requirements a certifier has to meet to become approved by the IWG for GOTS certification, it is also a prerequisite that he discontinues to certify according to an own standard. This measure was chosen to support the goal of a harmonised Global Standard and related certification system that allows certified suppliers to export their organic textiles with one certificate recognised in all relevant sales markets in order to strengthen the awareness and market for organic textiles. Resulting not only the standards of the four founding organisations but also any previous organic textile standards of Approved Certification Bodies got unified under GOTS.

The global mechanism in the textile industry needed a common approach of leading standard setters in the niche market of organic textiles to create a considerable awareness in the retail market and to the end consumer. With IVN, Soil Association, OTA and Japan Organic Cotton Association four nameable organisations have taken the responsibility and committed to implement this standard in their schemes. Supported by the remarkable growth in consumption of organic fibre (especially cotton) worldwide the Global Organic Textile Standard is in an excellent position to become the benchmark for an international common understanding of environmental friendly production systems and social accountability in the organic textile sector. The International Working Group will further do its best to establish the GOTS approach as a transparent and reliable system, where the industry and consumers can count on.


Hits: 4509 | Leave a comment