The basics of the tailored suit - what you should know
The tailored suit is a masterpiece that every man should possess. It is your confidence, your passion and express your style. There are a lot of reasons why you must have one and now we are going to tell you some of the most important things you should choose about the suit. There are some details which you must choose and some decisions you must make to create the perfect suit.
1. Choose the fabrics of your suit: Natural fabrics are made of wool, cashmere, silk, cotton, linen, etc and the leading manufacturers are from Italy, England and France. The key fabric for men's suits is wool. Wool breathes, it has antistatic and ventilate properties, it recovers from creasing, it isolates (from both cold and heat) excellent and has inflammation resistance. It is a natural, renewable and biodegradable. It can be combined with silk, mohair, cashmere and others.
2. Choose the type of your jacket: James Sleater from the Cad & The Dandy in Savile Row outlines the key differences between a sports coat vs a blazer and the single breasted and double breasted jackets. Two different types of fronts you tend to have a jacket, one is single breasted the other a double breasted.
3. Choose the lengths of the suit arm and the suit jacket: Sleeve length is an important one, you're looking for about quarter to half an inch of shirt cuff to show. Some people like to show a bit more, some people are a bit more conservative and show a little bit less. Jacket length is an interesting one, traditionally it should cover the seat, that definitely the preference.
4. Choose the shoulder styles of the jacket: There are five main men's suit jacket shoulder styles, which give different look to their wearers: Soft/Unstructured Shoulder, Neapolitan Shoulder, Lightly padded Shoulder, Broad padded Shoulder and Roped Shoulder.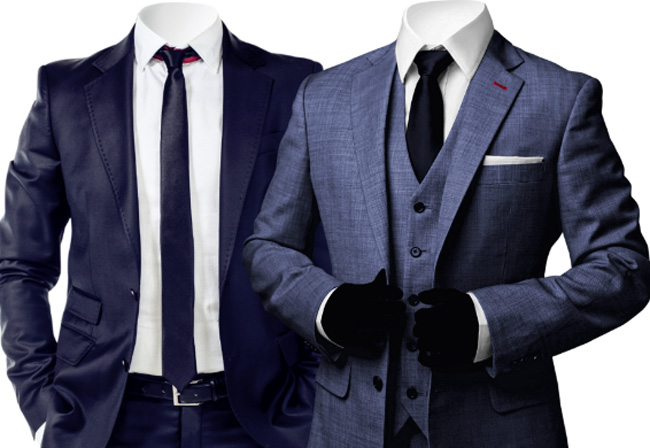 5. Choose the jacket vents and collar gap: For the vents you've got 3 different choices, the most popular is double vents where the jacket has two slits either side. Collar gap is often something that you see on the fit of a jacket when the collar literally stands out from the back of the neck.

6. Choose the types of lapels of your jacket: There are 3 types of jacket lapels. The most commonly seen is the notch lapel, you also have a peak lapel where there is a point on it, originating from formal wear - from a dinner suit or a morning suit and it often has a peak to it. The third type of lapel you don't normally see on a casual jacket and you only ever see on a dinner suit is a shawl lapel and it has no notch, no peak and it looks like a perfect link from button hole through to the button.

7. Choose the shirt cuffs: The most common off-the-rack shirt comes with a two-button barrel cuff. However, you will also be able to find one-button barrel shirt cuffs as well as 3-button barrel cuffs. If you wish to be more formal, then french shirt cuffs are the way to go. These are normally worn with a jacket, although these days, many wear them without.

8. Choose the right pocket square: Pocket squares are an amazing accessory that can change up your look on a dime. Whether it's a classic crisp white or a bright silk with a funky design, pocket squares are a very popular piece in the modern man's wardrobe.

When you know what you want, your tailor will be ready to make your dreamy suit. We hope that you learned something about the men's suit anatomy and you will put in practice this knowledge.


Hits: 11764 | Leave a comment