DECO 2000 - an electronically controlled decorative hand stitching machine
Deco 2000 duplicates the needlework of a skilled hand sewer by sewing true pick stitch, saddle stitch and long/short variations.
Customized decorative stitching is easily programmable from the touch screen including the backtacking and condensed stitching at the beginning and end of the sewing cycle.
The reverse function ensures that any type of stitches can be reversed during sewing that is important for example at the lapel break-point.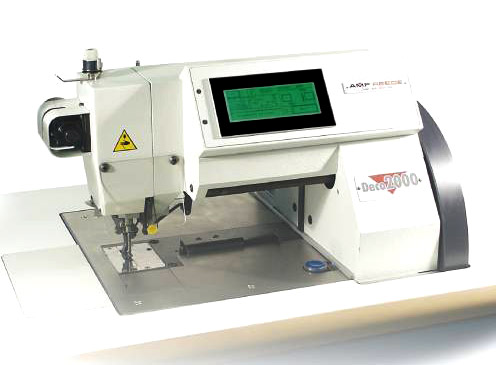 The decorative hand stitching machine is equipped with a thread trimming mechanism and can sew with standard polyester cone threads. A customized selection of decorative stitching also provides the operator with total flexibility and versatility with a wide range of applications. Due to the hand-sewn effect the decorative hand stitching machine is presented as the hallmark of quality and is required especially by manufacturers sewing top quality garments.


Floating Needle System was developed by AMF Reece to produce a 'true hand stitch'. The machine uses a double pointed needle which has an eye in the middle. By the use of two needle bars, one above and one below the work plate, a length of thread is passed through the material duplicating the hand stitch with flawless consistency and incomparable speed.
The needle positioning motor automatically moves the needle to the correct position for turning the clothing garment. The operator can also automatically position the needle to enable threading.
Any type of stitches can be reversed by a simple touch of a button placed on the work desk, at any speed and time during the sewing cycle (e.g. at the jacket lapel break point). This increases productivity and minimizes thread waste.


High Sewing Speed up to 500 spm makes the Deco 2000 ten times more productive than hand sewers, providing ensuring consistent quality.

The Deco 2000 machine can be used for a wide range of applications such as men's/ladies' tailored jackets, suits, overcoats, leather wear, ladies' blouses and in the car industry.

Source: www.amfreece.com


Hits: 3844 | Leave a comment