London College of Fashion: Interview with the Collection of the year 2015 winners
As you know, on Monday (June 8th), London College of Fashion announced its Collection of the year Award Winners.
Now, we are going to present you an interview with the awarded students, which they gave for LCF News and which we believe can be useful for everyone who wants to study Fashion design.
Look at the answers by BA15 graduates Rosemary Kate Lambert and Kate Donald, both BA (Hons) Womenswear, and Kate Cheung Wing Ki, BA (Hons) Fashion Textiles: Embroidery. For their final collection they embarked on a mammoth collaboration with BA (Hons) Fashion Contour student Sian O'Neill and BA (Hons) Fashion Jewellery student Tanaporn Wongsa.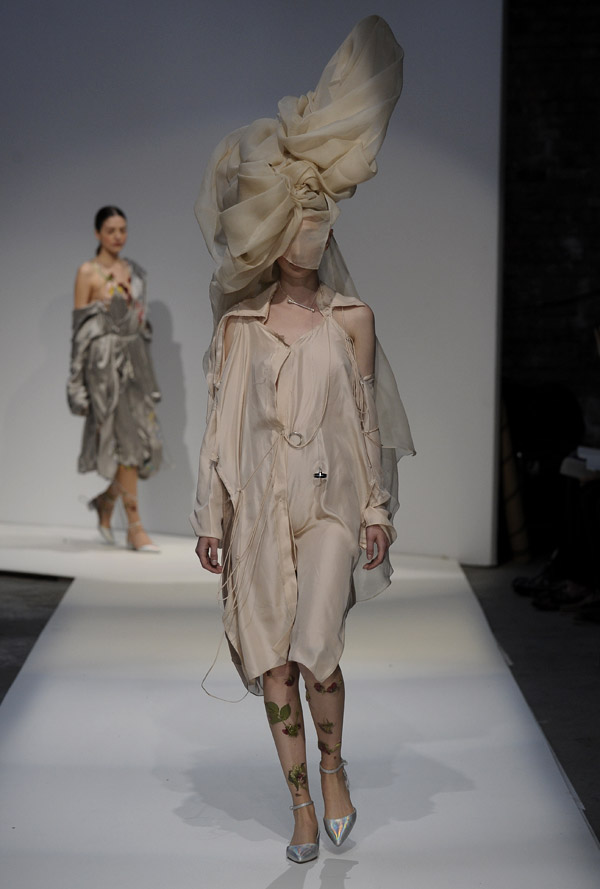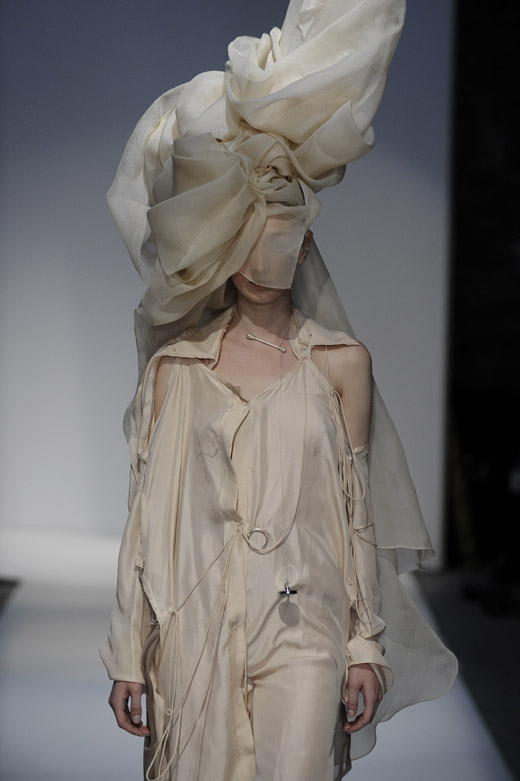 - We hear you all have very different inspirations, can you talk us through your final collection…
Rosemary Lambert: I was initially inspired by the Russian photographer Boris Mikhailov who documented a section of society as they became homeless after the fall of the Soviet Union. The portrayal of awkwardness and sadness juxtaposed with the beauty of community inspired the mood of the collection. Relevant imagery collected from the library's archives combined with garments sourced from charity shops strengthened my research and informed design development. The 6 looks I produced all originated from a piece of clothing taken apart and manipulated back together into something new.
Kate Cheung Wing Ki: I was inspired by skin disorders and the way people treat symptoms instead of the root cause. I used this as a metaphor for how people treat many other problems nowadays and this is what originally informed my work.
Kate Donald: My collection research came from looking at Victorian flower shows and at the same time looking at old home videos of my childhood birthday parties. The main thing I picked up from the photos and videos was the messier side of children and I latched onto the idea of the naivety that children portray and the funny almost adult like things they say without realising. The flower shows continued to provide a more delicate angle to the collection, symbolising the innocence and purity and complimented the twisted fabric, layering and covering, which lead me to include embroidered flowers, both abstract and traditional, into my veil-like pieces and garments. Knitwear and other textiles involved in the collection also came from looking at a lot of childhood images by Nick Wapplington and Helen Levitt and contrasting them with work of the Pre Raphaelites.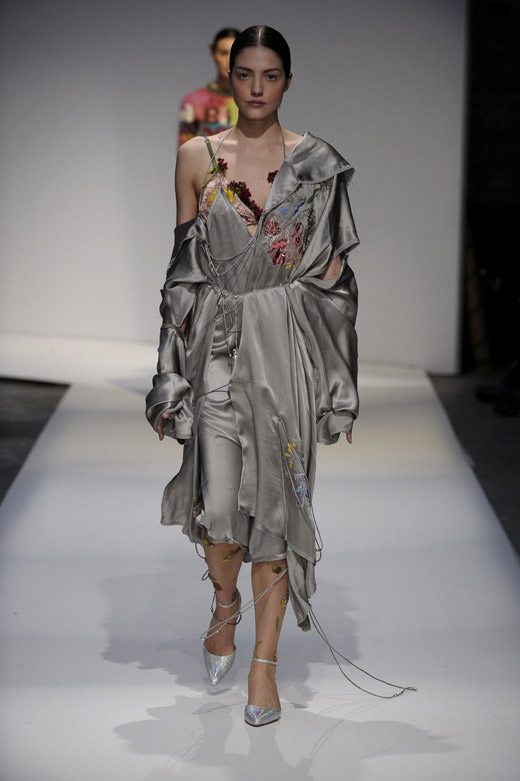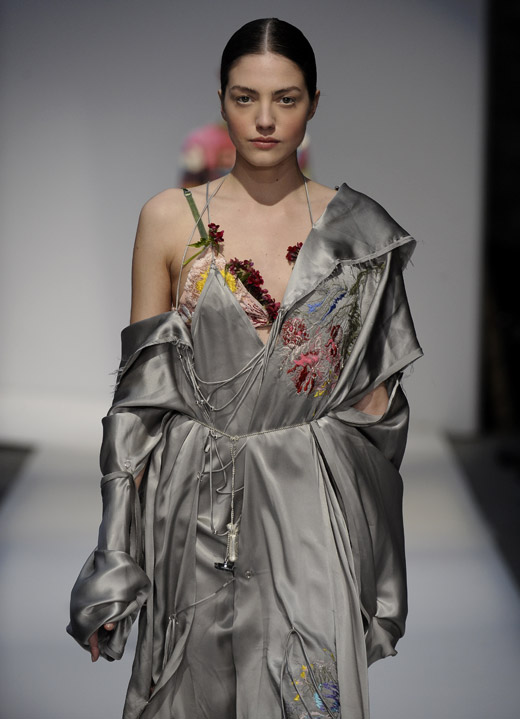 - What do you love about what you do?
RL: The satisfaction of solving a problem.
KK: I love the freedom of putting every element and technique that I like into the final project, like my tutors always said, this may be the last time to express what you really love before getting into industry.
KD: I love exploring textures, colour and creating my own textiles and applying this to a garment.

- What is the story behind your final piece of work?
RL: It's a narrative built around removal, dissection and re-manipulation.
KK: It's all about the different skin conditions such as scars, congenital defects, diseases, etc. The way of exaggerating them through embroidery is to enhance the awareness of a distinct lack of concern among general public that people need to confront problems in any kind.
KD: Its all developed so much but its fundamentally based on the idea of a lost innocence in childhood and this middle ground between adolescence and being a child.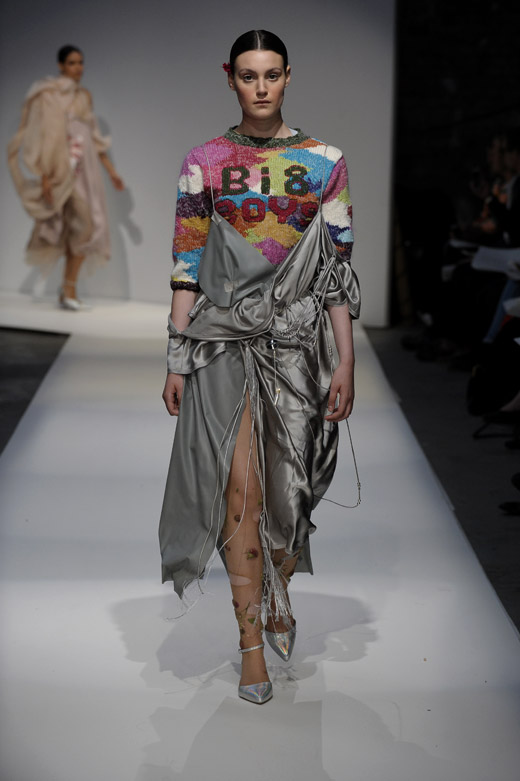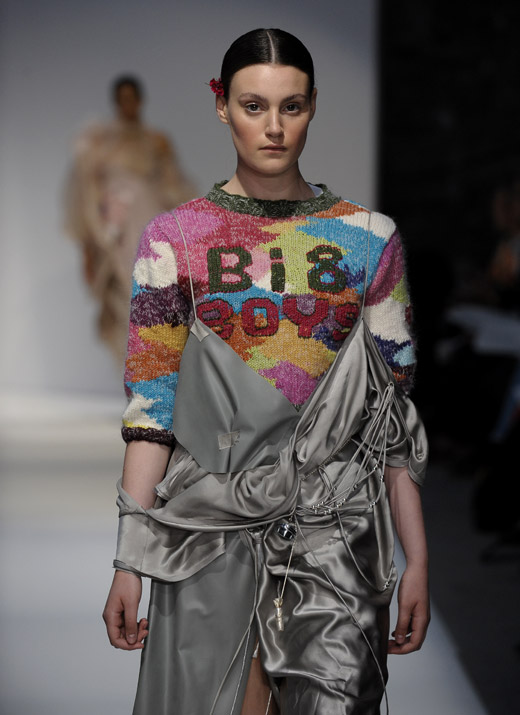 - Your final collection looks so detailed and intricate, what techniques did you use to create your final piece of work?
RL: I unpicked clothing to reveal the pattern pieces and experimented with these. I combined adding sections with taking others away and coupled this with experimental construction techniques to develop a very personal draping technique.
KK: Techniques include hand embroidery, irish, beading, applique, fabric manipulation such as gathering, shirring, and quilting.
KD: I made my own lace by creating my own moulds and casting silicone into them. With some of the headpieces in my collection I had to experiment quite a lot with which material would best hold up the structure of the piece and how to make it a wearable item.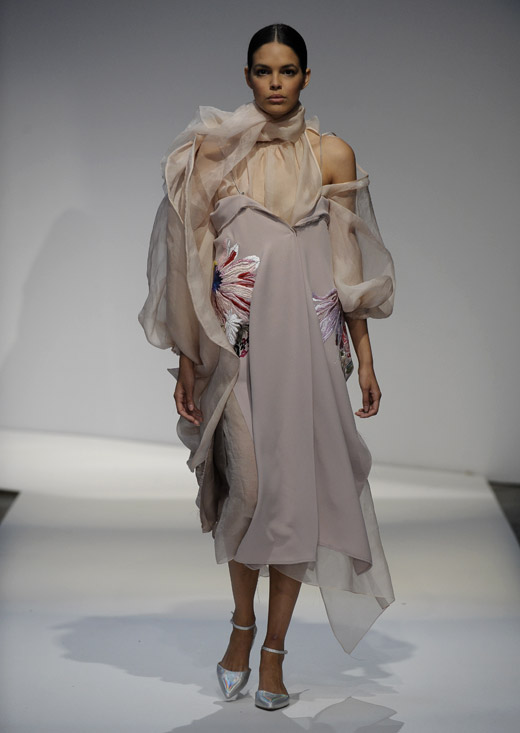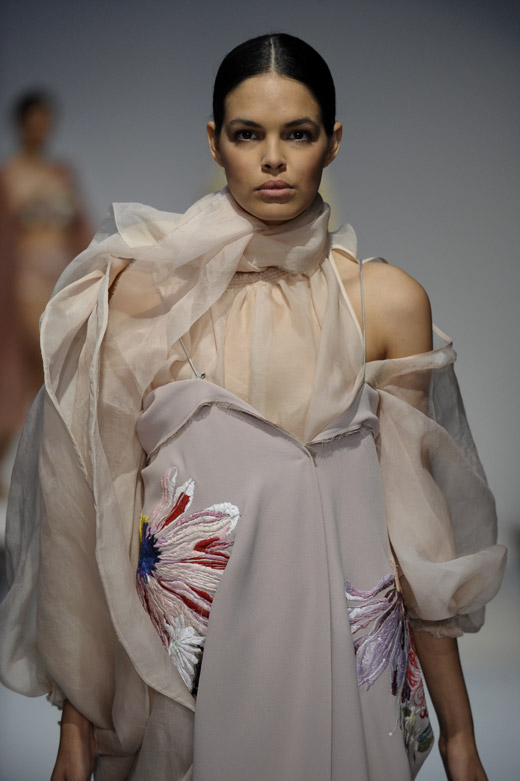 - What's the best thing about LCF?
RL: Being surrounded by people who are specialists in all areas of the fashion industry.
KK: It provides a lot of space and time for you to explore your creativity and widen your horizon.
KD: The technical support from the technicians is invaluable, and they are always there to help and I don't think I could have done my degree without them.

- What's the best thing about your course?
RL: For me, it has to be the high level of technical training because this is the way I design. Some people can imagine exactly what they want to make and draw it straight away, but I build and allow my designs to evolve through 3D experimentation.
KK: It has all kinds of workshops and tutors and technicians that can always help you out.
KD: You gain a firm technical knowledge as well as creative input to help your design process.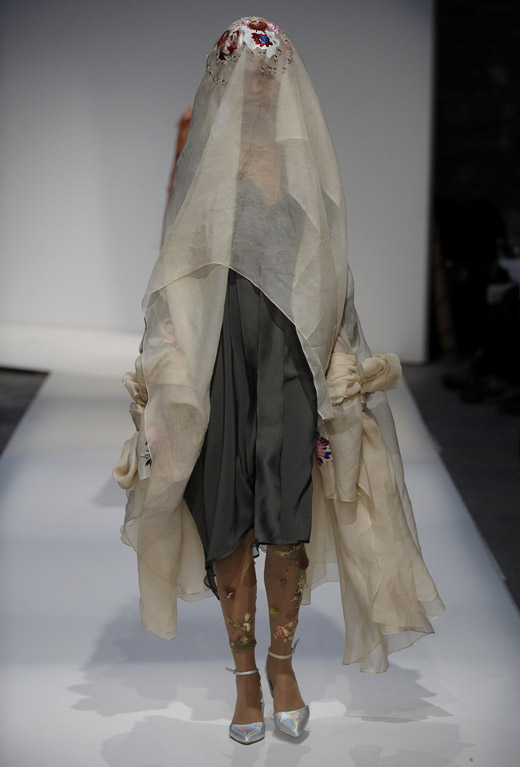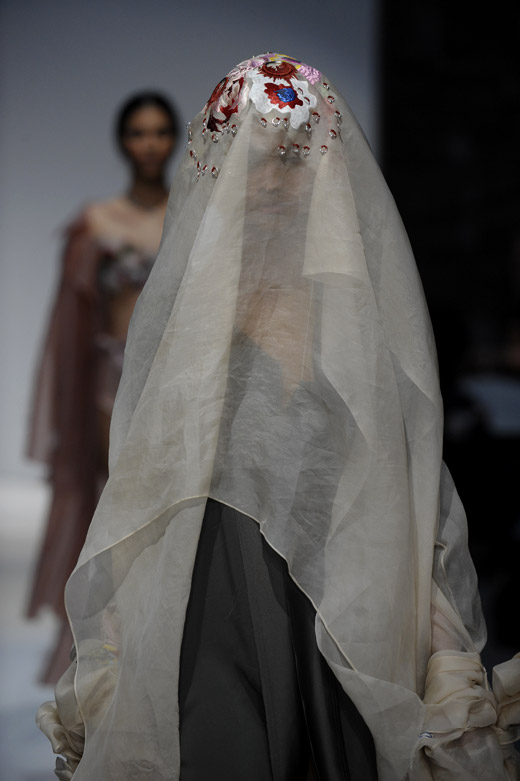 - Have you undertaken any work experience or done a placement whilst at LCF?
RL: My course leader recommended me to Meadham Kirchhoff. I arranged an appropriate body of work which I discussed with them in an interview.
KK: I did a placement at L.K. Bennett in London in year two. And I worked at Chailie Ho Fashion Studio as an Assistant Designer in Hong Kong in my summer holiday.
KD: Last year during the placement term I went to New York to intern in the sample room of Marc Jacobs international and stayed throughout the summer until the end of September. A friend who had previously been the year before highly recommended I applied to intern as the experience was so rewarding and Marc Jacobs is one of my favourite designers.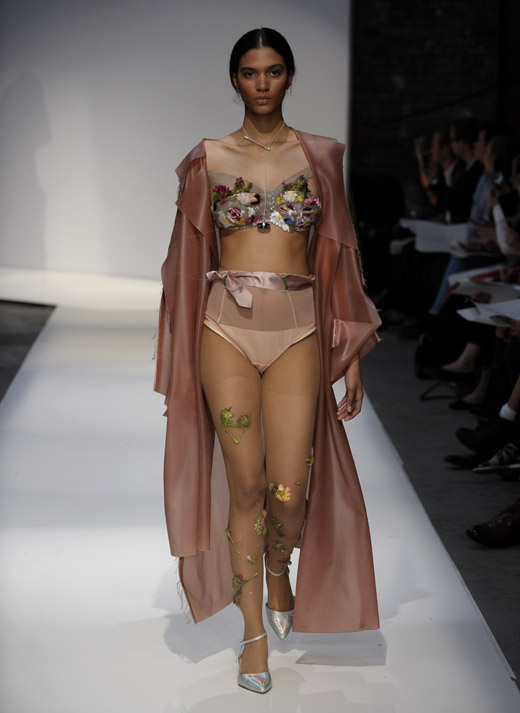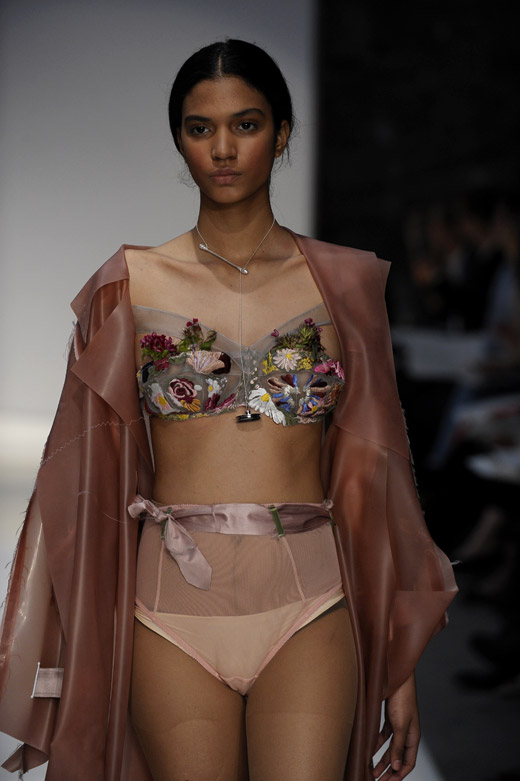 - What did you learn on your work placement?
RL: There's so much it's impossible to mention everything! I gained lots of technical skills ranging from how to cut tricky fabrics neatly to the correct way to construct garments. Other skills learned included how to work and communicate professionally within a team during day-to-day runnings of the studio to high-stress pre-show scenarios.
KK: I have learnt a lot, such as working with professionals and working at an internal fashion show and show room of L.K. Bennett, pattern cutting, actual store development and set up, and also assisting in a photo shoot.
KD: I couldn't have asked for a better placement! I learnt everything! From technical knowledge of Pattern cutting, making zips, dying fabric, trims. Embroidering, lots of hand sewing! Liaising with factories in midtown and even how to manage the phones at reception (which was the most daunting of any task).

- Describe your work in five words…
RL: Intricate, thoughtful, odd, delicate, imperfect.
KD: Fun, youthful, Romantic, artistic, playful.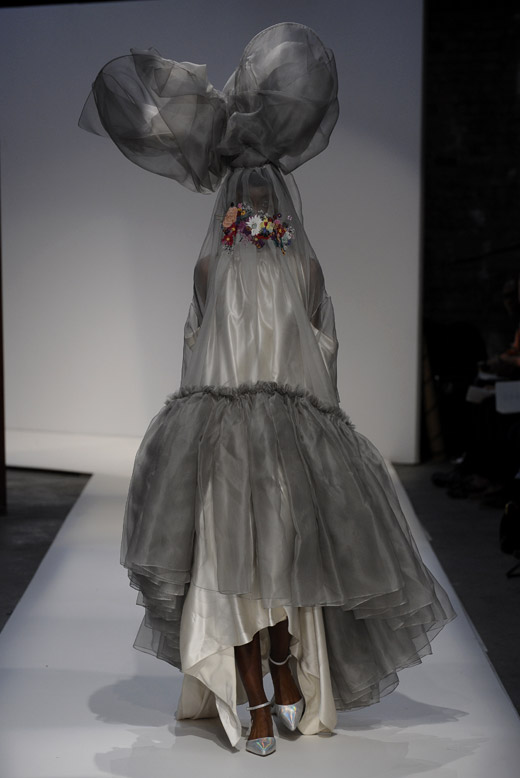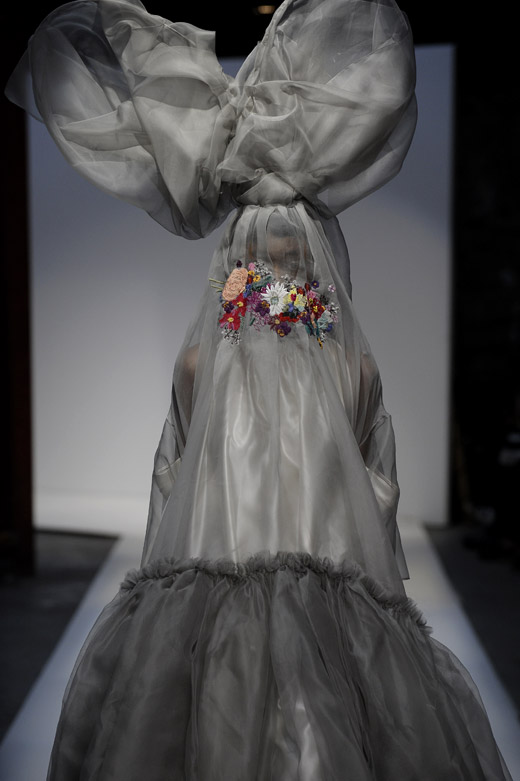 - What inspires you?

RL: Anything odd!

KD: I think I have an obsession with nostalgia! I'm always drawn to newspaper clippings and my grandparents photo albums. I love looking at vintage wallpaper and finding colours that clash. Things that look so wrong they work. I take a lot of inspiration from paintings and I love to paint myself. The variation in weights of paint helps inform how I balance my fabric choices and texture.


- What advice would you give to someone wanting to study your course?

RL: Don't worry about failing but just throw yourself into everything even if you aren't the best; fear of failure will hold you back. This is the last time in life you can mess up and it doesn't matter. It's not like you'll loose a job; you have a second chance so have fun and be experimental! Spend your first year absorbing as much as possible, go to exhibitions, explore London and make sure you go in to Open Access and practice sewing and pattern cutting as this will make your final year a lot easier!

KD: Be prepared for a lot of work, late nights but REMEMBER TO GET SLEEP! And always be true to your ideas.


Photos & Information: London College of Fashion


Hits: 5711 | Leave a comment