Christian Louboutin Debuts New Shoes at London Collections: Men
From industry newcomers to established fashion houses, Christian Louboutin has always enjoyed collaborating with talented designers from the world's fashion capitals. With the return of the men's fashion season, the brand opened the Autumn/Winter 2015 season with our very first appearance at London Collections: Men alongside a couple of favorites: designers Todd Lynn and E. Tautz's Patrick Grant.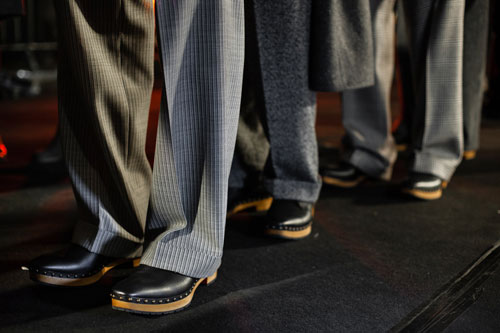 Todd Lynn is no stranger to Louboutin World. For nearly a decade, Red Soles have accompanied Lynn's women's collections up and down the runway.
"It would be fun to line up all the shoes and see the whole thing," says Lynn. "There's a lot."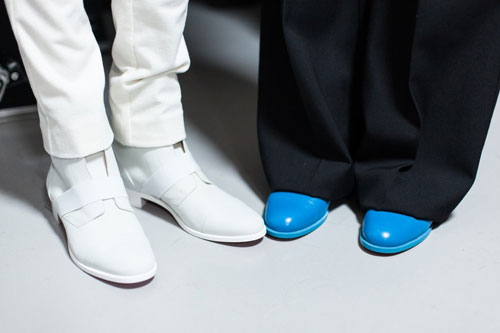 For Autumn/Winter 2015, Lynn is trying something new – after years of mixing menswear into his collections for women, the designer presented a full men's line at London Collections: Men, featuring two new pairs of Christian Louboutin shoes: a Chelsea Boot and a mid-top sneaker, both boasting elastic straps that emphasize Lynn's theme for the season: protection.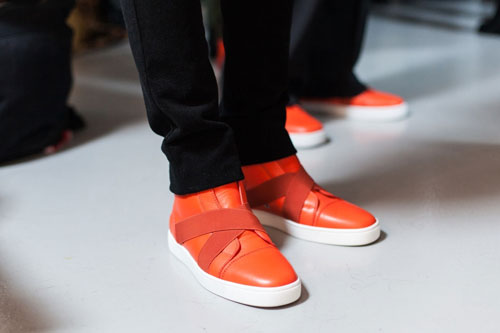 As for E. Tautz, British Fashion Award-winning designer Patrick Grant set out to create a collection honoring the industrial history of Northern England. For inspiration, he looked to poets, painters, and writers. For shoes, he looked to Christian Louboutin.
"Monsieur Louboutin was in the shop one day and happened to overhear me moaning about show shoes for SS14," says Grant. "He stepped in and saved the day."
Named "Louis XI," the AW15 shoe stays true to its industrial heritage, from the single tawny buckle to the muted brass studs that surround the upper. A wood and rubber sole underscores the shoe, giving it an elegant, modern cut with a familiar shade of red.

Photos and information: christianlouboutin.com


Hits: 6725 | Leave a comment