How to become a retail buyer
A retail buyer is a person, who selects the items which will be stocked in a store, based on forecasts about what will be popular among the customers. Buyers not only select clothing, but are also involved in the ordering and delivering of garments. They have to be acquainted with new trends in fashion business like made-to-measure, made-to-order, fast fashion, just-in-time manufacturing, etc.

Retail buyers usually work close with designers and/or their representatives and follow latest trends, by visiting trade fairs, wholesale showrooms and fashion shows. They may work for big stores or for small boutiques. Their job is very important, because decisions about what products to be stocked can affect the success of fashion business.

If they work for a smaller retailer, fashion buyers may buy garments for less specialized range (men's formalwear, for example), while in big stores one buyer might be responsible for just one type of clothing (men's shirts, for example) and even be involved in the design and development of the products.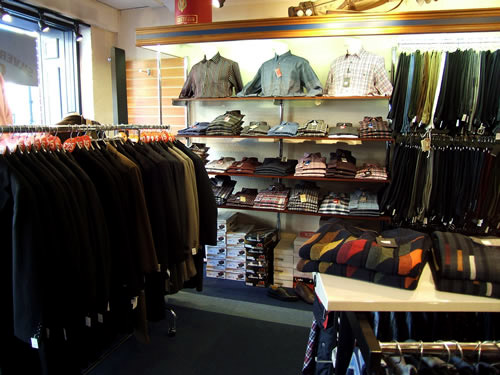 There are different levels of seniority:
- buying directors;
- buying managers;
- senior buyers (they are responsible for planning and buying the goods that a company sells and work closely with the Merchandising department);
- assistant buyers (they work very closely with the Retail Buyers gathering information and analyzing trends and data);
- trainee buyers.

The Buying department works closely with the Merchandising department:
- retail merchandiser - he/she has to make sure that goods are available in the right stores at the right time and at the right price and work closely with the Buying department to forecast trends, plan stock and monitor how well the products sells.
- assistant merchandiser - works closely with the Retail Merchandiser to analyze the different customer profiles and markets. They need to think commercially about how to improve the performance of the company and ensure that the right amount of stock is being brought at the right price.
Retail buyers also interact often with the design, quality control, and fabric technology departments.

One part of a buyer's job includes negotiating prices and details of delivery with suppliers. This is a very important task, because the buyer should assure markup price (the difference between the selling price and the manufacturer's cost price) that is high enough to cover the retailer's expense of 'housing' the garments from a few days to an entire season, plus the risk that some garments will be sold during the Final sales (with prices almost at the costs' level).
Both buyers and suppliers want to make the best possible deals for their companies and they should look for price and terms, which is best for both sides. So, it is important for them to establish a strong and honest relationship, which will help both sides to achieve their common goal - to sell to the customers as many garments as possible.

According to Peter Vogt, buyers predict months and in some cases years in advance what accessories and apparel will sell and at what prices. So, they should always stay current with the latest fashion trends, because sometimes they purchase merchandise even 6 months before it sold in stores. Buyers should also know their customers - they can achieve this by viewing sales records and by spending time on the selling floors.
Qualities of a successful buyer:
- enthusiasm;
- self-motivation;
- creativity;
- imagination;
- flexibility;
- ability to work under pressure;
- decisiveness;
- good judgment;
- strong analytical skills;
- computer-savvy.


A Bachelor's degree in retail, buy, marketing, fashion, business, or related field is preferred (but not required) for a buyer position. You can learn more about the offered courses in this area and the job of every position at FashionRetailAcademy.ac.uk


Advancement in a company depends mainly on performance. Therefore an assistant buyer can easily work their way up to senior buyer within 3-5 years. Higher levels of management in a company will usually require a graduate degree in business.


Hits: 5322 | Leave a comment