Spring-Summer 2016 Fashion trends: Metallics
2015 is already here and it's time to look in the future! Let's take a look at the fashion forecast for the Spring-Summer 2016 season , presented by the experts at Trendstop.com - one of the world's leading trend forecasting agencies, renowned for its insightful trend analysis and forecasts.
'Menswear is injected with a statement shine for the Spring/Summer 2016 season, as two new metallics emerge across apparel and accessories. Both Iridescent Beetle and Champagne Sheen add a luxe shimmer with a directional flair, updating shapes with a subtle Space Age cast'.

Iridescent Beetle

A mirrored shade that gleams dark teal and blue, Iridescent Beetle updates sportswear pieces with a futuristic appeal. 3.1 Phillip Lim incorporates a metallic panel on a leather biker, while Dolce & Gabbana applies the color to statement suiting and Lanvin to a sporty backpack. John Lawrence Sullivan taps into the current socks 'n' sandals trend, demonstrating how black contrasts bring out the color.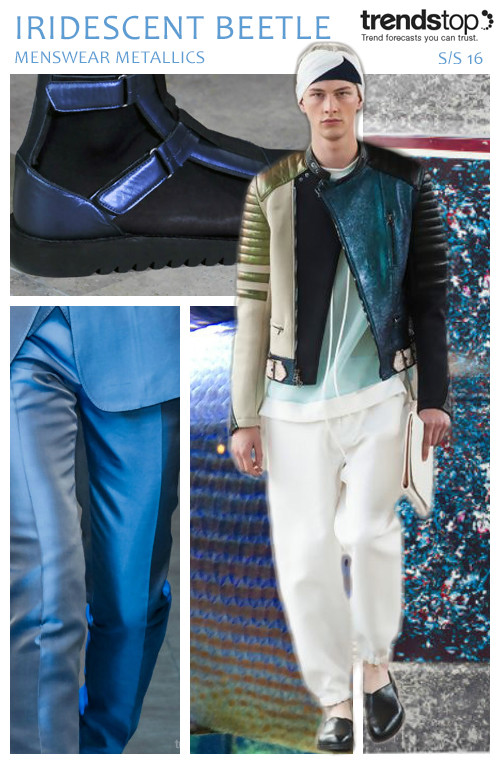 Suitable for Junior and Contemporary Markets, Iridescent Beetle is a masculine evolution of last season's Beetle Black shade in womenswear. Emporio Armani adds sophistication to a casual jacket with the shade, set off by clean white pants. 3.1 Phillip Lim shows how the color can be applied to accessories, from foiled summer sandals to tinted sunglasses.
Champagne Sheen

Champagne Sheen adds a refined yet steely finish to menswear designs, complete with a luxurious appeal. Dolce & Gabbana's formal suit expresses the bling factor, while translucent frame eyewear takes on a sci-fi feel at Gucci. Pointed metallic shoes at Costume National Homme set off smart evening ensembles.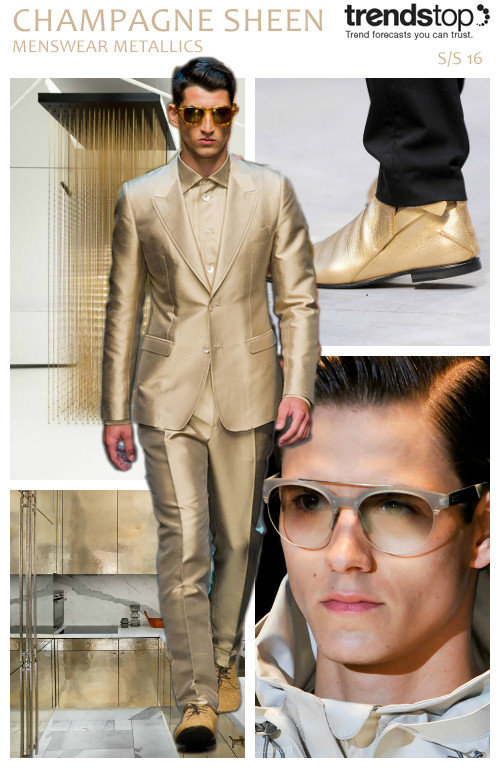 Another ideal shade for Junior and Contemporary collections, this versatile metallic can work either as a warm silver or a cool gold. Shaun Samson applies the shade to elegant Eastern-inspired sportswear in panels. Meanwhile, black garments bring out the shine at Topman, where slim foiled belts and kielty fringe brogues are worn with dark tailored pants and button-down shirts.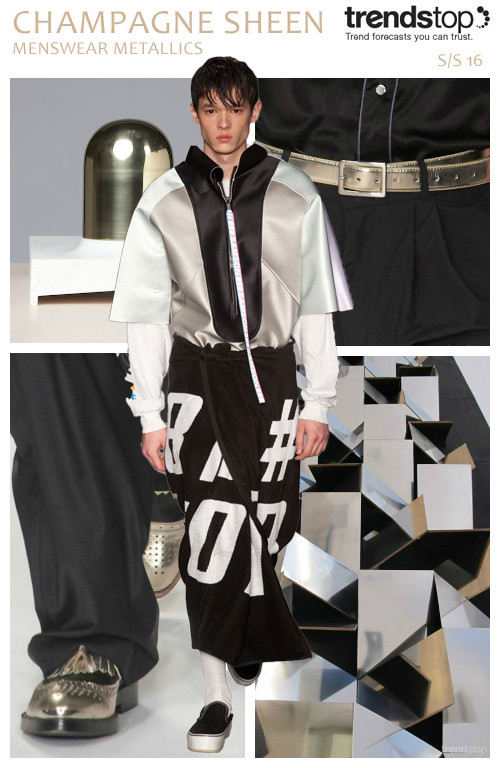 Photos & Information: Trendstop.com





Hits: 17451 | Leave a comment