Spring-Summer 2016 Fashion trends: Menswear key colors
It's time to learn the fashion forecast for the Spring-Sumer 2016 key colors in menswear, reported by the trend analysts at Trendstop.com
- one of the world's leading trend forecasting agencies, renowned for its insightful trend analysis and forecasts.
Vibrant and energetic, the menswear wardrobe is saturated in shades inspired by exotic tropical fruits. Effectively capturing the optimism of the season, two key Fashion Colors land in the form of Mango Lassi orange and Papaya orange.

MANGO LASSI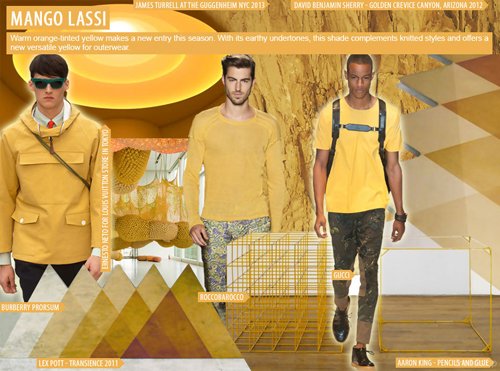 Apparel
This warm orange-tinted yellow emerges as a new hue for menswear this Summer, proving an ideal versatile tone for knits and outerwear. Burberry offers a playful twist on the utility jacket, while Gucci keeps it simple with a casual tee. Elsewhere, Roccobarocco adds the shade to a lightweight knitted sweater.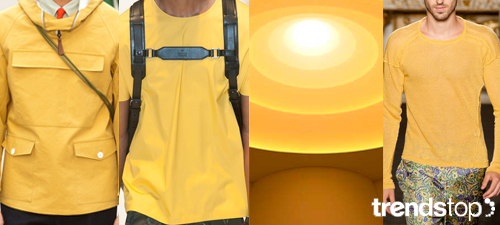 Accessories
Suitable for both Junior and Contemporary menswear markets, Mango Lassi's earthy undertones instantly uplift accessories. Tonal eyewear expresses a fun dimension at Prada, as soft suede lace-ups look new for the office at Burberry and Fendi add interest with a clean white panel on a leather bag.
PAPAYA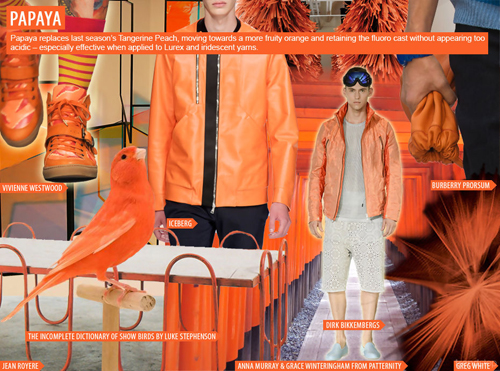 Apparel
Replacing last season's Tangerine Peach, Papaya works as an energetic complement to Lurex and iridescent yarns. Supple leathers look luxurious in the form of reworked bikers at Iceberg. Elsewhere, Vivienne Westwood and Dirk Bikkembergs both go sporty with a mesh top and technical fabric jacket.

Accessories
Another shade suited for the Junior and Contemporary markets, Papaya appeals with an orange cast that almost tips into fluoro without appearing too acidic. Classic wayfarer shapes are updated at Dolce & Gabbana, as slouchy clutches feel playful at Burberry. Vivienne Westwood's pixilated stripe hi-tops stand out as a statement must-have.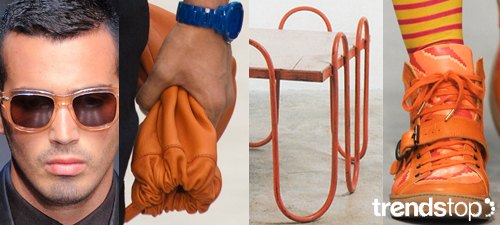 Photos & Information: Trendstop.com




Hits: 26899 | Leave a comment