Parsons Paris with two new Graduate programs
* MAs in History of Design & Curatorial Studies and Design & Technology

December 2014, New York and Paris - Building on its diverse and ever-evolving curriculum and bolstering its global model for design education, Parsons Paris launches two new master's programs - History of Design and Curatorial Studies (MA-HDCS-Paris) and Design and Technology (MFA-D+T-Paris) - this year.

The programs share the same names and curricula as their counterpart programs at Parsons The New School for Design in New York (ranked as the #1 fashion school in the United States and the #2 fashion school in the world), providing opportunities for student and faculty exchange, online learning and collaborative projects.
'The new master's programs at Parsons Paris are twinned with the degree programs at Parsons in New York and thus broaden the university's international learning network for graduate-level scholarship, object-based research and design innovation' , says Susan Taylor-Leduc, Dean of Parsons Paris.
'Today and in the future, we increasingly move between two worlds - the digital and the material; our graduate students in MA-HDCS and MFA-D+T learn how to navigate these two spaces as well as exploring how to curate them.'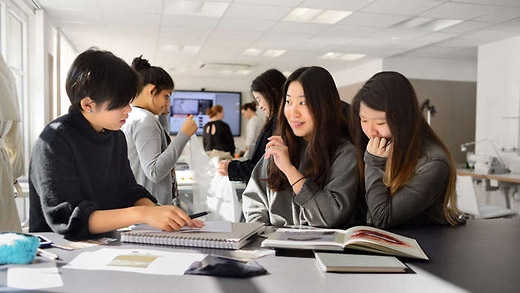 As part of the partnership between Parsons Paris and Musée des Arts Décoratifs, the MA-HDCS-Paris re-envisions historical object-based research and curatorial practice in the context of the design museum's celebrated collection of decorative arts and design. Like its sister program in New York, in which courses are conducted at Cooper Hewitt (cooperhewitt.org), the MA-HDCS-Paris hosts classes inside the Musée des Arts Décoratifs, where students meet and work with renowned curators, designers and collectors. Students in the MA-HDCS programs in New York and Paris thus have unique opportunity to work in two of world's greatest decorative arts collections.

'At Parsons Paris, graduate students can access the celebrated collection of the Musée des Arts Décoratifs to understand the form, use and evolution of design throughout the centuries', says Emmanuel Guy, director of the MAHDCS-Paris.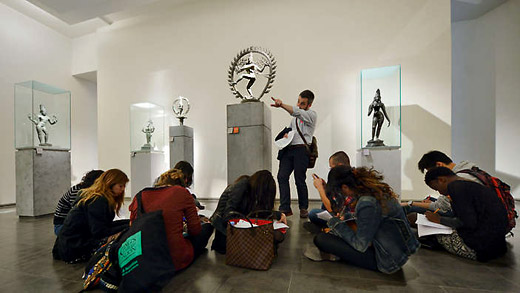 In MFA-D+T-Paris, students will focus on the interchange between forward-looking scholarship and real-world projects, enabling them to create imaginative work based in theory and practice. Each semester, students will take an intimate studio course-the Design and Technology Workshop-that offers opportunities to develop their research and creative practice, collaborate with fellow students, and connect with the MFA-D+T community in New York.

'The MFA-D+T-Paris is situated at the heart of Europe and internationally connected', says Benjamin Gaulon, director of the program.
'With the Design and Technology Masterclass and Design for This Century workshops and conferences, we are able to invite, every week, the leading artists, designers and theorists to collaborate, support and inspire our students.'

Gaulon's own work, focused on détournement, hacking and recycling explores with wit and irony the limits and failures of information and communication technologies, consumerism and disposable society, ownership and privacy.

Socially engaged and in constant dialogue with a large community of theoreticians, curators, artists and designers, the two programs will create an educational path that is globally oriented, as the contemporary workplace students will encounter after graduating.



More about Parsons Paris:

Parsons Paris is the European academic center for Parsons The New School for Design and its university, The New School. In 1921, Parsons became the first American art and design school to establish a campus in Paris. Among its achievements, Parsons Paris was the birthplace of the Parsons table, an icon of Modern design, in a studio led by the designer Jean-Michel Frank in the 1930s. The Parsons Paris campus is situated in an intimate, atelier-like setting near many of the city's important cultural destinations including the Louvre, l'Opéra, and Musée des Arts Décoratifs. The school offers programs that reflect the areas of study at Parsons in New York, while contextualized to take full advantage of the city's cultural resources. Parsons Paris represents the first step in a new global initiative at The New School, which recognizes that the growing interaction among cultures, markets, and regions of the world has revolutionized the practice of art and design.


Website:www.newschool.edu/parsons-paris


Hits: 6782 | Leave a comment