Royal Designers for Industry: Fernando Gutiérrez
As we previously reported, last night (November 27, 2014) Fernando Gutiérrez were honored RDI for raising awareness of challenging social and political issues through design, and for promoting the visual arts in the international cultural sector.

'I am delighted and very honoured to be appointed a Royal Designer for Industry. Through graphic design I strive to produce work that improves people's lives and gives meaning. This award gives me the strength and confidence to continue into an ever changing world, where good design has a fundamental role. I look forward to participating with the RSA and other RDIs in helping to inspire others'.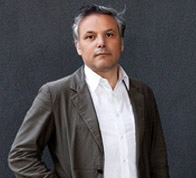 Over the past two decades, Fernando Gutiérrez has developed into a highly individual and distinctive graphic designer, and of the most talented in the UK. Through his many books, catalogues, magazines, exhibitions and posters, he has raised public awareness of challenging social issues, made museum and gallery collections more accessible, and reignited public interest in classic literature.

Gutiérrez has worked across Europe, in Argentina, Vietnam and Australia, stimulating audiences to discover more about the arts through his work with many artists, photographers, museums, galleries, and arts organisations, including the Prado Museum in Madrid, the Design Museum, Tate, V&A, and The Museum of London.

Over 80 per cent of Gutiérrez's work is in the cultural sector, and although not always the most lucrative path, it is one that he has always been passionate about. He believes art is particularly important for society; seeing ourselves reflected in the visual arts gives us a greater understanding of ourselves and therefore should be cherished and supported.

Gutiérrez's natural flair as an editorial designer is evident in the diverse range of publications he has worked on. His passion for story-telling photography was instrumental in his appointment as the Creative Director of Colors magazine by the renowned designer and co-founder, Tibor Kalman. Published by Fabrica, the leading communications research centre in Treviso, Colors has faithfully documented a changing world by highlighting the lives of the people who live in it, promoting the importance of cultural diversity in an increasingly homogenised planet.

Through his creative direction of Colors Gutiérrez presented important global issues in innovative and persuasive ways through his thoughtful design work and his commissioning of world-class reportage photographers. He radically transformed its presentation to allow the photography, illustrations and copywriting to shine. Gutiérrez collaborated closely with the editorial team in Italy and was able to present in-depth stories in an arresting and unflinching manner on challenging political and social issues often overlooked or shunned by other magazines, such as madness, slavery, ageing, HIV, prostitution, genocide, and violence, to name just a few. The unexpected, clean, simple approach had a considerable impact on the editorial design scene with many magazines following a similar path. Colors is now translated into 15 languages including Korean, Russian and Greek.

Gutiérrez has been involved in designing many exhibitions (including the recent V&A The Glamour of Italian Fashion 1945 - 2014), both in the UK and in Europe, creating a valuable, engaging and educational experience for the visiting public. His design strategies for the Prado Museum in Madrid have seen visitor numbers double from 1.2 million in 2002 to 2.3 million in 2013, and has enabled Buenos Aires based publisher Losada to revive 2000 titles of Hispanic literature that were previously out of print.


A keen supporter of design education, Gutiérrez regularly give talks around the world and has been a visiting lecturer at the Eina School of Design and Art in Barcelona since 1994, and has run a Summer School workshop on art direction and collaboration for the Masters course in Typography since 2007. He is an external examiner on the BA Graphics course at Manchester School of Art and London College of Communication.


//www.fernandogutierrez.co.uk/


Hits: 6440 | Leave a comment