Tag: black suits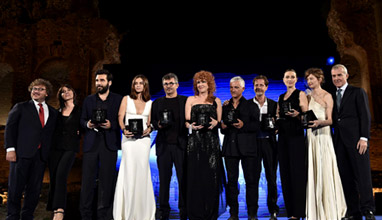 Fashion on the red carpet
The Nastro d'Argento (Silver Ribbon) is an Italian film award - the oldest movie award in Europe. This year the awards ceremony was held at the Teatro Antico, Taormina, Sicily Island, Italy, on July 2, 2016. And what a surprise - all gentlemen were dressed in similar black suits, making them look one and the same.
Made-to-measure Men's Suits
Speaking about the men's suit trends, the first and most important thing that you should remember is - the black suit is not in fashion and will not be any more. Beside that it has many disadvantages (one of which is that black clothes can put years on you) nowadays it also shows bad taste and lack of personality and imagination. Since made-to-measure suits gain a very big popularity and you can select your suit fabric among thousands of colours and patterns, to wear a black suit just shouts that your suit is cheap and outdated.