How to start a men's made-to-measure suits store - analysis and real business offer
Opening a men's made-to-measure suits store could be a fantastic entrepreneurial decision if you love fashion and retail work. It is not only for men's suit tailors - everyone with an eye for style and business skills can do it. What you need to be successful is: Passion, effort and a good marketing plan. We also offer you to start with a successful partner.
Whether you are a fashion designer that has just graduated and is looking for opportunities to start a new business or you are a tailor looking to expand its business – this article is written right for you.
What we offer you for a real start of your business with men's suits is a successful business model and professional training by the manufacturer of men's made-to-measure suits Richmart.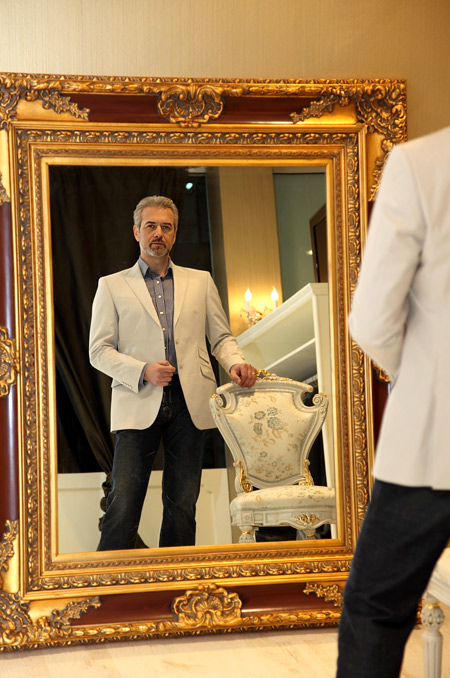 First of all, why choose to sell made-to-measure men's suits ?
The first reason is because the business model that Richmart offers needs a small investment from your part and has a low risk.
Let's see the other key points for choosing to offer made-to-measure suits rather than ready-to-wear suits:
Smaller space needed for a made-to-measure shop
For a made-to-measure store you'll need only 15 m2 while for a ready-to-wear store at least 50-150 m2

Low investment for supplying the store
30 samples of suits are enough for a made-to-measure store, while for a store, selling ready-to-wear suits you need at least 200 to 500 samples (one or two pieces of every size). So, offering made-to-measure suits needs a smaller investment. Another advantage is that when the customer makes an order he pays a deposit.

Custom suits with a perfect fit
In the made-to-measure store each peace is made to perfectly fit the client's preferences and measures, while in a ready-to-wear store approximately 30% of the clothes can't be sold because of wrong quantities planning, wrong choice of models and colors, fast changing trends, etc.

Low number of the serving staff
For opening a made-to-measure store one retailer is enough and you don't need an administration staff. For a ready-to-wear store you need 2 to 6 sellers, depending on the store's space and at least one administrator.

Variety of models to choose from
In a ready-to-wear store customers are restricted to available models. Imagine that you can give the client the possibility to choose from a wide range of fabrics and colours and to customize buttons, vents, pockets etc. and have a unique suit made especially for him but at the price of a ready-to-wear suit.

Offer suits at different price levels and attract more customers
In a made-to-measure store you may offer all quality levels according to the client's needs, while in a ready-to-wear shop you should choose a price range and stay there.
A made-to-measure suit can be absolutely unique and the customer's name to be embroidered on it.
Richmart is a supplier with competitively priced merchandise, who can ensure acceptable profit margin for you. The company has a capacity to produce about 1200 suits daily and currently produces the collections of many world brands.
Richmart offers:
- Short production cycle /14 days delivery/
- Very good price
- Big variety of high quality Italian fabrics
- Embroidery with the name of the customer
- Big variety of models and creation of custom men's suits
- Opening buttons on the sleeves
- Providing a special training for taking measurements /if it is necessary/
- The garments will be manufactured by Richmart in high technological suits factory

So, if you are a fashion professional looking for a new fashion business, you can contact Richmart factory and start a successful business partnership.

We wish you good luck!

RICHMART - Manufacturer of made-to-measure suits

The European company RICHMART is a quality manufacturer of made-to-measure men's suits. RICHMART is looking for made-to-measure retailers, ateliers, shops, agents, men's suit tailors who are willing to take orders in their countries from customers for the manufacturing of made-to-measure suits and work as franchise partners.

The franchising of Richmart is appropriate for traders without experience in the field of fashion, as well as for designers and men's suit tailors, who want to optimize their work and efficiency.


Hits: 93614 | Leave a comment