Made-to-order - The Future of Fashion Retail Business
Made-to-order is a production approach where items are not manufactured until a confirmed order is received. It is mostly used for highly customized or low volume products. In the fashion industry a good old examples are custom clothes and bespoke tailoring. However, nowadays made-to-order is entering regular stores. This means that retailers can order garments through the whole year depending on the demand of
the customers and the manufacturers should be able to react and produce the clothes in two-three weeks. This is called "just in time" manufacturing.
Some brands already began competing with each other for market share by producing more lines per year at lower costs. Some of them are able to turn a garment around from sketch to the shop floor as quick as two weeks.
In this way stores can respond to fashion trends quickly. This is called fast fashion. It not only eliminates surpluses and deficits in the stores, but also drives more sales by adding new models regularly and increases the net profits of the retailers and brands.
Companies like Zara, Uniqlo and H&M already implemented similar approaches. They are international retailers and they sell low-cost fashion. What is the solution for the smaller retailers then? I think they should follow this strategy.

What if all other brands start creating more collections during the year? Or offer specific models from their collections in more colours and patterns depending on the demand? This will have a positive effect for consumers, who have become more choosy. With made-to-order manufacturing retailers can reduce the working capital by ordering the necessary garment quantities each week, instead of ordering the whole quantity of
items before the season started.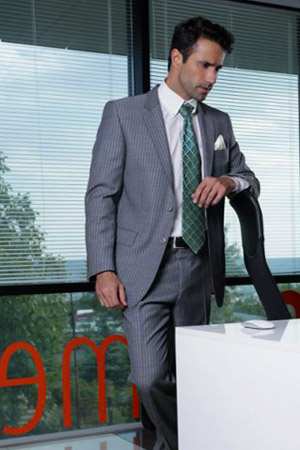 There are producers that already reorganized their manufacturing process in order to be able to deliver any orders in two to three weeks. One of those manufacturers is the European factory for men's suits Richmart.

Richmart organizes the Made To Order processes using new CAD/CAM systems for orders processing, 24 cutting robots and new production lines by Brisay, Durkopp and Baisler. The factory keeps more than 1,000 items in stock - fabrics from world famous mills like Cerutti, Vitale Barberis Cononico, E.Thomas, Dormeuil - and offers over 300 different basic designs of men's suits, coats, jackets and vests.

We are keen to learn about other European factories, brands and retailers that already work in the same way. If you have something interesting to share, please email us at mto@bgfashion.net


Hits: 15664 | Leave a comment