When to wear a suit - 16 suggestions
A well fitting suit can help every men look and feel comfortable both in everyday life and special occasions. It is not too formal, it is not only for older gentlemen, it is not limiting men's personal style.
With the options, which made-to-measure and bespoke men's suits give to the customers, every man can create his own distinctive look and have wardrobe full of high quality, perfectly suiting, all seasonal, stylish and comfortable pieces.

There are some occasions when you really have to wear a suit: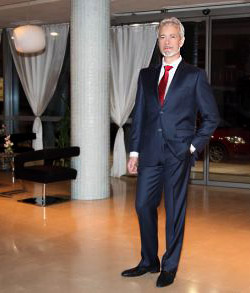 Job interview
A man should always wear a suit at a job interview - even if the dress code in the company is not formal. This sends the message: 'I am professional and serious about the job'.


Wedding
The best choice for a wedding is a suit - especially if you are the groom. The experts' advice is: 'go for a classic look with an individual twist'.


Business networking events
Wearing a suit to such events says that a man is serious about his profession and is open to build connections with other professionals.


Religious Ceremonies
A classical men's suit is the best garment for religious ceremonies, except for these that require special religious or ethnic dress.


Media Appearances
No matter if the gentleman will appear on television or only in print media, the suit should be the essential part of his outlook.


In court
Men should always wear (three-piece) suits at legal proceedings as they tend to be quite formal and conservative, so no other clothing is appropriate.


Important business presentations
To make a good impression while giving a business presentation, a man should always opt for a suit - a classic one or suitable to the company's dress code are the best choices.


Other occasions when men should wear suits are:
- High level negotiation;
- Political speech / debate;
- Award ceremony;
- Prom;
- Graduation ceremony;
- Dinner at a high end restaurant;
- Banquet;
- Theater / Play / Symphony;
- Lecture for students.


See also: The man's suit - 9 reasons to wear it


RICHMART - Manufacturer of made-to-measure suits

The Bulgarian company RICHMART is a quality manufacturer of made-to-measure men's suits.

RICHMART is looking for made-to-measure retailers, ateliers, shops, agents

who are willing to take orders for the manufacturing of made-to-measure suits and work as franchise partners.

The franchising of

Richmart

is appropriate for traders without experience in the field of fashion, as well as for designers and tailors, who want to optimize their work and efficiency.

Contact RICHMART



Hits: 5431 | Leave a comment