Does 'Made in Europe' mean better conditions for garment workers?
Unfortunately, the answer is 'No' according to Clean Clothes Campaign's research conducted in 10 countries (with 300 workers) - Romania, Ukraine, Turkey, Bulgaria, Croatia, Slovakia, Georgia, Macedonia (FYROM), Bosnia & Herzegovina and Moldova.

The Clean Clothes Campaign (since 1989) is dedicated to improving working conditions and supporting the empowerment of workers in the global garment and sportswear industries.
So, the report 'Stitched Up' reveals that worker exploitation, poverty wages, forced overtime and life-threatening conditions are spread not only in Asia but in Europe as well and that is an endemic in the global garment industry.
In fact, post-socialist European countries are the cheap labour of the Western European fashion brands. Most of the workers in the garment industry are paid below the poverty line - no matter that they are highly skilled and experienced, they work long hours and sew clothes for major European retailers such as Hugo Boss, Adidas, Zara, H&M or Benetton.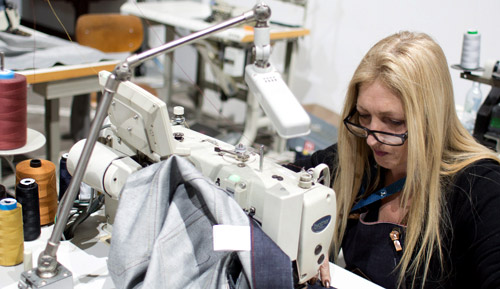 The report reveals that the legal minimum wages only covers between 14% (Bulgaria, Ukraine, Macedonia) and 36% (Croatia) of a basic living wage.

The unions in this countries can't defend even workers' basic rights. A Croatian unionist stated that 'unions do not have the opportunity to bargain for higher wages since they have to constantly fight illegal practices such as long-term unpaid overtime and unpaid social contributions or long-term unpaid wages'.

The first instantly step that should be taken is the buying prices to be calculated in a way that every worker to receive a basic net wage of at least 60% of the national average wage - that means that every brand have to make sure that garment workers in its own supply chain are paid minimum the living wage (without overtime or bonuses) in their country.

'Brands and retailers have the responsibility not to take advantage of their purchasing power or weak state implementation of labor rights', the Campaign says.

'We call on the direct employers of the three million garment workers to respect their national labour law and stop wage theft practices immediately' the report concludes.



What else can be done?


In order to increase profits and wages the factories in Eastern Europe need to start producing clothes with their own label.

Young fashion designers and brands should be supported to be competitive on the market and cooperate with the factories.

The accent should be put on new services that add value, for example made-to-measure and bespoke tailoring.




Free made-to-measure training for designers and agents

Richmart men's suits factory invites all fashion designers to a free made-to-measure training.

Richmart is a factory, manufacturing made-to-measure men's suits. The factory is in Ruse, Bulgaria, Eastern Europe and has a capacity for production of up to 1300 suits per day.

This training could be a great opportunity for all fashion designers to create their own made-to-measure men's suits fashion line.

Contact RICHMART


Hits: 8377 | Leave a comment